Found January 07, 2013 on The Blue Mare:
The 2012-2013 Indianapolis Colts I admit it. I wanted the fairy tale ending. I wanted the Colts to come together…powered by #ChuckStrong and with a little bit of luck…and ride that white horse all the way to the Super Bowl. It didn't happen. A big black raven got in the way and derailed our journey. But you know what? It's alright. Maybe it wasn't a fairy tale, but it was a storybook season for the 2012-2013 Indianapolis Colts nonetheless. Peyton Manning (AP) The season started without our white knight. The guy we could always count on to defend the horseshoe. The city was still heartbroken. In his place…a gang of lovable rookies, short on experience and long on potential. We still had some heroes though: Reggie Wayne, Robert Mathis, Dwight Freeney. But could they even be effective? Our poor, disrespected Colts weren't given a chance at all. They were last on the NFL power ranking…32 out of 32 teams. They were only expected to win two or three games all season. No one was going to invite them to the dance…much less the ball. The first battle went as expected. The Colts went into Chicago for the season debut and were beat up by the Bears. There was the home opener…a comeback win against the Vikings. Followed by a stunning last-minute loss to the Jaguars. And then there was the bye week. Coach Pagano's leukemia diagnosis. #ChuckStrong became the team mantra. And the magic started to happen… #ChuckStrong Banner in Lucas Oil Stadium (Indy Star) Whether it was luck, will, or divine intervention (or a combination of the three), the Colts overcame. All season long. They won eleven games, went 7-1 at home, and never lost two games in a row. They shaved their heads. They carried the fans and the fans carried them. Together, they healed their broken-hearted city and their sick coach. And along the way, those young players became men. In the end, they were all heroes. Every, single one of them. But most of all, the guy who led them. In spirit. From his hospital bed. Coach Chuck Pagano and Interim Coach Bruce Arians (ESPN) And so…it's The End. We turn the page on this chapter of Colts history. The white horse rides off for now. But fear not. Weep not. For this end is only a beginning. The fairy tale has just begun…   The post The fairy tale comes to an end…for now appeared first on The Blue Mare.
Original Story:
http://thebluemare.com/the-fairy-tale...
THE BACKYARD
BEST OF MAXIM
RELATED ARTICLES
Halfway through the frenzied Peyton Manning free agency saga, Manning stopped in Raleigh, NC to work out with David Cutcliffe—his mentor and former offensive coordinator at Tennessee. Discretion was critical because Manning's travel itinerary was more scrutinized then Santa's on Christmas Eve. No wonder Jim Harbaugh and Greg Roman—San Francisco's head coach and offensive...
Peyton Manning and the Broncos cruised to a 34-17 victory over the Ravens last time around. Can they do it again? (AP Photo) The Denver Broncos will host the Baltimore Ravens in the Divisional Round of the 2012 playoffs on Saturday, January 12, 2013, and we're breaking down all angles. Today: five impact players from the two teams. 5. Ravens G Marshal Yanda Everyone remembers that...
Peyton Manning will have to wait until next season to face the Indianapolis Colts. His old team lost 24-9 at Baltimore in the AFC wild-card game Sunday. So the Ravens (11-6) will visit Denver next weekend to face the Broncos (13-3), the AFC's top seed. Had the Colts won, there would have been a circus-like atmosphere all week in Denver in anticipation of the reunion between...
Peyton Manning is ready to light-up the old Ravens defense this weekend.   The Wildcard round provided us with one really good game and three pretty poor ones.  Here's a first look at the Divisional Round Baltimore vs Denver - The Ravens were able to beat a young Colts team but it was not an impressive victory.  Yes Flacco threw for 282yds, but he was 12-23 which is...
Tweet For much of his career, New England Patriots quarterback Tom Brady has taken on the persona of his coach, Bill Belichick, when there is a microphone in his face. Brady almost always appears calm, matter-of-fact and like everything is all-business when he is being interviewed. However, in a recent interview with the Boston Herald, [...]
At the conclusion of the 2012 NFL regular season, schedules for the 2013 NFL season are known for the various teams of each conference. Exact dates and times of the schedule will not be released until sometime in April but home and away matchups are already known. The NFL schedule makers like to place popular teams and favorable matchups in prime time slots. Now that we have seen...
For many that noticed, Denver Broncos quarterback Peyton Manning playing with a bright orange glove of his right hand was a bit of surprise. The man isn't known for changing his routine, but he's in a new town now, one that gets cold and blustery, not anything like the warm confines of an enclosed stadium in Indianapolis. "I was surprised to see it," cornerback...
Nobody in the NFL studies more opponents' game film than Ray Lewis or Peyton Manning. And a lot of Saturday's playoff result at Mile High Stadium in Denver will come down to a chess match and a downright guessing game between these two wise veterans.         "I know Peyton very well," said Lewis. "And he knows me and us very...
The 2012 NCAA Football season was an exciting one for Notre Dame and Irish fans. Living in Indianapolis, I can say that it's been an exciting year. Super Bowl back in February, Colts lose Peyton Manning and gain Andrew Luck, Colts have a surprisingly good season at 11-5, Indiana Hoosiers basketball is back up in [...]The post BCS National Championship Game Prediction appeared first...
After a mediocre 1-for-2 day predicting yesterday's Wild Card games, let's take a stab at it again, with today's contests featuring three rookie quarterbacks. Indianapolis Colts @ Baltimore Ravens, 1pm ET, CBS Did you know the Colts used to be in Baltimore? I wasn't sure if you noticed that the 1,000 or so times it's been mentioned, and undoubtedly will continued...
Every Monday, comedian Doug Cheatham sits down to write some thoughts about various teams and players of the sporting world. Sometimes to approval but most often to vent anger and poke some fun. Welcome to the Monday Morning Hangover.   New Year…New Format     Kansas City Chiefs   Kansas Chiefs fans can rest a [...]
Colts News

Delivered to your inbox

You'll also receive Yardbarker's daily Top 10, featuring the best sports stories from around the web. Customize your newsletter to get articles on your favorite sports and teams. And the best part? It's free!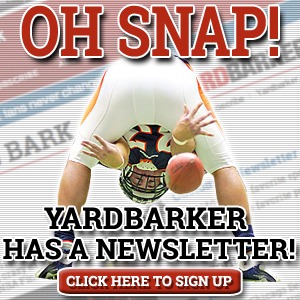 Latest Rumors
Best of Yardbarker

Today's Best Stuff

For Bloggers

Join the Yardbarker Network for more promotion, traffic, and money.

Company Info

Help

What is Yardbarker?

Yardbarker is the largest network of sports blogs and pro athlete blogs on the web. This site is the hub of the Yardbarker Network, where our editors and algorithms curate the best sports content from our network and beyond.