Found January 27, 2012 on NESN.com:
From NESN:
Super Bowl XLII was not lost on Feb. 3, 2008. The Patriots' perfect season was not lost on the football field at all, actually.
It was all lost in front of a microphone on Jan. 30, 2008. That's when Tom Brady couldn't hold back his laughter upon hearing Giants receiver Plaxico Burress' Super Bowl prediction.
"We're only gonna score 17 points? Ha ha ha," Brady told reporters when informed of Burress' 23-17 prediction. "OK. Is Plax playing defense?"
As that giggle left Brady's mouth, so too went the Patriots' Super Bowl chances.
OK, that may be extreme hyperbole, but some Giants players told Steve Serby of the New York Post that seeing Brady's giggle was more motivation than they would ever need.
"I'm in a room with [several defensive players] and we kinda see this pretty boy chuckle -- like, 'We're only gonna score 17 points!' -- and it just seems like the whole room turned red," Justin Tuck told the Post. "Like everybody was quiet. Literally fist-clenching, teeth. ... If we could have went and played right then, we would have went and played that second."
Tuck finished that game with six tackles and two sacks on Brady, and he forced a fumble as well. Osi Umenyiora recovered that fumble, and he shared his memory of Brady's chuckle.
"I remember the arrogance of the whole way he scoffed," Umenyiora told the Post. "I remember that making us particularly angry. ... We just knew then that we were gonna take his head off. We just knew that right then. I mean, come on, man. There's levels of arrogance, you understand what I mean? In the interview, like psshh, 'We're only gonna score 17 points?'"
In Brady's defense, the quarterback had reason to be confident in his offense. The Patriots scored 36.8 points per game that year during the regular season, and they put up 38 points at New York in Week 17.
Brady also immediately launched back into Bill Belichick/Patriots' Way mode, lauding Burress as a great player and saying the Giants "should have confidence."
"23-17?," Brady later added with incredulity. "I wish he said like 45-42 or something like that. At least he'd give us a little more credit for scoring a few points."
The Patriots, of course, ended up scoring just 14 points in the 17-14 loss.
"We don't make predictions," Brady said that day. "We just let our play do the talking. I learned that lesson early in my career. No matter what you say during the week, and God knows we say a lot this entire week, but we're focused on going out there and trying to do our very best."
Apparently, Brady wasn't done learning lessons, as the Giants taught him another one just a few days later. Don't expect to see too much giggling from Brady this time around.
Also from NESN
Brady's QB coach: I could fix Tebow in two weeks
NYC bar won't sell Boston-based beer during Super Bowl
President can't make Super Bowl pick
Original Story:
http://www.nesn.com/2012/01/tom-brady...
THE BACKYARD
BEST OF MAXIM
RELATED ARTICLES
QB MECHANIC
Tom Martinez has been the personal coach of the Patriots QB since Brady was 13-years-old and he claims he could fix Tim Tebow's faulty mechanics in two weeks.
Brady calls Manning a 'great quarterback'
New York's defense has labeled Tom Brady as New England's "head dog." As for the bite, the Giants say they have one for him.
There is an oft-repeated story about Tom Brady's rookie season in New England.  Brady was about to introduce himself to owner Robert Kraft when Kraft beat him to the punch. Brady's response: "Drafting me was the best decision this franchise has ever made." Brady made a similar promise to Kraft in the wake of the AFC…
Tom Brady's quarterback guru is waiting for a life-saving kidney transplant
The last time the Giants tangled with the Patriot, Tom Brady tossed two touchdown passes. Both went to tight ends, which is no great surprise. Rob Gronkowski caught eight passes for 101 yards and Aaron Hernandez caught four for 35. Both found their way into the end zone. The Giants...
Tom Brady said Eli Manning is "a great quarterback," while Vince Wilfork added that he's "playing some of the best football of any quarterback in the game."
Super Bowl XLVI remains just under two weeks away but it is rather clear that one man will be a resounding loser in the court of public opinion in the days, weeks, and months to follow the festivities in Indianapolis. Once upon a time in a galaxy not so far away, some people considered Peyton Manning to be the greatest quarterback of all-time. However, once the confetti settles...
NFL News

Delivered to your inbox

You'll also receive Yardbarker's daily Top 10, featuring the best sports stories from around the web. Customize your newsletter to get articles on your favorite sports and teams. And the best part? It's free!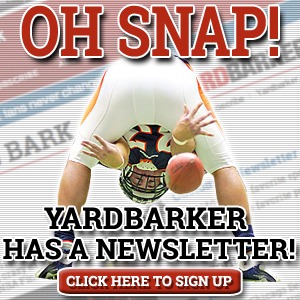 Latest Rumors
Best of Yardbarker

Today's Best Stuff

For Bloggers

Join the Yardbarker Network for more promotion, traffic, and money.

Company Info

Help

What is Yardbarker?

Yardbarker is the largest network of sports blogs and pro athlete blogs on the web. This site is the hub of the Yardbarker Network, where our editors and algorithms curate the best sports content from our network and beyond.