Found October 02, 2012 on Sports Blog Net:
Here are the Week Five Bears power rankings from various sites around the web:
ESPN: #9 (Last week: #11)
Analysis, "Cutler-to-Marshall and an opportunistic defense shined Monday night. When the Bears look good, they look oh so good."
NFL.com: #6 (Last week: #9)
Analysis, "If 
Jay Cutler
 and 
Brandon Marshall
 can play like they did in 
a blowout win over the Dallas Cowboys on Monday night
, look out for this team. The 
Bears
 finally played 
like the Super Bowl team this writer predicted them to be
. Nice effort on several plays from 
Nick Roach
, Chicago's 
other
 linebacker."
Yahoo Sports: #12 (Last week: #12)
Analysis, "That was more like what I had envisioned the Cutler-to-Marshall connection looking like. On just eight targets, they hooked up seven times for 138 yards and a touchdown. Perhaps willfully ignoring Mike Tice is the key to this offense."
CBS Sports: #9 (Last week: #7)
Analysis, "That defense is downright nasty. And when Jay Cutler plays like he did in Dallas, they will be a tough team to beat. Super good? They have a chance."
Fox Sports: #7 (Last week: #9)
Analysis, "When Jay Cutler is hot, he is really hot, but this team rallies around its defense. The Bears play a vanilla base defense, but all they do is create turnovers. With pressure coming up the middle from Henry Melton and on the edge from Julius Peppers, this DL is getting sacks and hurries while only rushing four, sometimes just three."
Pro Football Talk: #8 (Last week: #12)
Analysis, "In 
Jay Cutler
's defense, there's a good chance Mike Tice ripped one before sitting on the bench."
Pro Football Weekly: #11 (Last week: #9)
Analysis, "Opportunistic defense has forced a league-high 14 turnovers."
WEEI.com: #9 (Last week: #10)
Analysis, "It was an encouraging performance from the Bears on Monday night. The offensive line stepped up against a strong Cowboys defensive line. The Bears D has been the story so far. Chicago leads the league with 14 takeaways."
Best ranking:
NFL.com (#6)
Worst ranking:
Yahoo Sports (#12)
Thoughts on the power rankings this week? Read up: 
Monday Night Recap.
Jake Perper
 is the owner and head writer for Bearsbacker.com. Follow him on Twitter, @Bearsbacker and on Facebook for up to the minute news about the Bears.
Original Story:
http://bearsbacker.sportsblognet.com/...
THE BACKYARD
BEST OF MAXIM
RELATED ARTICLES
Jay Cutler is a brat. When things don't go Cutler's way, he reacts like a bratty child by either screaming at, shoving or walking away from whatever is bothering him. Cutler was at it again on Monday night when he was unhappy with offensive coordinator Mike Tice's play calls coming in slow. When Tice walked over to Cutler to talk about it on the Bears' bench, Cutler...
Jay Cutler on Monday Night Football tonight was seen on camera trying to avoid and ignore Bears offensive coordinator Mike Tice on the Bears sideline. Now we don't know what started the tiff, yes, I used the word tiff, but its Jay Cutler, so anything is possible. What's surprising about all of this is that the Bears are actually winning, so why fight? I'm guessing...
It appears from the below GIF that Chicago Bears quarterback Jay Cutler just wanted to sit on Chicago bench in peace during the second quarter of Monday night's Bears/Cowboys game. However, Bears offensive coordinator Mike Tice went over to talk to Jay about the previous failed drive and received a rather cold shoulder from his starting quarterback. Before Tice could even sit...
Was anyone else hoping that Chicago Bears offensive coordinator Mike Tice was going to run up and tackle quarterback Jay Cutler from behind and start unloading punches on his face?  One can dream, can't he? Is there a bigger douche in the league than Cutler?  There is a reason why he has never become an elite quarterback, his freaking attitude and mental stability.  We know...
Brandon Marshall is ready for commitment, not in marriage, but to the Chicago Bears. The twice traded talented receiver seems to have found a home in the Windy City. He's reunited with his former Denver quarterback Jay Cutler, and he's gone from that fake football pit they call Miami. Marshall, who has had his share of off field issues, and being diagnosed with a border line...
Heading into their week 4 match up against the Dallas Cowboys the Chicago Bears had one thing sticking out in their mind above all others, how do you stop  DeMarcus Ware.  The Cowboys came into the game rated as the number one defense overall in terms of total yards allowed per game. On offense the Bears were on the opposite end of the spectrum rating 24 in total offense in...
Chicago Bears QB Jay Cutler is becoming known as a quarterback who wears his emotions on his sleeves. He's comfortable expressing himself, and getting a little more colorful this season; or so it seems. During last night's blow out of the Dallas Cowboys, Cutler had some disgust with offensive coordinator Mike Tice, and walked away when Tice was trying to discuss strategy with...
Jay Cutler can't win. Well, he actually can win football games. A lot of them. He just can't win with America. If Peyton Manning screams at an offensive tackle, he's lauded for being an incredible leader and a "coach on the field." If Tom Brady gets into it with his offensive coordinator, it's OK. He's just "fired up." If Ben Roethlisberger...
ARLINGTON, Texas -- Jay Cutler and the Chicago Bears took advantage of five Dallas turnovers in thrashing the Cowboys 34-18 Monday night at Cowboys Stadium. The Bears (3-1) returned two interceptions off Dallas quarterback Tony Romo for touchdowns in winning their second consecutive game to remain tied with Minnesota atop the NFC North. Romo threw a career-high five picks. The...
There is little doubt what the Cowboys game plan on defense will be to beat the Bears, take away Brandon Marshall in the passing game.  The NFL is a copy cat league which means teams are going to to play a lot of two deep man coverage on Marshall until the  Bears can show they can beat it. The player most capable of making the Cowboys pay is rookie wide receiver Alshon Jeffery...
Connor Shaw > Tony Romo & Jay Cutler? South Carolina starting quarterback Connor Shaw has become "an accidental star quarterback," as described by The Charleston Post and Courier's Gene Sapkoff. Since taking over the starting QB role following Stephen Garcia's rather messy departure from the Gamecock program, Shaw has lead the team to a 12-1 record...
By Zack Pearson Chicitysports.com (Special to Bearsbacker.com) So this is what a real offense looks like? Bears fans have waited patiently to see their new look offense and the potential it has. Well Bears fans, here it is. But is it finally here to stay? After struggling for most of the first three weeks of the NFL season, the Bears finally flashed the offensive threat that...
NFL News

Delivered to your inbox

You'll also receive Yardbarker's daily Top 10, featuring the best sports stories from around the web. Customize your newsletter to get articles on your favorite sports and teams. And the best part? It's free!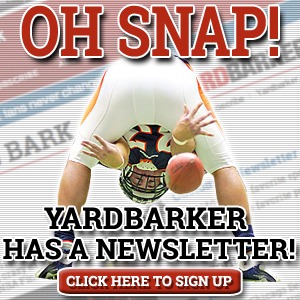 Latest Rumors
The Backyard

Today's Best Stuff

For Bloggers

Join the Yardbarker Network for more promotion, traffic, and money.

Company Info

Help

What is Yardbarker?

Yardbarker is the largest network of sports blogs and pro athlete blogs on the web. This site is the hub of the Yardbarker Network, where our editors and algorithms curate the best sports content from our network and beyond.