Found June 11, 2013 on NESN.com:
While many of the NCAA's rules regarding student-athletes are often arbitrary and tone deaf at best, and asinine at worst, recruiting is definitely one area that if rife with violations, and needs policing. So someone might want to tell Wes Welker that, as an alumni, he's still considered a representative of Texas Tech. Community college wide receiver Nick Kurtz is currently being recruited by major programs, and is thus making the rounds checking out campuses. So the former Patriots and current Broncos receiver took the opportunity to stump for his alma mater. @TheKurtzWay You are visiting Lubbock already? #GunsUp— Wes Welker (@WesWelker) June 08, 2013 @TheKurtzWay Name me the last WR in the league from BYU? Think big picture. I will give you 50 more reasons why they would be a bad move. TT— Wes Welker (@WesWelker) June 08, 2013 @TheKurtzWay Did a little research for you.Read this. deseretnews.com/article/700069…— Wes Welker (@WesWelker) June 08, 2013 First off, it's cute that Wel...
Original Story:
http://nesn.com/2013/06/wes-welker-co...
THE BACKYARD
BEST OF MAXIM
RELATED ARTICLES
Wes Welker feels free to 'just be himself' these days after spending five years with a gag order in hand in New England. Welker was one of the more colorful Patriots, always having a quick witted line to utter, but under Bill Belichick talking too much is a detriment to the team. Welker showed off his sense of humor before the 2010 divisional playoff against the New York...
Someone needs to teach Wes Welker how to direct message. Because, based on the tweets he sent out this weekend publicly to community college wide receiver Nick Kurtz, it could get him in some hot water with the NCAA. The former Texas Tech receiver has made news on this week for a series of tweets he sent Kurtz. @thekurtzway You are visiting Lubbock already? GunsUp Wes Welker ...
Denver Broncos wide receiver Wes Welker told Mike Silver of Yahoo! Sports that he feels like he can be himself now that he's no longer in New England. "I feel like I can be myself a little more for sure," said Welker, who signed a two-year, $12-million deal with the Broncos on March 13, a day after becoming an unrestricted free agent. Asked if he'd received any pre-interview...
Wes Welker was not re-signed by the New England Patriots, causing a shockwave around the Boston area but certainly not surprise. The team's best receiver over the past five years or so, Welker moved from Tom Brady to Peyton Manning and the Denver Broncos. He hasn't talked much about it since, but he recently opened up a bit. Much more than he would've if he'd had...
Denver Broncos wide receiver Wes Welker took some time out of his day to actively recruit for his alma mater, the Texas Tech Red Raiders.  Unfortunately for him and Red Raiders fans, this is a minor NCAA violation.  Nothing will come of it of course, but the BYU Cougars fans that are hoping to land the recruit, Nick Kurtz, happily pointed it out. @TheKurtzWay You are visiting Lubbock...
Wes Welker is one of the best wide receivers and special teamers to ever play at Texas Tech. He had over 250 receptions and 3,000 yards during his four-year career at the school. Welker also returned eight punts for touchdowns, which is tied for an NCAA record. Now, he has decided to try to help [...]
Wes Welker has a new team, a new quarterback, and now he can get to being himself.  Welker is a fun-loving, comical guy, who was once benched by Bill belichick for mocking Rex Ryan during a press conference. Welker is now in Denver and feeling good about his new surroundings.  During a conversation with Yahoo Sports, Welker hinted at "now being able to be himself." "I feel...
Wes Welker has a fun-loving personality that was often masked by the strict rules of the New England Patriots organization. The 32-year-old receiver likes to mess around, and the Patriots don't stand for funny business. Any player who is even allowed to talk to the media at Gillette Stadium has had to earn Bill Belichick's [...]
When the Patriots failed to re-sign Wes Welker, a division seemed to temporarily open between quarterback Tom Brady and the team. Brady openly questioned why Welker had been allowed to walk, and was clearly angry. For Wes Welker, it's less of an open and shut discussion. He seems to be enjoying his new gig with the Denver Broncos, and when you go from Tom Brady to Peyton...
Tom Brady will downplay it and talk team, but the signs increasingly indicate that the quarterback and his team will only regret more and more that Wes Welker was allowed to leave and sign with the Broncos this offseason. Welker is fitting in well with his new squad, and especially Denver quarterback Peyton Manning. And no matter what Brady and Welker said after Welker's deal with...
Wes Welker creates internet firestorm by tweeting college recruit - SBNation.com: Funny how this...
OffenseSingle-Season Passing Yards - Peyton ManningThis one I like. Peyton threw for over 4,600 yards last year. They added Wes Welker who contributed over 1,400 yards himself last year.I think the all-time single-season passing record could be in serious jeapordy.Single-Season Rushing Yards - Adrian PetersonI Know this might seem crazy.But, it is very likely that he might have a...
Broncos News

Delivered to your inbox

You'll also receive Yardbarker's daily Top 10, featuring the best sports stories from around the web. Customize your newsletter to get articles on your favorite sports and teams. And the best part? It's free!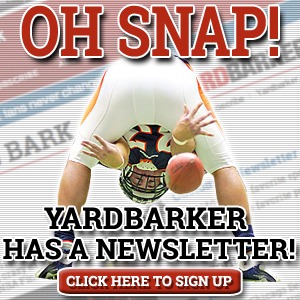 Latest Rumors
Best of Yardbarker

Today's Best Stuff

For Bloggers

Join the Yardbarker Network for more promotion, traffic, and money.

Company Info

Help

What is Yardbarker?

Yardbarker is the largest network of sports blogs and pro athlete blogs on the web. This site is the hub of the Yardbarker Network, where our editors and algorithms curate the best sports content from our network and beyond.