Found August 29, 2012 on isportsweb.com:
Every football fan knows how seemingly unimportant game 4 of the preseason is to the rest of the season. However, if you're a player whose position on the roster is questionable, this game is crucial. And now, with a guy like Cooley getting cut, I'd image the anxiety is especially high. If they can cut someone as important to the organization as he has been, no ones job is particularly safe. Or so I imagine. Here are some of the guys to watch tonight as they fight for their spot on the 53-man roster: Evan Royster Thus far in the preseason, Alfred Morris has stood out as the best Running Back on the team. He is not expected to play tonight, giving Royster a moment in the spotlight. Hightower and Helu may also see some playing time and get a chance to plead their case, but both are still recovering from injuries. Royster showed up in a major way last season, doing a fantastic job of stepping up after injuries sidelined the other RB's. He will get a chance to do that again tonight. (Isn't it refreshing to have so much depth in this position for once?) Evan Royster had an impressive rookie season, can he do it again? Billy Cundiff The kicking situation inWashingtonchanged entirely in what seemed like the blink of an eye. Gano and Rackers were cut (or "kicked out" if you will) and Billy Cundiff was brought in. We all need to keep our fingers crossed that he delivers, because it seems we are fresh out of options otherwise. Virtually Every Wide Receiver Except, of course, Moss, Garcon, Morgan and Hankerson. But everyone else will have to play their best game yet in order to secure a spot. This battle will make for some great football tonight. For guys like Anthony Armstrong and Aldrick Robinson, they need to prove they can be a strong asset to special teams as well. On the other hand, if they excel at returns, that could mean the boot for veteran Brandon Banks, who has yet to demonstrate himself as a strong Wideout. Dezmon Briscoe needs to show versatility tonight, while Terrence Austin needs to take everything up a notch (or 4). Banks has had some great returns, now he needs to show he can be a receiver as well. Richard Crawford Crawford appears to be a shoe in since Kevin Barnes got traded, but is yet another player who needs to step up on special teams. He is up against veteran David Jones, as well as Brandyn Thompson. They all know what the Redskins are looking for in a cornerback, so their work is more or less cut out for them. Kirk Cousins and/or Rex Grossman RGIII is the starter. Obviously. And Grossman is our past; we all know what he can and cannot do. So where does Cousins fit in? Tonight we will presumably get a closer look at both QB's. In my game 1 preview article I said that Cousins, who had flown mostly under the radar at that point would get a chance to fight for relevancy. And he has. But I don't think he's done fighting. Even though Shanahan has stated he has the intention of keeping all 3 QB's, nothing is ever set in stone. Tonight he will get one last chance to make some noise before the season starts and we become obsessed with RGIII all over again. And, I can't help but throw this out there as well:  Every.Single.Tight End. With Cooley out, there are big shoes to fill. Yes I understand that Cooley's release was allegedly tied to his desire to be a starter. But nonetheless, Cooley was a legend. And every man who wants to be able to call himself a TE on the Redskins needs to give this game everything they have. This goes for every position. As we've seen, nothing can be taken for granted in this league. Good luck to all the players tonight and let's just hope for no more injuries. This should be a great game to watch!
Original Story:
http://feedproxy.google.com/~r/isport...
THE BACKYARD
BEST OF MAXIM
RELATED ARTICLES
RESPECT YOUR ELDERS
Legendary QB Sonny Jurgensen didn't care for one aspect of Robert Griffin III's pregame routine, so the rookie signal caller decided to change things up a bit.
Could Alfred Morris wind up being the starter for Week 1? Well according to Chris Russell on Twitter, Redskins HC Mike Shanahan is certainly suggesting it. Shanny is basically sitting on his ever so old mantra of "we'll play the best players…" which suggests that Alfred Morris could be that guy after torching the Indianapolis Colts for 107 rushing yards and a single TD. Washington...
The Washington Redskins have cut tight end Chris Cooley today. After Cooley had just eight catches in five games last season, and with the continued emergence of Fred Davis, the cut isn't surprising by any means. That doesn't mean it's not a bittersweet moment for the Redskins and their fans. Cooley was a Pro Bowler for Washington in 2007 and 2008, and he had 33 career...
The huge burgundy flag with the word ''REDSKINS'' in gold letters towers over the front of the team's facility, dwarfing in both size and height the four U.S. flags that help frame the parking lot. The arrangement makes quite an impression, especially when viewed from the practice fields, and serves to help symbolize something that's been true for a long time...
The Washington Redskins made two surprised cuts a day after the roster had to be reduced to 75. The first was the announcement that Graham Gano didn't win the kicking competition with Neil Rackers. Instead he too received the boot and the team brought in Billy Cundiff, formally of the Baltimore Ravens. The Skins also released fan favorite, Chris Cooley, who shouldn't be...
A team led by Rex Grossman and John Beck hardly warrants excitement. It doesn't matter how good your defence is, your running game is, or any facet of your team is, if the guy that leads your team doesn't inspire confidence, a team and its fanbase will decline. Fortunately for Redskins' fans, excitement is just what the Redskins had in mind for 2012. Enter RG3. The second...
Chris Cooley once said it would be terrible to play for another team just when the Washington Redskins were getting good again. He wanted to be a Redskins player for life. One of the mysteries of the offseason was whether he had a place on the team and on the salary cap. Head coach Mike Shanahan informed Captain Chaos that Fred Davis would start at right end. Cooley wants to be...
After starting at tight end for the Washington Redskins for the past eight years, the team has moved on from Chris Cooley. The Redskins officially annouced his release on Tuesday.This move doesn't come as a surprise to many with 2008 second round pick Fred Davis finally earning a starting role with his impressive production a season ago. Despite missing the final four games of...
Washington tight end Chris Cooley was released on Tuesday.Fantasy Spin:Cooley was no longer a fantasy option due to injuries and the arrival of Fred Davis. He could still land a job somewhere in the NFL, but it's highly unlikely that he'll have any fantasy value.
On his first full day on the job as the kicker for the Washington Redskins, Billy Cundiff made three of four field goal attempts - and was booed for the one he missed - making him the only first-stringer to do something noteworthy in Wednesday night's 30-3 win over the Tampa Bay Buccaneers. Cundiff, signed Tuesday after the Redskins cut Graham Gano, converted from 39, 27 and...
The Skins released Chris Cooley today. We were pretty big fans. Here are 47 reasons why: 1. He wore short shorts in practice. 2. He wore short shorts over long tights in practice. 3. He was drafted by Joe Gibbs, who's "queer" for tight ends. 4. He left his car running for nine hours while attending a hockey game. 5. He and his brother competed in (and lost) the Mottram-Cooley...
This may or may not be a hot-button topic on D.C. airwaves, but I haven't seen much digital discussion about it, so: Shutdown Corner is wondering why the Redskins chose not to play Robert Griffin III in their final preseason game. It's an interesting inquiry, especially considering he attempted 90 percent fewer passes this preseason than the other four starting rookie QBs (Luck...
Redskins News

Delivered to your inbox

You'll also receive Yardbarker's daily Top 10, featuring the best sports stories from around the web. Customize your newsletter to get articles on your favorite sports and teams. And the best part? It's free!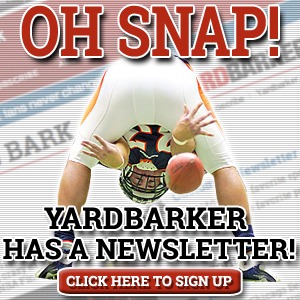 Latest Rumors
Best of Yardbarker

Today's Best Stuff

For Bloggers

Join the Yardbarker Network for more promotion, traffic, and money.

Company Info

Help

What is Yardbarker?

Yardbarker is the largest network of sports blogs and pro athlete blogs on the web. This site is the hub of the Yardbarker Network, where our editors and algorithms curate the best sports content from our network and beyond.