Hall of Fame quarterback Dan Marino joins The Michael Kay Show to discuss Super Bowl LII, Tom Brady's legacy, and the Alex Smith trade to Washington.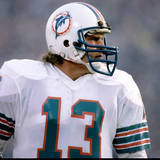 Football is the ultimate team sport, which means even the best players can't get to the promised land on their own. That's been proven time and again, with some of the game's all-time greats never hoisting the Lombardi Trophy.Here we chronicle the 25 best players in NFL history who never won a Super Bowl. The list includes Hall of Famers, as well as currently active players.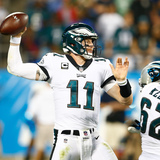 Second-year quarterback Carson Wentz has his Philadelphia Eagles at 5-1 on the season. Wentz himself is turning in a brilliant sophomore season, having thrown 13 touchdowns compared to just three interceptions thus far.It's led to renewed optimism in Philadelphia that the Eagles might very well be able to earn a playoff appearance after a three-year hiatus. More than that, it gives...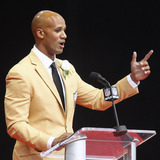 Jason Taylor, the former Miami Dolphins defensive end, is one of seven men who were inducted into the NFL Hall of Fame Saturday. Taylor was joined by Kurt Warner, Terrell Davis, LaDainian Tomlinson, Jerry Jones, Morten Andersen, and Kenny Easley.Taylor, a third-round pick, was a six-time Pro Bowler. He won the NFL's Defensive Player of the Year award in 2006. Saturday in Canton,...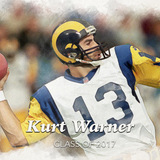 Toward the end of his career, in the days he was cementing his enshrinement in the Pro Football Hall of Fame by guiding his second franchise to a Super Bowl, it was somehow possible to forget just how improbable Kurt Warner's rise to NFL stardom had been a decade prior. Coming into 1999, the St. Louis Rams were hardly expected to be of much consequence, let alone one the most memorable...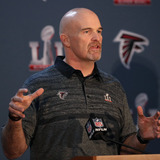 Two months removed from a grueling Super Bowl loss, it's only natural for head coach Dan Quinn to occasionally look back. But he's more interested in learning from the mistakes than dwelling.Specifically, Quinn thinks about when his Atlanta Falcons had the ball up eight. Following an otherworldly catch from Julio Jones, the Falcons had the ball well within Matt Bryant's field goal...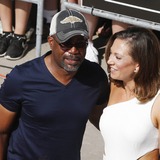 I think we can safely assume that country music star Darius Rucker fancies himself a Miami Dolphins and Dan Marino fan. The former Hootie & the Blowfish lead just recently revealed that he named his now teenage daughter after the all-time great Dolphins quarterback when she was born back in 2001. Really, this isn't a fake news story. It actually happened. And it's glorious...
There are a number of NFL quarterbacks who have had great careers without ever winning a Super Bowl, but only seven Hall of Famers have never won it all. Can you name them? Clue is the year of Hall of Fame induction.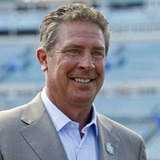 Legendary Hall of Fame quarterback Dan Marino was spotted tossing the football around to Prince Harry in London on Wednesday. Marino is in London participating in a charity event called Walking with the Wounded's Walk of Britain, in which military veterans walk 1,000 miles for 72 days in order to raise funds for soldiers who get wounded during their tour of service. Marino's...
Starting on February 14, 2014, Sam Quinn and The Sports Post have decided to run down the 52 Greatest What Ifs in NFL History, one per week, for the next year. For a list of published What Ifs, as well as the introductory piece, click here. By Sam Quinn Almost every team in the NFL regrets passing on Dan Marino. The two worst, though, are without question the Steelers and Jets...
MORE STORIES >>
NFL News

Delivered to your inbox

You'll also receive Yardbarker's daily Top 10, featuring the best sports stories from around the web. Customize your newsletter to get articles on your favorite sports and teams. And the best part? It's free!