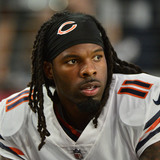 The bad injury luck for Chicago Bears wide receiver Kevin White continued on Sunday. White exited the team's Week 1 loss to the Atlanta Falcons with what was initially being described as a collarbone injury.While the former first-round pick did avoid that specific injury, Bears head coach John Fox confirmed on Monday that White will be placed on injured reserve with a fractured scapula...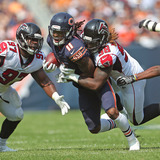 Few players have had a rougher start to their career than Kevin White.The Chicago Bears wide receiver left his team's game on Sunday with a shoulder injury. After the game, ESPN's Dan Graziano reported that the team fears White has a broken collarbone and will need season-ending surgery. NFL Media's Ian Rapoport says the belief is White has a broken collarbone.White was a No. 7 overall...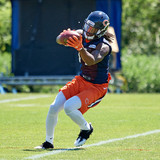 The Chicago Bears expected Kevin White to be an NFL star when they used the No. 7 overall pick in the 2015 NFL Draft on the wide receiver, but injuries have prevented him from making an impact. White is aiming to change that in his third year as a pro.After raising some concerns by being held out of OTAs with a leg injury, White has declared himself fully healthy. He's now focusing...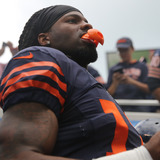 Kevin White has missed all but four games in his first two NFL seasons, and Chicago Bears fans are dreaming of the day their team's former No. 7 overall pick will become a major contributor. Unfortunately, it sounds like White is still less than 100 percent healthy.White was held out of practice on Tuesday, and the team has him listed with a left leg injury. As Rich Campbell of the...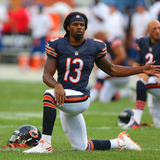 NFL wide receiver Kevin White had his car stolen Thursday night in a carjacking scheme that has become increasingly popular in the Chicago area.White's girlfriend was driving the Bears receiver's Maserati when she reportedly became the victim of a "bump-and-run" attack. What happens is the carjackers nudge your bumper with a car of their own, and one of the thieves hops out and steals...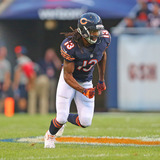 Second-year wide receiver Kevin White was finally making an impact for his team prior to exiting the field late in Sunday's win over the Detroit Lions. White, a first-round pick of the team back in 2015, recorded 12 receptions for 117 yards in less than two games. Unfortunately for the Bears, White left the game with an ankle injury and did not return. Now, a few days later, and...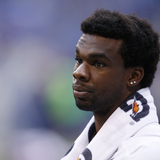 The Chicago Bears have until next Tuesday to decide whether to active highly touted rookie wide receiver Kevin White or shut him down for the remainder of the season.White, the seventh overall pick of the 2015 NFL Draft out of West Virginia, has been on the physically unable to perform (PUP) list all season due to a stress fracture in his shin he suffered in August.White underwent...
Chicago Bears rookie receiver Kevin White could be out the entire 2015 NFL season with a stress fracture in his shin, the team announced on Saturday. Bears GM Ryan Pace says possibility Kevin White could miss entire season. — Chicago Bears (@ChicagoBears) August 15, 2015 White has been sitting it out since training camp, but both he and the team had previously been letting on...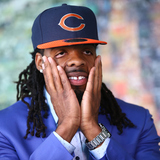 by Jesse Reed The Chicago Bears had big plans for receiver Kevin White, but a report came out on Thursday indicating the talented rookie may miss the entire season on the PUP list after suffering a shin injury this spring. Around the League reported this, via Ian Rapoport, who said, "He hasn't done any running on hard ground. He may not be back anytime soon. Real chance stays on...
With the free agent frenzy and draft process coming to a close, teams are finally getting a good idea of how their team will look for the upcoming season. For a team like the Chicago Bears, they needed to add a plethora of good players and coaches to help them bounce back from their disappointing 6-10 2014 campaign. Thankfully for Bears fans, it appears they have done just that by...
MORE STORIES >>
Bears News

Delivered to your inbox

You'll also receive Yardbarker's daily Top 10, featuring the best sports stories from around the web. Customize your newsletter to get articles on your favorite sports and teams. And the best part? It's free!