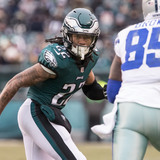 It is never fun to misplace your cellphone. If it falls into the enemy hands disaster could strike. Thankfully for Philadelphia Eagles cornerback Sidney Jones — who dropped his phone during the team's Super Bowl parade on Thursday — a helpful group of fans recovered it. — Sidney Jones IV (@SidneyJonesIV) February 8, 2018 However, this group of fans could not resist getting into Jones...
The (mostly) redshirt year for Eagles cornerback Sidney Jones will end without him wearing a green shirt on Sunday. The second-round pick (who would have been a first-rounder but for a March 2017 Achilles tear) is inactive for Super Bowl LII. Jones played only once this year, in Week 17 against the Cowboys. Also inactive [more]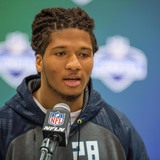 After recovering from a ruptured Achilles all season, Sidney Jones may make his pro debut against the Cowboys.The Eagles took the rookie cornerback off the non-football injury list on Friday. He will practice before the game to see if he can go. And, if he can play, the Eagles will hope to see if he is worth using in the postseason. The big test will be whether he's healthy enough...
Per Ian Rapoport: Yesterday, there appeared to be growing optimism that Jones would be activated sometime before Sunday's regular season finale and play. That picture got a whole lot clearer when the Eagles put Joe Walker on injured reserve with a neck injury, creating a roster spot that would let Jones join the team. We now have at least one reason to watch a game that doesn't really...
Based off of the offense averaging roughly 70 snaps per game, and the defense averaging around 62 per game, here is a look at how Pederson should distribute the snaps this Sunday:
Needing a win to stay in the thick of the NFC West race, the Seattle Seahawks pulled out of Arizona with a critical 22-16 win to improve to 6-3. The win puts the Seahawks a mere half-game behind the Los Angeles Rams in the division, and it was highlighted by Russell Wilson throwing two touchdowns and performing one of the plays of the year. However, the win came at a mighty cost...
Here are seven thoughts, and a deep dive into reading the tea leaves, on Jones and whether or not he will play this season.
MORE STORIES >>
Eagles News

Delivered to your inbox

You'll also receive Yardbarker's daily Top 10, featuring the best sports stories from around the web. Customize your newsletter to get articles on your favorite sports and teams. And the best part? It's free!