Found December 14, 2011 on Blackhawks Down Low:
A Win Where The Wild Things Are:
Blackhawks 3 Wild 3
Hawks win rap battle 2-0.
(Yeah, another lame title. Sorry about that).
On the surface, it looked like it would be a standard Hawks/Wild game on Versus: middle of the week in Minnesota, hot Wild team, strong defensively and Nick Backstrom in goal. This had 1-0 Wild win written all over it.
Sometimes, these things don't go to script.
The Hawks and Wild played an end-to-end game game with the Hawks coming on top 4-3 in a shootout. It was an eventful night in St. Paul.
The Hawks started the stronger out of the two in the first, generating chance after chance but not being able to get one past Backstrom. Brain Bickell marked his return with a strong period, moving around well below the net but still not hitting anybody. Doesn't seem like a lot has changed on that front.
It took the Wild almost 17 minutes to get a shot on net and they were greeted with a Bronx Cheer from the Minnesota faithful. But the shot came after the Hawks had a 2 on 1 which they failed to convert. It was a sign of things to come. Minnesota will sit back and wait before they attack. The Hawks fainlly broke though on a Hossa goal about midway through the second, on the powerplay none the less.  The Hawks got traffic in front of Backstorm and were able to score and looked to be in control. Things got even better when Frolik scored his fifth of the year, which was unfortunate because I would love to see our very own Andrew eat his shoe. At the same time, I was also relieved to get a 2 goal lead in the second period. It seemed like the Hawks were in control and would not lose a nice lead they had in Minnesota. I mean really, who can remember the last time that happened....Oh yeah, right....never mind. Minnesota got back into the game thanks to a no call on what seemed to be an obvious icing call and the fact that John Scott and Steve Montador were the defensive pairing on the ice at the time. Broadziak took the feed after strong skating by Nick Johnson, made a nice move to get Emery to commit and buried it into a more or less open net. There was a lot of talk about this one, but the moral of the story is to play to the whistle. It was a bad call, yes, but it's not like this is the first time ever that an icing has been waived off. It was a mental brain fart which will surely just add fuel to the hatred. Shortly after, Matt Cullen took a pass from Cal Clutterbuck to tie the game at 2 heading into the third. Once again, it was another instance of thinking of "here we go again..." Part of Minnesota's game all year has been building to have a strong third period. Despite starting the period as the stronger team, Toews lost a face off, won the puck anyway and got Backstrom to commit too early and roofed home a goal to make it 3-2. Minnesota kept up the pressure and it only felt like a goal was coming. Sure enough, Cal Clutterbuck fed Mikko Koivu to tie the game at 3 with a little over five minutes left. A combination of a delayed penalty/Minnesota extra skater, Hammer going to the ice too early and Leddy screening Emery led to the goal.
Teams had their chances in OT (Specificlly, Leddy botching the feed from Hossa) and we all dreaded an Emery vs. Backstrom shootout. Toews buried his shot after Matt Cullen got stoned by Emery. In round 2, Speed Racer failed to get a shot off leading to Kane making a joke of a shootout and putting Backstrom on his rear end again, giving the Hawks the victory.
Always nice to get a win, but it seems like everybody gets a point in games they play against the Hawks. It would be nice to see the Hawks close more teams out in regulation, but considering the points debacle we got in at the end of last season, I'll take this. Also, somewhat quietly, the Hawks have gone 7-1-1 in their last 9. With other teams around the league getting bit by the injury bug and a lot of home games before a brutal travel schedule in February, it's key to get the points when possible.
Overall, a good win and Jonathan Toews is all that is man.
Ducks up next on Friday at the UC.
Original Story:
http://www.blackhawksdl.com/2011-arti...
THE BACKYARD
BEST OF MAXIM
RELATED ARTICLES
TUESDAYS STORYLNES: The big story out of Winnipeg is Wild forward Guillaume Latendresse will return to the lineup. Latendresse has missed 15 games with a concussion. Yesterday Yeo had stated he wanted Latendresse to get more practice time, but Matt Cullen came down with the flu overnight and will not be able to play tonight. "Ideally we probably would have liked to give him...
ST. PAUL, Minn. By this time next year, the Minnesota Wild will be in a new conference following the NHL's realignment. When that happens, games against the likes of Winnipeg and Chicago will be conference games.After losing 2-1 Tuesday on the road to the Jets, Minnesota fell 4-3 in a shootout at home Wednesday to the second-place Blackhawks. Both games showed that the Wild...
Residents of the State of Hockey continue to be amazed that their Minnesota Wild have the best record in the NHL. Many are also surprised at who leads the team in goal scoring. The correct answer is a third-line center better known for his blue-collar work ethic and strong defensive play, Kyle Brodziak. He had two goals in Saturday's win in Phoenix to bump his season total...
Captain Mikko Koivu injured himself late in Wednesday night's loss to Chicago.
from Michael Russo of the Star Tribune, Pierre-Marc Bouchard suffered a broken nose and cut lip Tuesday night when he was driven face-first into the boards by a Winnipeg defenseman. But the Wild winger said he thinks he has avoided what everyone who knows his history fears—a concussion. Unfortunately for the Wild, Guillaume Latendresse hasn't. One game after returning from...
A reminder to all Minnesota Wild fans that due to the nationally televised broadcast of the top two teams in the Western Conference, the start time for Wednesday's Wild vs. Blackhawks matchup will be 6:30 PM. Fans attending the game should plan on...
from Michael Russo of Russo's Rants, Pierre-Marc Bouchard is in the house, road the bike and is now on the ice. I'm no doc, but broken nose is a guarantee, and coach Mike Yeo pretty much confirmed that ("nose is smashed up"). Also has a cut lip. Still, depending on how he feels, he's a game-time decision. Yeo said he wants to make sure Bouchard feels good because of his...
Guillaume Latendresse will make a surprise return in first-ever Wild-Winnipeg game
The latest is captain Mikko Koivu, who hurt his leg in overtime against Chicago. First word is it isn't serious.
Quietly, steadily, the Minnesota Wild crept up Adrian Dater's weekly Power Rankings and they've reached the top at last. The Kings qualify as a big surprise in the opposite direction.
An intriguing matchup between Western Conference powers is on tap tonight in Minnesota, where the Wild entertain the Chicago Blackhawks in a battle of division leaders from Xcel Energy Center.
NHL News

Delivered to your inbox

You'll also receive Yardbarker's daily Top 10, featuring the best sports stories from around the web. Customize your newsletter to get articles on your favorite sports and teams. And the best part? It's free!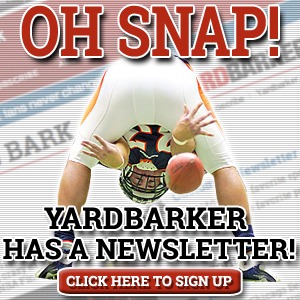 Latest Rumors
Best of Yardbarker

Today's Best Stuff

For Bloggers

Join the Yardbarker Network for more promotion, traffic, and money.

Company Info

Help

What is Yardbarker?

Yardbarker is the largest network of sports blogs and pro athlete blogs on the web. This site is the hub of the Yardbarker Network, where our editors and algorithms curate the best sports content from our network and beyond.