PHILADELPHIA - JANUARY 23: Brandon Sutter #16 of the Carolina Hurricanes skates against of the Philadelphia Flyers on January 23, 2010 at Wachovia Center in Philadelphia, Pennsylvania. The Flyers defeated the Hurricanes 4-2. (Photo by Jim McIsaac/Getty Images)
If I had to name a few players as those who would be "untouchable" on the Hurricanes in regards to a trade, Brandon Sutter would be one of those players. His scoring line isn't the most impressive but he plays one of the most important roles on the team as the third line center. That doesn't sound like much at first glance because every team has a defensive center, but what makes Sutter so important to the Hurricanes is how well he plays this role. Sutter plays some of the toughest minutes in the NHL, regularly being deployed in the defensive zone and matched up against opposing team's top lines. Sutter along with his linemate Patrick Dwyer take up almost all of the defensive responsibilities among the team's forward corps and this allows players like Eric Staal, Tuomo Ruutu and Jeff Skinner to play easier minutes, thus helping the team's scoring. In addition to that, Sutter is one of the team's better shot-blockers and has a pretty good set of hands that make him a solid two-way threat that other teams need to be aware of. Most people who get to watch the Hurricanes are aware of Sutter's value and what he brings to the table, but players like him are usually among the most under-appreciated in the league because defensive forward isn't a noteworthy position. They don't score a lot and their performance isn't shown in most underlying stats either because the ice is tilted so heavily against them, especially for a player like Sutter who plays some of the toughest minutes in the NHL. This is where applying context to one's playing situation would come in handy and Sutter is probably at the top of the list of players who would have their numbers improve if they were adjusted for their starting position, which has been done in the past. We aren't going to do that here, but we are going to look at how Sutter has performed throughout the year but remember to keep his playing situation in mind when you look at the raw data. A look at those numbers is coming after the jump. Brandon Sutter 2011-12 Scoring Chances Average TOI: 17:23
Even Strength Chance% Fwd Rank: 12/18
Even Strength Chance Diff/60 Fwd Rank: 14/18
QualComp Ranking: 2/12
OZ Start%: 34.8% This basically restates what I said in the introduction. Along with Dwyer (and Andreas Nodl to an extent), Sutter played the role of the "heavy lifter" on the Hurricanes. He started most of his even strength shifts in the defensive zone against tough competition and even played top-six minutes on some nights. That is likely a result of him being a mainstay on the penalty kill, though. You can tell that Sutter's overall underlying numbers took a blow from playing in such difficult situations. However, if you take a look at the Behind The Net link posted earlier, you can see that Sutter performed better than other players who were used in similar situations this year. Sutter being able to outperform other team's heavy lifters at only 22 years of age is a very promising sign. Scoring Chances by Season Segment Game # TCF TCA SCF SCA Segment% Team % 1-10 28 35 28 35 0.444 0.475 11-20 55 78 27 43 0.386 0.527 21-30 91 109 36 31 0.537 0.518 31-40 109 139 18 30 0.375 0.473 41-50 149 188 40 49 0.449 0.465 51-60 181 228 32 40 0.444 0.511 61-70 224 274 43 46 0.483 0.454 71-82 262 323 38 49 0.437 0.548 TC = total chances, SC = segment chances, Segment% = scoring chance percentage during segment, Team %= Hurricanes' scoring chance percentage during segment Scoring Chance Segment Line Graph Sutter outperformed the rest of the team in only two segments and had a couple of very rough stretches during the first half of the season. Aside from that, things were pretty consistent for him for the rest of the season. The team was controlling about 44-48% of the even strength chances when he was on the ice, which doesn't sound good when taken at face value but perhaps not as bad when you consider Sutter's role. My guess is that this is what you can expect from someone who plays this kind of role but I don't have any stats to back up my claim there. At least not yet. What I can do, is provide some context on Sutter's playing situation compared to the rest of the team. As I mentioned earlier, he started 34.8% of his shifts in the offensive zone, which means that that he had to swim upstream for most of his shifts and do his best to prevent shots and chances against. He wasn't nearly as good as Dwyer at preventing scoring chances, but he was on ice for the fourth fewest shots against per 60 minutes at even strength among regular forwards, showing that he was doing his job defensively. The only players who were better were Jeff Skinner, Jussi Jokinen and Andreas Nodl. Two of which are far more sheltered than Sutter and the other doesn't have nearly as good of an offensive acumen. Sutter's two-way play is what makes him a more valuable player than Nodl and Dwyer. He produced more shots and scoring chances for the Hurricanes at even strength despite starting most of his shifts in the shadow of his own goaltender. There is only so much he can do in this kind of situation but Sutter managed to make due with the hand he was dealt and have a respectable season. Now, one can not assume that Sutter would score more if he started more of his shifts in the offensive zone, but the fact that he was on ice for more Carolina shots on goal than some players in the top-six does make you wonder what he could do in a more sheltered role. Utilizing him that way would be completely foolish, though because that wouldn't be playing him to his strengths. If you want a intra-Carolina comparison of roles, Sutter had a even strength scoring chance differential of -61. That sounds pretty awful but possibly not as bad when you consider the tough minutes he plays. It also doesn't sound nearly as bad as the -58 and-63 Tim Brent and Anthony Stewart have while playing the most sheltered minutes on the team. Imagine what those two's numbers if they played Sutter or Dwyer's minutes. Kind of scary, isn't it? Brandon Sutter WOWY Dwyer was attached at the hip to Sutter for most of the year but Sutter did get to spend some time playing with different linemates. He wasn't much better or worse without Dwyer on his wing but you can tell that Dwyer relied on Sutter a fair bit. One player who had a lot of success playing on Sutter's line was Drayson Bowman, which shows some great potential for him to make the team out of camp next year as a third liner. Dwyer, Sutter & Nodl were able to control about 45% of the scoring chances as a unit, but Bowman gives that line more of an offensive punch and could make them more effective a two-way unit than they are now. This would mean that one of Nodl or Dwyer would get bumped to the fourth line but let's be honest here, this team needs to restructure things a bit. They were sitting at the bottom of the Eastern Conference and were extremely poor at controlling the shot battle, which is a sign that a few changes wouldn't hurt things at all. Although, I'm not sure if the third line is something that needs to be tweaked. I've said countless times that LaRose works best as a third liner but the data here speaks otherwise. Sutter was gettind ragged down whenever he was playing with LaRose on his wing and LaRose appeared to work much better on other lines, too. LaRose has never been that good defensively and his performance with Sutter illustrates that. The other thing that sticks out here is that scoring chances were going in the Hurricanes' favor when Eric Staal was playing on a line with Sutter. During a short period in November, Paul Maurice shook things up a bit by making Sutter the team's first line center with Staal as a winger. This was an attempt to boost Staal after a slow start and it appeared to have some success. The two didn't play together long enough to make any final judgments on their performance, though. I will say that the idea of Sutter as the first line center intrigues me but I don't think the Hurricanes have the horses up front to make it work. The only way it would work right now is if they used them in a power vs. power role and we need a better winger in order to do that because would no longer be on the third line. That or we could acquire another third line center to take Sutter's role and try him out as the first line center but that's way too risky to do at the moment. There is no guarantee that Sutter would perform well in a sheltered role and where he is now on the team suits his talents just fine. He does have a future as a second line center if he can improve his offensive output, though.
Original Story:
http://www.shutdownline.com/hurricane...
MORE FROM YARDBARKER
Hurricanes News

Delivered to your inbox

You'll also receive Yardbarker's daily Top 10, featuring the best sports stories from around the web. Customize your newsletter to get articles on your favorite sports and teams. And the best part? It's free!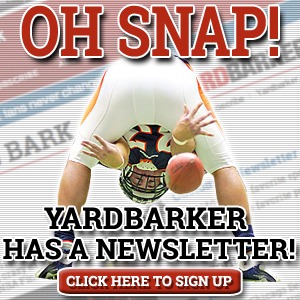 Latest Rumors
Best of Yardbarker

Today's Best Stuff

For Bloggers

Join the Yardbarker Network for more promotion, traffic, and money.

Company Info

Help

What is Yardbarker?

Yardbarker is the largest network of sports blogs and pro athlete blogs on the web. This site is the hub of the Yardbarker Network, where our editors and algorithms curate the best sports content from our network and beyond.