Found June 15, 2013 on BruinsLife:
The Bruins are coming off of a tiresome loss in game one. The game went in to triple overtime and as the Blackhawks scored the game winner, most people in both Chicago and Boston were fast a sleep. The Bruins blew a two goal lead in the third period and then passed on many chances to score in over time. The Bruins played great during intervals of the game and should have won. That said if the Bruins get a lead they'll have to be able to hold the lead. Both goals were the defense fault, a puck off the leg of Ference and a blown play by Torrey Krug. If the Bruins play strong in catagories they have been strong in all season, like defense, then they should be able to beat the Blackhawks and split the series on the road. Nathan Horton will be playing with a seperated shoulder, if he even plays at all. Söderberg practiced with the team and he might be in the game too or replacing Horton. If Söderberg plays it'll be interesting to see how he does thrown into the middle of a Stanle...
Original Story:
http://www.bruinslife.com/2013/06/bru...
THE BACKYARD
BEST OF MAXIM
RELATED ARTICLES
Forward Nathan Horton practiced with the rest of his Boston Bruins teammates at United Center on Friday, showing no major signs he's hobbled by what reportedly is a serious shoulder injury. Bruins coach Claude Julien said Horton remains day to day. "If he feels good, he's in the lineup," Julien said. "Simple as that." Horton left the ice in obvious...
Boston Bruins forward Nathan Horton said he's ready to skate in Game 2 of the Stanley Cup Final on Saturday night at United Center. Just as crucial, his coach agreed hours before the puck dropped. "He feels really good, "Bruins coach Claude Julien said. "He looked really good out there, the last two days. There's absolutely no reason he shouldn't play...
Nathan Horton may be lying, just a little bit. At this time of the year, though, that's the way of the world in the NHL. Horton declared himself ready to go for Saturday night's Game 2 of the Stanley Cup Final despite leaving Game 1 with a shoulder injury, which he did not return from. However, he says he feels good, and he's going to give it a go against the Blackhawks. In...
Photo credit: Paul Bereswill CHICAGO—According to a report from DJ Bean of the Big Bad Blog on WEEI.com, Boston Bruins forward Nathan Horton has been dealing with a chronic shoulder subluxation, which is why he left Game 1 on Wednesday night in pain. In a cruel twist of irony, the injury was first suffered when the gritty forward fought Pittsburgh Penguin Jarome Iginla back on...
Scott LevesqueContent EditorYou could hear the collective gasp through the numerous television screens when Bruins forward Nathan Horton skated off the ice, during game one, with an apparent upper body injury. What made matters worse was the lack of information surrounding Horton's status moving forward. Is he going to play? Is he done for the rest of the series? Bruins fans...
Some people wondered whether Nathan Horton blocked a shot off his wrist or suffered a separated shoulder during the first overtime of Chicago's 4-3 3OT win over Boston last night. Whatever really happened, we won't know until after the series, if we are ever told what happened, but for the moment, TSN and the Canadian Press report the usual kind of injury update at this time...
Boston Bruins forward Nathan Horton left Wednesday night's Bruins-Blackhawks game in the first overtime due to what Bruins coach Claude Julien suggested was an, "Upper-body injury," but the Boston Bruins' beat writers believe that Horton aggravated a "subluxated" shoulder originally caused by an ill-timed fight with Jarome Iginla on April 20th. The Boston...
The Boston Bruins have gotten some good news, Nathan Horton will play in game two, so the Hulk Line will "start" the game in tact. It will be interesting to see how long Horton can go, his shoulder has been messed up during the 2013 Stanley Cup Playoffs. Hawks have won 8 of 9, including 3 in OT and 6 straight at home. Bruins have not lost in regulation since Game...
It's the Stanley Cup Final, so you have to take every injury update from a head coach with a grain of salt, but Bruins head coach Claude Julien sounds at least somewhat hopeful in regards to Nathan Horton. Horton had to leave Game 1 of the Cup Final against Chicago with an apparent upper-body injury and did not return. Julien offered no update on Horton following the game, and...
Nathan Horton is down but he's not out. Horton, who appeared to suffer a left shoulder injury during overtime of Game 1 of the Stanley Cup Final, was practicing on Friday afternoon. The winger was splitting time with Tyler Seguin on the first line alongside David Krejci and Milan Lucic. Horton, who has 18 points this postseason, never returned following his injury. Horton is reportedly...
The team that stands victorious at the end of a best-of-seven series is often the team with the shortest memory. After a loss — even a triple-overtime one — great teams learn from their mistakes, but do not dwell on them. After the Bruins dropped Game 1 of the Stanley Cup Final to the Blackhawks on Wednesday night (or, technically, early Thursday morning), the players underwent...
Nathan Horton may or may not play tonight in game two of the Stanley Cup Final. Turns out he has a shoulder that has been dislocating over the past two months more than Mel Gibson's in Lethal Weapon 2. If there was ever more proof that hockey players are the toughest players in the world, Nathan Horton would be up there on that list. Losing him would hurt. He has been the top ...
Bruins News

Delivered to your inbox

You'll also receive Yardbarker's daily Top 10, featuring the best sports stories from around the web. Customize your newsletter to get articles on your favorite sports and teams. And the best part? It's free!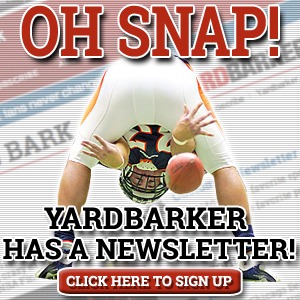 Latest Rumors
Best of Yardbarker

Today's Best Stuff

For Bloggers

Join the Yardbarker Network for more promotion, traffic, and money.

Company Info

Help

What is Yardbarker?

Yardbarker is the largest network of sports blogs and pro athlete blogs on the web. This site is the hub of the Yardbarker Network, where our editors and algorithms curate the best sports content from our network and beyond.