Found May 09, 2013 on Fox Sports:
All hell almost broke loose in Toronto on Wednesday. First the city's beloved Maple Leafs lost in overtime to the Bruins, putting the team down 3-1 in the first-round series in the Stanley Cup playoffs. And then ... oh, the drama! Team captain Dion Phaneuf's fiancee, actress Elisha Cuthberth, and the wife of goalie James Reimer, April, seemed to have a vicious stare-down after the OT goal. Chick fight? Most seemed to think so because the vine video of the two went viral. Phaneuf made a costly mistake on the OT goal. Was April defending her man? Just stop it. These ladies have no beef. It was just some "jerk." For those who were thinkin @ happyelishas and I were rolling our eyes @ eachother. Was the jerk beside us #rudecomment twitter.com/april_reimer/s... -- April Reimer (@april_reimer) May 9, 2013 Now if the Leafs could get back in this series ...
Original Story:
http://msn.foxsports.com/nhl/story/di...
THE BACKYARD
BEST OF MAXIM
RELATED ARTICLES
Sudden-death overtime is nerve-wracking enough if you're a hockey fan, but that stress is multiplied tenfold if one of your family members is on the ice. And if that family member is the goalie? Forget about it. That was evident on the faces of Maple Leafs netminder James Reimer's family, who could hardly bear to watch as Reimer's Leafs fell to the Bruins 4-3 in the extra session...
The Bruins have a bit of a hole to dig themselves out of in Game 4, but it's not due to a lack of scoring chances. Boston had 15 shots in the first period against James Reimer and the Leafs, but weren't able to find the back of the net on any of them. That left them with a 2-0 deficit, and a Catch-22 proposition for the offense. How can they keep peppering a visibly shaky Reimer...
In a classic case of "Much Ado About Nothing," Elisha Cuthbert, the gorgeous actress girlfriend of Toronto Maple Leafs defenseman Dion Phaneuf, and April Reimer, the beautiful wife of Maple Leafs goaltender James Reimer, appeared to be setting the stage of a WAG-on-WAG cat fight for the ages when the two appeared to engage in an ultimate stare down during at the conclusion of...
Dion Phaneuf went for a big hit that wound up leading to a Bruins breakout that eventually materialized in David Krejci's game-winning overtime goal in Game 4. Realizing this, James Reimer's wife was caught on camera giving the death stare to Phaneuf's fiance, actress Elisha Cuthbert, immediately following the Bruins' game-winner. Cuthbert appeared to be less than enthused...
James Reimer gave Bruins fans flashbacks Friday night, as his save on Patrice Bergeron was straight out of Tim Thomas' playbook. With Bergeron bearing down on him, the Maple Leafs goalie threw out his right leg and just nicked the puck with his toe, sending it wide of the net. After being Toronto's weak link thus far in the teams' opening-round series, Reimer was stellar in...
Nathan Horton took a big hit in overtime to allow David Krejci to get up ice and eventually score the game-winning goal on Wednesday night in Toronto. Horton was blasted by a pinching Dion Phaneuf as the Bruins forward poked the puck off the boards and up to his linemate at the B's blue line. While he was slow to get up from the awkward hit, he told reporters that he felt fine...
Read my lips, Dion Phaneuf – hit the guy if you're going to pinch. Better yet, DO NOT PINCH. He's a decent player, but a crappy decision maker. Yikes.   David Krejci is money in the bank in the postseason. His hattie was just his third, three-point effort in his last four games. Ten points in four games. Wow.   Breaking news, Toronto fans. Elisa Cuthbert...
After Toronto Maple Leafs defenseman Dion Phaneuf made a horrible pinch in the offensive zone in overtime, the Boston Bruins went down on an odd-man rush and Bruins forward David Krejci scored the game-winning goal on James Reimer.  The goal that Reimer let in was particularly weak, and the reaction from his wife April Reimer and Phaneuf's fiance Elisha Cuthbert seemed like it...
Bruins fans have heard it so many times: "Don't poke the bear." Still, that's exactly what the Maple Leafs did in Game 5, including a couple of borderline hits on Zdeno Chara and Adam McQuaid. The Bruins usually thrive in those sorts of situations, but James Reimer seems determined not to let them. All in all, there's plenty of drama still to play out in this series. NESN...
Just a few things that caught my eye: James Reimer, two; Roberto Luongo, zero. Playoff wins, that is -- isn't that what Leafs' fans thought they'd get out of a Bobby Lou trade? Any chance they eat crow? Where are you, Rick Nash? Brad Richards? And how much cash is tied up in you two stiffs? It's tough to dominate 19:59.58 of a period...
Tyler Bozak and Clarke MacArthur scored and James Reimer stopped 43 shots Friday night to help the Toronto Maple Leafs beat the Boston Bruins 2-1 and stay alive in their first-round playoff series. Game 6 is Sunday in Toronto, with the decisive seventh game back in Boston on Monday, if necessary. Boston has won both games in Toronto in the series and has not lost on the Leafs&...
Maple Leafs News

Delivered to your inbox

You'll also receive Yardbarker's daily Top 10, featuring the best sports stories from around the web. Customize your newsletter to get articles on your favorite sports and teams. And the best part? It's free!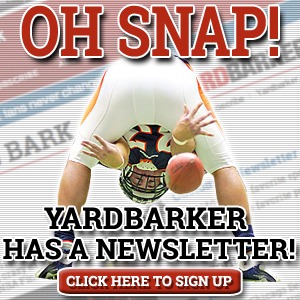 Latest Rumors
Best of Yardbarker

Today's Best Stuff

For Bloggers

Join the Yardbarker Network for more promotion, traffic, and money.

Company Info

Help

What is Yardbarker?

Yardbarker is the largest network of sports blogs and pro athlete blogs on the web. This site is the hub of the Yardbarker Network, where our editors and algorithms curate the best sports content from our network and beyond.