Found January 24, 2013 on Shutdown Line:
PLAYERS:
Eric Staal
,
Jeff Skinner
,
Jhonas Enroth
,
Jose Theodore
,
Mathieu Garon
,
Ryan Miller
,
Joni Pitkanen
,
Justin Faulk
,
Tim Gleason
,
Jordan Staal
,
Cam Ward
,
Drayson Bowman
,
Jiri Tlusty
,
Cody Hodgson
TEAMS:
Carolina Hurricanes
,
Buffalo Sabres
,
Florida Panthers
,
Tampa Bay Lightning
Calling any game a "must win" situation is silly when it's only three games into the season but tonight was a game that Carolina really needed to win for their fan's sake. After starting the season with two blowout losses, scoring a grand total of two goals in the process, they really needed to play a good game tonight to at least lift the spirits of the fanbase and they did just that and more tonight. Not only were the fans treated to an exciting game, they got to see the Canes net six goals and see their captain Eric Staal record the 13th hat trick of his career. This was far from a perfect game, but this is exactly the kind of performance the Hurricanes needed to give their team a much needed confidence boost. Everyone was wondering when Carolina's offense would break out and after scoring on only 2 of 78 shots in their first two games, they lit the lamp on 6 of the 38 shots they took tonight (technically 5 of 37 not counting Staal's empty netter). They also continued to win the shot battle tonight at even strength 27-24 and also outchanced Buffalo overall 22-20. It just goes to show you that shooting percentages can't stay low forever and good things will come as long as the team continues to win the shot battle and consistently produce quality chances on top of that. Going a perfect 6/6 on the PK and scoring a shorthanded goal also helped matters, as the Canes finally had a good special teams performance. Carolina got a bit lucky tonight, which is great because nothing went right for them in the first two games, but they also had a very strong performance from just about all of their top players and earned every bit of this win. Breakdown coming after the jump. Corey's Ten Thoughts - In the early stages of the first period, Carolina came out very strong, outshot Buffalo 6-1 and had a very strong looking powerplay that did just about everything right but score. It was at this point where Carolina fans began to say "here we go again." Thankfully Jeff Skinner was able to open the scoring less than two-minutes into the second period with a great back-hander and then Faulk added a shorthanded tally a few minutes later. After that, things seemed to go much better and the Hurricanes looked a lot more comfortable. Confidence always comes after results and scoring that first goal was a major boost for the Hurricanes self-esteem. - One reason for the offensive outburst was the play of Buffalo goaltender Jhonas Enroth, who was less-than-stellar tonight. Faulk was able to beat him five-hole on his goal and he really should have been hugging the post on Skinner's second goal of the game, which came on a wrap-around. He would probably like to have Eric Staal's first goal back, as well. Hey, after the first two games where Jose Theodore and Mathieu Garon looked unbeatable, the Hurricanes will gladly take a rough outing from an opposing goaltender. Not sure if they will have the same fortunes against Ryan Miller tomorrow night but you never know.  - Eric Staal's second goal of the game was an absolute laser, but let's not overlook the great forechecking of Jeff Skinner and terrific steal by Joni Pitkanen that came a few seconds prior. Pitkanen also delivered a great pass to the slot which Staal fired past Enroth. Plays like that are what makes having Pitkanen in the lineup a major boost for this team. - McBain made quite a statement for himself in his first game of the year, as he made a great stretch pass to Eric Staal to make it 4-2 in the second period. Mind you this came one shift after Jeff Skinner gave the Hurricanes a 3-2 lead. Safe to say that we will be seeing #4 in the lineup tomorrow. - Some interesting notes with the defense tonight. Justin Faulk played over 22 total minutes but he and Tim Gleason played a little under 13 a piece at even strength, which was the lowest among the defense pairings. They each played over 7 minutes on the penalty kill, though as they continued to do some heavy lifting there. I wonder if their reduction in even strength minutes had anything to do with how much time they spent on the PK. Although, they were also on-ice for all three Buffalo goals, which may have played a factor. Neither player looked good on the Hodgson goal and Pominville's third period tally. - Another player who was on-ice for all three opposing goals was Jordan Staal, but he had a good night aside from that from my viewpoint. He recorded two assists, made a key play on Faulk's short-handed marker by breaking up a pass and was a solid 13/20 in the faceoff circle. The Pominville-Hodgson-Vanek line seemed to get the better of him in the chance department, though but I'll have those numbers up a little later. Either way, I thought he looked very strong tonight along with Dalpe and Skinner. - The powerplay fell to 1/15 on the season, but the penalty kill going a perfect 6/6 tonight helped make up for it. They looked very aggressive and made sure that very few of the Sabres shots came from right in Cam Ward's kitchen. This is where Jordan Staal really shined and Patrick Dwyer nearly added another shorthanded goal but ended up hitting the post. There are a few new players being used on the PK like Drayson Bowman and Jiri Tlusty but they all did a fantastic job tonight. - Another thing Carolina needed was a good game from goaltender Cam Ward and they got that tonight with him stopping 30 out of 33 shots. It wasn't a star-worthy performance but he did not give up any soft goals and made a few big saves including one on Cody Hodgson in the third period to keep Carolina on top 4-3. - Something I noticed was that the Hurricanes played much better when they opened things up in the second period. They started off the game playing very conservative and didn't generate many chances out of it. They were much more aggressive in the second period and that's when all hell broke loose. The defensemen were pinching in more and  forwards were forechecking stronger instead of just simply getting the puck deep and hoping for the best. This led to the defense looking shaky at times but these are risks you sometimes have to take when you have only two goals through two games on the season. Thankfully for the Hurricanes, they ended up producing more offense than they gave up in their own end. Hopefully tomorrow's game in Buffalo is just as entertaining.
Original Story:
http://www.shutdownline.com/hurricane...
THE BACKYARD
BEST OF MAXIM
RELATED ARTICLES
Eric Staal scored three goals, Jeff Skinner added two and the Carolina Hurricanes earned their first victory of the season by handing the Buffalo Sabres their first loss, 6-3 on Thursday night. Skinner and Staal scored 9 seconds apart during Carolina's four-goal second period that also included a short-handed score by Justin Faulk. Jordan Staal, Joni Pitkanen and Zac Dalpe...
RALEIGH, N.C. -- Once Eric Staal and the Carolina Hurricanes got in a good offensive flow, they settled in to do what they do best. Staal's hat trick capped an offensive outburst for the Hurricanes in a 6-3 victory over the Buffalo Sabres on Thursday night at PNC Arena. "It felt a little better," Staal said. "I knew if I stayed with the game plan and we stayed...
On a busy Thursday, Eric Staal's hat trick put the Carolina Hurricanes into the win column for the first time this season as they beat the Buffalo Sabres 6-3 last night in Raleigh. He scored once in the second and put up both Carolina goals in the third. His brother, Jordan, added a pair of assists in the win. Jason Pominville potted a pair in the loss. That was part of a wild...
BUFFALO, N.Y. (AP) -- Jay Harrison scored the go-ahead goal with 4:50 left, helping the Carolina Hurricanes to a 3-1 win over the Buffalo Sabres on Friday night. Harrison fired a slap shot from the right point after Eric Staal won the faceoff, and the puck beat Buffalo's Ryan Miller on the short side. Alexander Semin tied it for the Hurricanes early in the third period, and...
RALEIGH, N.C. -- Eric Staal's hat trick capped an offensive outburst for the Carolina Hurricanes. The Hurricanes, who managed a total of two goals across their first two games, scored four times in about a 13-minute span of the second period in a 6-3 victory against the Buffalo Sabres on Thursday night at PNC Arena. Jeff Skinner scored two goals as the Hurricanes won for...
(Courtesy: Dave Sandford/Getty Images North America) After two days, the Sabres return to action tonight with the first half of a home-and-home series against the Carolina Hurricanes.  Hopefully the team made good use of their two day break between games because it's their last such break for the next three weeks. Buffalo enters tonight with a 2-0 record on the young season, —...
Jay Harrison scored the go-ahead goal with 4:50 left, helping the Carolina Hurricanes to a 3-1 win over the Buffalo Sabres on Friday night. Harrison fired a slap shot from the right point after Eric Staal won the faceoff, and the puck beat Buffalo's Ryan Miller on the short side. Alexander Semin tied it for the Hurricanes early in the third period, and Jeff Skinner scored an...
BUFFALO, N.Y. -- With Ryan Miller standing tall at the other end, the Carolina Hurricanes regrouped late and focused on getting pucks to the net with traffic in front. It worked to perfection. Jay Harrison broke a 1-1 deadlock with just under 5 minutes remaining, and the Carolina Hurricanes went on to defeat the Buffalo Sabres 3-1 at the First Niagara Center on Friday night....
Buffalo Sabres at Carolina Hurricanes PNC Arena, 7 p.m. TV: SportsSouth, MSG Buffalo With every team having to deal with a shortened training camp, there are bound to be a lot of roster and lineup changes throughout these first few weeks. Carolina's head coach, Kirk Muller made a few adjustments to the lineup before Tuesday nights game by subbing Jeremy Welsh and Kevin...
Don't look now but the Hurricanes have outchanced their opponents in each of their first three games this year and they managed to do it last night without the "aid" of score effects, as they were playing with the score tied or with a lead for most of the contest. Yesterday's game was easily Carolina's most impressive performance in this still very young season...
For the second game in a row, the Hurricanes outchanced their opponents only to come out on the losing end of a blowout. Despite outchancing both Florida and Tampa Bay by a combined 40-34 and 32-23 at even strength, the Canes have been outscored 2-9 and now find themselves starting the year with an 0-2-0 record. This is frustrating to watch, but the fact that Carolina has been winning...
There are a lot of things I could say about the Carolina Hurricanes 4-1 loss to the Tampa Bay Lightning. I could talk about how the Hurricanes, once again, got off to a slow start and allowed a goal on the first scoring chance of the game. Then, I could explain how they outshot Tampa Bay 36-26 but ended up losing because of being outplayed in the special teams department and getting...
NHL News

Delivered to your inbox

You'll also receive Yardbarker's daily Top 10, featuring the best sports stories from around the web. Customize your newsletter to get articles on your favorite sports and teams. And the best part? It's free!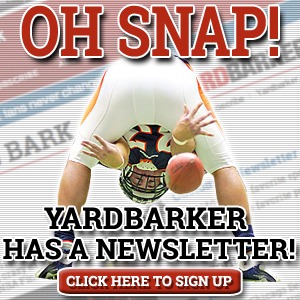 Latest Rumors
Best of Yardbarker

Today's Best Stuff

For Bloggers

Join the Yardbarker Network for more promotion, traffic, and money.

Company Info

Help

What is Yardbarker?

Yardbarker is the largest network of sports blogs and pro athlete blogs on the web. This site is the hub of the Yardbarker Network, where our editors and algorithms curate the best sports content from our network and beyond.