Found February 01, 2013 on Queen City Sports:
This pretty much sums it up When the Sabres first signed John Scott back in July, everyone knew just what the team was getting: a guy who would only play a few minutes a night – if dressed – and would be used to set a tone for the game, and warn opponents to back off. We saw his first scrap as a member of the Sabres in game two against Toronto, but Thursday night was the first time we saw the real John Scott come out. At the 2:53 mark of Buffalo's game against the Boston Bruins, Scott and "tough guy" Shawn Thornton dropped the gloves as soon as the puck dropped, and went at it.  As you can tell from the video above, it was a pretty one-sided affair. While in normal speed, it's tough to truly tell how many shots Scott got in, but once the slow-motion replay of the fight starts, it's clear as day how bad Scott rang the bell of Thornton. Scott ended up knocking Thornton out of the game, and out of the lineup for a prolonged period of time as it was announced Friday that Thornton suffered a concussion from the bout and will miss 7-10 days. And if you think that giving the Bruins forward a concussion was what Scott wanted, you're dead wrong. Sure, Scot wanted to beat Thornton in the fight, but it's not like he wanted to seriously injure the guy. Fights are part of the game, and sometimes injuries happen. However, this doesn't mean Scott wants to jeopardize a player's career. He even said that he wanted to check on Thornton because he wanted to make sure he wasn't too hurt. The fight didn't fully have an impact on the outcome of the game, – that was all Thomas Vanek's doing – but it did send a little message to the Bruins that if you want to start something, the Sabres have a guy who will finish whatever it is. The post Sabres Fans: Time To Really Meet John Scott appeared first on Queen City Sports.
Original Story:
http://queencitysports.net/sabres/sab...
THE BACKYARD
BEST OF MAXIM
RELATED ARTICLES
LEGACY OF BRUTALITY
John Scott of the Buffalo Sabres laid an absolute beat-down on the Bruins Shawn Thornton in last nights game. Scott and Thornton, both known enforcers, didn't wait long to drop the gloves for this one and got down to business moments after the face off. The fight was over in less than :10 seconds but the damage was done. Scott landed 7-9 pretty solid blows while Thornton couldn't...
Jesus Christ these tweets are ******* amazing. I'd really enjoy watching Sheriff John Scott lay out Lucic tonight #NHL #payback — Bilbo Teabaggins (@Cucumber_Kid_71) January 31, 2013   I hope John Scott plays tonight, so I can see him beat the **** out of Lucic. — Nathan Schultz (@Shouts23) January 31, 2013   John Scott should run...
The Sabres John Scott is 6'8" and 270 and plays about 3:30 minutes a hockey game and has no other value other than he's a goon, some might refer to him as an insurance policy. On the other hand, Boston Bruins forward Shawn Thornton is a role player that sticks up for his teammates and is also known to chip in goals. Thornton definitely took one for the team here....
Shawn Thornton and John Scott are two of the biggest, baddest dudes in the NHL, and they have both made a career out of using their firsts to send messages in hockey games. The message that they may try to send on Thursday night would likely be very personal. Scott is one of the players that Buffalo brought in this offseason to toughen the Sabres up, especially in the wake of the...
BOSTON — The anticipation and the build-up leading into Thursday night's Bruins-Sabres game was undeniable. Much of that surrounded the possibility of some hand-to-hand combat between two increasingly bitter rivals. However, not much came of that, aside from one quick first-period scrap that might leave the Bruins without one of their toughest players moving forward. Shawn Thornton...
News coming out regarding 4th Liner Shawn Thornton is that he suffered a concussion during the fight with Buffalo Sabres' goon John Scott and is expected to miss 7-10 days. As I have been saying in the previous posts, Scott is 6'8" 270lbs, Thornton is 6'2" 216lbs. A 44 pound 6 inch difference. Also a note to point out, Scott only got 4:28 of ice time last...
The Bruins are coming off of a tough lose to the Buffalo Sabres 7-4. A game in which the Bruins played as bad defensively as they ever have. Lapses in defense gave up many break aways and two on ones. Irresponsible play by forwards and mistakes is what led to the break aways. The worst part of the lose was when Thornton got pumbled in a fight against John Scott and now Thornton is...
Here from the Bruins Claude Julien and the Sabres John Scott. Videos courtesy of Mike Petraglia.
Can we get one thing out of the way before I dive into this preview? Can we please stop talking about someone antoning for Shawn Thornton's injur versus John Scott? For some reason, people want to see Lucic or Chara go toe-to-toe with John Scott and my question is why? Why have one of your best (or better) players fight a guy who is in the NHL strictly to fight people? Losing...
Let's be honest here. The 6-foot-8 John Scott absolutely pummeled 6-foot-2 Shawn Thornton during the Sabres' win over the Bruins on Thursday. As a consequence, Thornton suffered a concussion and will miss at least the next seven to 10 days. So, the Bruins will have to march on without one of their key physical presences, but the players like Gregory Campbell and Zdeno Chara,...
Awful. Just awful. We didn't expect the Bruins to go undefeated obviously but damn that was awful. If the Maple Leafs scouts only saw that game, not even they would trade for any of the Bruins defense. That game was the worst thing I've watched since Pearl Harbor. By comparison, Pearl Harbor is one of the greatest films of our time. I am too mad at the Bruins defense to even...
Vanek Destroyed the Bruins Tonight With 3 Goals and 2 Assists Boston Ma, The game basically started as Shawn Thornton scuffled with Buffalo goon John Scott. Thornton was man handled by the 6 ft 8in 270lb Scott and consequently would miss the rest of the game. The first intermission hit with the game scoreless. Second period saw some fiesty play from both sides. Thomas Vanek...
NHL News

Delivered to your inbox

You'll also receive Yardbarker's daily Top 10, featuring the best sports stories from around the web. Customize your newsletter to get articles on your favorite sports and teams. And the best part? It's free!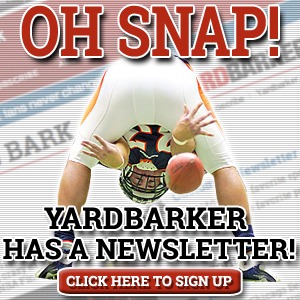 Latest Rumors
Best of Yardbarker

Today's Best Stuff

For Bloggers

Join the Yardbarker Network for more promotion, traffic, and money.

Company Info

Help

What is Yardbarker?

Yardbarker is the largest network of sports blogs and pro athlete blogs on the web. This site is the hub of the Yardbarker Network, where our editors and algorithms curate the best sports content from our network and beyond.