Found January 09, 2013 on isportsweb.com:
  Executive Vice President and CEO of Maple Leaf Sports Entertainment (MLSE), Tom Anselmi (right) welcomes the new general manager of the Toronto Maple Leafs, Dave Nonis (left) after Brian Burke was fired earlier today. It is with no surprise that the Toronto Maple Leafs fired general manager, Brian Burke when you consider the fact that the team have missed the playoffs throughout his tenure.  What is surprising is the timing of the firing. With about week to go  before the shorten season starts,  it is baffling to a lot of people that the Maple Leafs would make such a  move, especially shortly after the lockout ended.  "There is no good time to do this," Executive Vice President and CEO of Maple  Sports Entertainment (MLSE), Tom Anselmi said in a press conference.  He went on to say that the decision to fire Burke was based on a change of leadership. Burke became the general manager on November 27, 2008. During his time with the Leafs, Burke was Instrumental in acquiring players like Phil Kessel  from the Boston Bruins and defenceman Dion Phaneuf  (my favorite player and the captain of of the team) from the Calgary Flames.   Unfortunately, it didn't  transpire into a playoff  berth within those four years he was G.M. This year, Burke would've been entering his fifth year of a six-year contract with the team. During today's press conference, Anselmi introduced Dave Nonis as the new general manager.  As  for Burke, he is not leaving the organization completely,though.  He's going to stay on in a senior advisory role. Before the lockout, rumors were swirling around about the Leafs getting goaltender, Roberto Luongo from Vancouver.  As a Leaf fan, I wouldn't mind seeing Luongo in blue and white.  The Leafs could use a top quality netminder between the pipes.  However, even I know it's a long shot.   When asked at today's press conference about Luongo, Nonis would not comment on the issue. Nonis did say there are going to be some decisions about certain players in the Leafs roster.  "We have some work to do," He said. When asked if he had any contact with other general managers in the league, Nonis said he hadn't.  "I have a hard time getting a hold  of my wife," he said.    
Original Story:
http://feedproxy.google.com/~r/isport...
THE BACKYARD
BEST OF MAXIM
RELATED ARTICLES
Anyone? Bueller? While we're still 10 days away from the start of the 2013 NHL season (and you know, the ratification of the new CBA by both the NHL and the NHLPA) but that hasn't stopped some trade speculation from filling the airwaves and social media. Hell, your Grandmother probably knows. The day started out with the same rumors that have been kicking around since the 2011...
The Roberto Luongo trade rumours are in full force. Previously I've looked at the possibility of Luongo heading to Toronto, Edmonton, Florida and Chicago. Until today, I have not thought about the possibility of Luongo in the orange and black of the Philadelphia Flyers. The Luongo to Philadelphia rumour heated up today after TSN's James Duthie mentioned Philly's interest on...
It's been a slow past few months here at RobTheHockeyGuy, but we are BACK! Though the season isn't scheduled to start until January 19th, we have actual hockey news to talk about! And none more interesting than the news out of Toronto today: Brian Burke has been fired by the Toronto Maple Leafs. This is a Canucks blog, so I won't spend too much time analyzing Burke's failure...
Roberto Luongo figures to be on the move at some point, and the Maple Leafs could still be in play. Luongo has been the subject of trade rumors for some time now, with Cory Schneider taking over as the Canucks' No. 1 goaltender. The latest team to be linked to the three-time All-Star is the Leafs, who happened to fire general manager Brian Burke on Wednesday. But while Luongo has...
ESPN's Pierre LeBrun has released a second set of nuts-and-bolts information about the new collective bargaining agreement, and there's a strange twist to what he's calling the "Luongo Rule"--a.k.a. punitive penalties retroactively imposed upon teams that issued "lifetime" contracts to retain their own players, especially if said players are eventually...
Vancouver Canucks goalie Roberto Luongo figures to be on the move at some point, and the Toronto Maple Leafs could still be in play. Luongo has been the subject of trade rumors for some time now, with Cory Schneider taking over as the Canucks' No. 1 goaltender. The latest team to be linked to the three-time All-Star is the Leafs, who happened to fire general manager Brian Burke...
Categories: BREAKING NEWS Flyers News NHLTags: Enrico CicconeIlya BryzgalovJames DuthieRoberto LuongoVancouver CanucksEarlier this morning, former NHL player and TV analyst Enrico Ciccone reported via twitter that the Philadelphia Flyers were interested in Vancouver Canucks goaltender (until next week) Roberto Luongo. Casual fans and Philadelphia media alike scoffed at the notion...
Reports are swirling that the Flyers may be kicking the tires on embattled Vancouver Canucks goaltender Roberto Luongo. Adrian Dater of the Denver Post reported via Twitter that the Flyers are players for Luongo tweeting "Paul Holmgren going in on […]
>href="http://www.hockeyfanland.com/apps/blog/show/14282096-roberto-luongo-done-in-vancouver-">Roberto Luongo ends up with the Toronto Maple Leafs -- a scenario that became more likely when Dave Nonis was named the Leafs' new GM -- the Vancouver Canucks will probably want more than just center Tyler Bozak in return. The Vancouver Sun's Elliott Pap, for one...
I Feel Like Gary Cheevers (Stitch Marks on my Heart) …And we're back. After staring into the abyss of a long cold winter with no hockey, we finally have something to live for again. Canucks Hockey is here again, a mere eight months after the Los Angeles Kings lifted the Stanley Cup. And now it gets interesting. Rosters that were configured a lifetime ago now have under two weeks...
By Tomy Ambrogio (@SNTonyAmbrogio)   Why was Brian Burke fired? Plenty of reasons are out there, such as: - He was reluctant to acquire Roberto Luongo in a trade with Vancouver, as Sportsnet has reported? - The team has a large payroll, and have never been in the playoffs during Burke's time as GM? - The Phil Kessel trade haunts the Leafs and will continue to do so for years?...
CBC's Elliott Freidman says the new CBA doesn't hurt Roberto Luongo James Mirtle explains the NHL's salary cap could hit $90-million CapGeek.com tells us Rostislav Olesz would have a $2.25M cap hit if buried in Rockford this year. They also … Continue reading →
NHL News

Delivered to your inbox

You'll also receive Yardbarker's daily Top 10, featuring the best sports stories from around the web. Customize your newsletter to get articles on your favorite sports and teams. And the best part? It's free!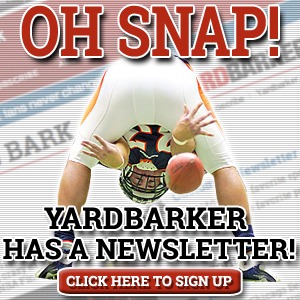 Latest Rumors
Best of Yardbarker

Today's Best Stuff

For Bloggers

Join the Yardbarker Network for more promotion, traffic, and money.

Company Info

Help

What is Yardbarker?

Yardbarker is the largest network of sports blogs and pro athlete blogs on the web. This site is the hub of the Yardbarker Network, where our editors and algorithms curate the best sports content from our network and beyond.