We've updated our Privacy Policy.
By continuing to use this site, you are agreeing to the new Privacy Policy.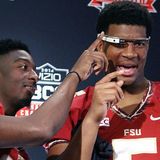 Deshaun Watson shredded the vaunted Alabama defense when it mattered most--in the fourth quarter of the national title game to give Clemson its' first championship in three decades. Of all the eye-popping stats that the Tigers' superstar QB produced, the most jaw-dropping are this: in the fourth quarter when faced with the blitz, Watson went 6-of-7 with two touchdown passes. When...
Desmond Howard called out the Clemson Tigers defense earlier in the 2016 college football season, and linebacker Ben Boulware clearly has not forgotten about it. Howard said the team's weakness — err, Achilles heel — was its linebacking corps. So what did Boulware do? He got a national championship tattoo right on his Achilles heel, which seems a bit painful. .@DesmondHoward...
We've seen players in different sports who've won championships celebrate in many different ways throughout the years. Perhaps nobody has celebrated quite like Ben Boulware did after Clemson beat Alabama, 35-31, to win the CFP National Championship Game, however. Clemson's Ben Boulware celebrated winning the #NationalChampionship by having a rather intimate moment with the trophy...
LIKE WHAT YOU SEE?
GET THE DAILY NEWSLETTER:
For most of the National Championship Game, Alabama's defense has been doing the hitting. But as Ben Boulware showed ArDarius Stewart, Clemson can hit, too. Boulware leveled a hit that actually removed the mouthpiece of his opponent. Mouthpiece… pic.twitter.com/lsL4xXHSJD — Steve Noah (@Steve_OS) January 10, 2017 We certainly owe a tip of the hat to Stewart. Most receivers would...
Growing up, being at Clemson was all Ben Boulware ever wanted. The LB sits down with James Bates.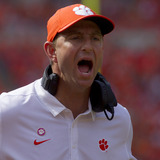 It's been a little while since we got a good instance of Clemson coach Dabo Swinney barking at referees, but with the Tigers in a tight one against Pitt, that side of the head coach came out. An emotional Swinney fiercely protested a rather sketchy personal foul call against Ben Boulware in the third quarter of the Tigers' game against Pittsburgh. Get him Dabo! #Clemson pic.twitter...
During Saturday's game between Clemson and Syracuse, Tigers linebacker Ben Boulware broke out a move you would typically see in a wrestling ring. Late in the first quarter, Syracuse quarterback Austin Wilson completed a pass to Dontae Strickland for a six yard gain. At the end of the play, the sophomore running back was picked up and suplexed by Boulware. BAH GAWD, THAT'S BEN...
CLEMSON, S.C. (AP) Ben Boulware said he is tired of his intensity being mislabled as dirty. The Clemson linebacker promises not to ease up when the third-ranked Tigers (6-0, 3-0 Atlantic Coast Conference) take on North Carolina State (4-1, 1-0) on Saturday. Boulware came under scrutiny two weeks ago when he was caught on camera putting a headlock on Louisville quarterback Lamar...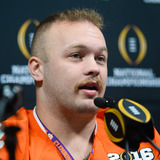 Clemson linebacker Ben Boulware apologized for the play where it looked like he had Louisville quarterback Lamar Jackson by the neck during Saturday's game. The Tigers beat the Cardinals in a thriller in Death Valley 42-36. One play that had everyone talking came in the second quarter when Boulware pretty much had Jackson in a choke hold on a pile (watch here). Jackson sprung up...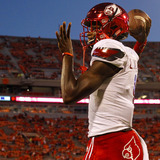 Lamar Jackson went nuts after a first down play late in the second quarter Saturday at Clemson after being choked by Tigers LB Ben Boulware on top of a pile. Louisville had a first down play at the 14 and Jackson kept the ball and ran following a fake handoff. After the play was blown dead, Boulware, who made the tackle, continued to wrestle Jackson down. Video replay showed Boulware...
MORE STORIES >>
College Football News

Delivered to your inbox

You'll also receive Yardbarker's daily Top 10, featuring the best sports stories from around the web. Customize your newsletter to get articles on your favorite sports and teams. And the best part? It's free!
THE COLLEGE FOOTBALL HOT 10