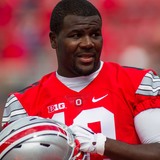 Cardale Jones sent an interesting tweet while watching Ohio State play on Saturday.Jones, like many Buckeyes fans and former players, was frustrated watching the offense sputter against Oklahoma. He tweeted that Ohio State needed "that magical pixie dust" on offense. He also tagged Tom Herman in his tweet. Some could interpret that as Jones defending Herman against Urban Meyer.After...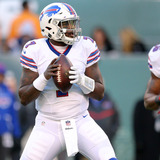 The man who once infamously tweeted about the pointlessness of classes while on a football scholarship is back at school to finish up some of those classes.Former Ohio State quarterback Cardale Jones was on campus Wednesday, and he told Tim May of the Columbus Dispatch he was in town for a very specific reason."I'm here finishing up school," Jones said. "I've got two classes to go...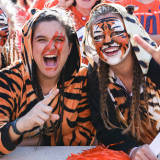 We've already covered one of the two semi-final matchups for the College Football Playoff. If you're heading down south to Atlanta, you should be all set, right? The only thing left is to give some guidance to OSU and Clemson fans that will be heading down to Glendale for the Fiesta Bowl. Oh, and don't worry, Buckeyes fans. I may be a bitter Northwestern fan that hates your guts...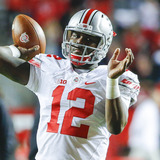 Now that Cardale Jones is no longer bound by the rules of the NCAA, he's enjoying being able to do something he was not allowed to while at Ohio State. Receiving fan mail is certainly not a new thing for Cardale Jones. Being able to reply with an autograph is. The NCAA, of course, frowns upon such a thing. However, as a professional, he's free to sign his name for others as often...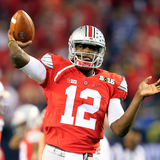 College football coaches usually gush about their players' chances at the next level. This isn't the case, however, when it comes to Ohio State head coach Urban Meyer and quarterback Cardale Jones. In fact, one might be inclined to wonder if Meyer truly believes Jones has what it takes to make it in the NFL after reading a few comments, via Ohio.com's Maria Ridenour, in which the...
Despite it being a year too late, Ohio State Buckeyes backup quarterback Cardale Jones is headed for the NFL draft. According to Dave Briggs of the Toledo Blade, Jones said he doesn't want to be a 24-year-old college student but would rather sit for another season than transfer anywhere else. Cardale Jones reaffirms he is headed to NFL, not transferring. "My loyalty and my heart...
MORE STORIES >>
College Football News

Delivered to your inbox

You'll also receive Yardbarker's daily Top 10, featuring the best sports stories from around the web. Customize your newsletter to get articles on your favorite sports and teams. And the best part? It's free!
THE COLLEGE FOOTBALL HOT 10