Louisiana Tech was poised to score against Mississippi State in Saturday's game, yet somehow managed to lose nearly the entire length of the football field in yardage. It seems impossible on paper, but it somehow happened. The nightmare play started with a botched snap, and then multiple attempts to recover the football kept moving it backwards. Until finally, the ball was recovered...
HOUSTON (AP) Marcus Evans scored 26 points, hitting 15 of 16 from the line, to lead Rice to an 88-81 victory over Louisiana Tech on Saturday night that gave the Owls their first 20-win season since 2004. Egor Koulechov and Marquez Letcher-Ellis added 12 points apiece for Rice (20-9, 10-6 Conference USA) and Marcus Jackson finished with 11, including a 3-pointer that pushed him...
IRVING, Texas (AP) Conference USA says Louisiana Tech's Jacobi Boykins and UAB's Hakeem Baxter are suspended one game for fighting in the benches-clearing mayhem that led to multiple ejections from Thursday's game. Boykins will miss Louisiana Tech's game at Middle Tennessee. Baxter will miss UAB's home game against Southern Mississippi. Players from both benches spilled onto...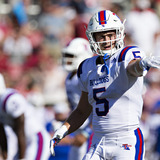 Okay, listen, we get it. Most likely, you think bowl season starts on New Year's Eve. Maybe slightly earlier depending on when your team is playing. But regardless of whether or not you're aware of them, the bowls have already started, and there's plenty of college football action to get you through to the main event around New Year's.Navy is coming off a loss to Army, a...
There is some bad news for what was expected to be a very major player for the Louisiana Tech football program this season. Early Friday morning, projected starting quarterback Ryan Higgins was arrested for DWI. The News Star reported the news which states Higgins "was booked at just after 5 a.m. and had a bond of $1,750." Higgins served as the primary backup to Jeff Driskel a season...
RUSTON, La. (AP) New Louisiana Tech coach Brooke Stoehr says the women's basketball program is ready to move forward following the surprising resignation of Tyler Summitt. Stoehr replaces Summitt, who resigned on April 7 after acknowledging he had an inappropriate relationship, but no other details. The 25-year-old Summitt is the son of Hall of Fame coach Pat Summitt. He had a...
RUSTON, La. (AP) Louisiana Tech has hired Brooke Stoehr to be its next women's basketball coach. The school announced Stoehr's hiring on Monday. Stoehr will be introduced during a news conference on campus Tuesday. Stoehr replaces Tyler Summitt, who resigned on April 7 after acknowledging he had an inappropriate relationship. The 25-year-old Summitt is the son of Hall of Fame...
Louisiana Tech women's basketball player Ashley Santos posted a photo on Twitter Friday to quash the rumors that former Lady Techsters coach Tyler Summitt impregnated her. Here is the post by Santos, a redshirt junior guard: Rumors Squashed. Don't talk about what you don't know. #notprego #LetsMoveOn #LadyTechsterTerritory pic.twitter.com/fEmApjEr8v — Ashley Santos (@ASantos_33...
Earlier this week, Tyler Summitt, head coach of the Louisiana Tech women's basketball team, announced his resignation from the team after rumors arose that he had inappropriate relations with one of the players and got her pregnant. However, on Friday, Ashley Santos, one of the players in question, tweeted out a picture of her at practice, squashing the rumors. She tweeted out the...
Tyler Summitt, the son of legendary basketball coach Pat Summitt, appeared to be on his way to a promising career at Louisiana Tech before an "inappropriate relationship" led to his decision to step down as the team's head coach this week. There is some speculation that the relationship was with a player, but no specifics have been confirmed. Summitt announced his decision to step...
Tyler Summitt resigned from his position as head coach of the Louisiana Tech women's basketball coach Thursday after admitting to having an inappropriate relationship. While that's big enough news in and of itself, there is also a salacious aspect to this story: Summitt reportedly impregnated one of his players. Here is what Summitt said in a statement announcing his resignation...
Tyler Summitt has resigned as Louisiana Tech women's basketball coach after only two seasons, apologizing for a relationship he was involved in through a statement released by the university. School officials announced Summitt's resignation Thursday. Summitt says he is ''profoundly disappointed'' in himself for a ''relationship'' that hurt the people he loves and respect most...
As you should know by now, our attention has now shifted to the 2016 NFL Draft as it relates to the prospects. From now until the draft takes place, we hope to profile as many draft prospects as we possibly can for you. Most of these player profiles will be... The post 2016 NFL Draft Player Profiles: Louisiana Tech QB Jeff Driskel appeared first on Steelers Depot by Luc Polglaze...
MORE STORIES >>
Louisiana Tech News

Delivered to your inbox

You'll also receive Yardbarker's daily Top 10, featuring the best sports stories from around the web. Customize your newsletter to get articles on your favorite sports and teams. And the best part? It's free!
THE HOT 10: Who's Trending