On Saturday, the Northern Iowa Panthers pulled off a big upset, beating the Iowa State Cyclones 25-24 and becoming the fourth FCS team to beat a Power Five team this weekend. Not only did they get this huge win, but head coach Mark Farley became the winningest coach in school history. Farley entered Saturday's contest with a record of 129-61, the same amount of wins as Stan Sheriff...
Collin Klein is a pretty recognizable name in the city of Manhattan, Kansas as he was a pretty good quarterback for the Kansas State Wildcats. He has worked with them as a graduate assistant the last few years, but he will now move on to bigger and better things. It was reported by The Wichita Eagle that Klein has accepted a position with the Northern Iowa Panthers to be their quarterbacks...
While the Northern Iowa Panthers say goodbye to their season, the three seniors must also soon depart. Paul Jesperson, Matt Bohannon, and Wes Washpun played quite a large role in the program's success this season. Point guard Wes Washpun finished the season with several honors. He was named both Second-team All-Missouri Valley Conference and National Association of Basketball Coaches...
It appeared Northern Iowa had sealed the deal against Texas A&M on Sunday, when the Panthers were up by 12 points with only 40 seconds left in the game. The nation was shocked when UNI defeated Texas just days before on a half-court buzzer beater. Sadly, what many are calling the biggest collapse in college basketball history will end up being much more memorable. The 92-88 loss...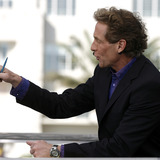 It ain't over til the fat lady sings. Apparently Skip Bayless forgot that age-old lesson. The ESPN screaming head tweeted Sunday to bemoan Texas A&M's loss to Northern Iowa in the second round of the NCAA Tournament, saying his "longshot Final Four pick" went down in flames to a good Panthers team. Down goes my longshot Final Four pick - and President Obama's. Down goes A...
No. 11 Northern Iowa beat No. 6 Texas on a crazy buzzer-beater last night thanks to Paul Jesperson's prayer shot from beyond halfcourt and while the Panthers' celebration was fantastic in and of itself, the radio call by longtime play-by-play man Gary Rima was even greater. Give it a listen below! And, of course, here is video of Jesperson's shot to go with Rima's call. One of...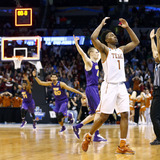 Northern Iowa has done it again! The Panthers took out Texas on a half-court buzzer-beater by Paul Jesperson to end their first-round game against the Longhorns in the NCAA Tournament on Friday: PAUL JESPERSON FROM HALF COURT! #MarchMadness https://t.co/kiZW9MSQUe — NCAA March Madness (@marchmadness) March 19, 2016 UNI was up 72-70 after making 1-of-2 free throws, giving the...
Northern Iowa took the Missouri Valley Conference tournament yesterday, winning their fourth conference title in eight years. The Panthers beat No. 2 seed Evansville, 56-54, thanks to a buzzer-beating shot by Wes Washpun. As returning champions, the pressure of the day could not overshadow the team's experience.  Their performance in the MVC tournament has shown that the bracket...
Northern Iowa are the new Missouri Valley Conference champions after Wes Washpun's shot attempt at the buzzer bounced off the backboard and fell through the basket to give the Panthers a 56-54 win over the Evansville Purple Aces in St. Louis, the site of the MVC Tournament this year. Check out the highlight below! The basket gave Northern Iowa its fourth MVC title in school history...
Northern Iowa basketball finished the regular season tying for third in the Missouri Valley Conference with Southern Illinois at 11-7 in league play. The Panthers, only 2-6 in mid-January, have stunned many while winning nine of their last 10 games. The wins can be attributed to their impressive defense as of late. Northern Iowa has been allowing opponents 64 points on average this...
CHICAGO — Loyola held off Northern Iowa in a 59-56 thriller Wednesday at Gentile Arena. The Ramblers have now completed a sweep of the Panthers, who are 3-0 against nationally ranked teams this season.     Northern Iowa frustrated Montel James offensively, but the Loyola forward made a huge impact defensively and on the boards. The Panthers double teamed James on the dribble, forcing...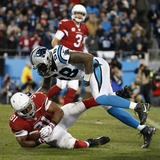 Remember when the Carolina Panthers drafted LB Shaq Thompson to potentially replace Thomas Davis? Well, Davis sure hasn't forgotten about it. The veteran linebacker has put together another stellar campaign this season, and hasn't shown signs of slowing down. And he can still hit like the best of them. Check out this crushing blow he put on running back David Johnson in the backfield...
Northern Iowa forward Bennett Koch has a few pairs of shoes to fill this season. And even for someone who stands at 6-foot-9, those shoes are quite enormous. Yes, Bennett is one of those Kochs. The ones who have helped Northern Iowa to a Missouri Valley title and Sweet 16 appearance in 2010. The ones who have been a part of the Northern Iowa family from the moment coach Ben Jacobson...
MORE STORIES >>
Northern Iowa News

Delivered to your inbox

You'll also receive Yardbarker's daily Top 10, featuring the best sports stories from around the web. Customize your newsletter to get articles on your favorite sports and teams. And the best part? It's free!
THE HOT 10: Who's Trending