We've updated our Privacy Policy.
By continuing to use this site, you are agreeing to the new Privacy Policy.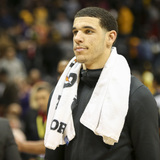 The rapper formerly known as Lil Bow Wow is no longer little, as Lonzo Ball recently learned.Shad Moss, who now goes by Bow Wow, squared off against the Lakers rookie in a shooting contest.It's unclear why — maybe because Moss once starred in the hit basketball movie "Like Mike."Whatever the reason, the two battled it out to see who could make the most shots, and Moss ended up emerging...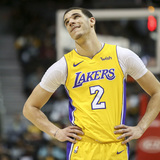 Since coming back from injury, Los Angeles Lakers rookie Lonzo Ball has actually been shooting pretty well. He's 6-of-9 from three-point range in those two games, both wins.This doesn't take away from the fact that Ball has been absolutely brutal from a shooting standpoint as a rookie, hitting on just 36 percent of his shots from the field.It also doesn't help that Ball has one of...
MORE STORIES >>
Entertainment News

Delivered to your inbox

You'll also receive Yardbarker's daily Top 10, featuring the best sports stories from around the web. Customize your newsletter to get articles on your favorite sports and teams. And the best part? It's free!