We've updated our Privacy Policy.
By continuing to use this site, you are agreeing to the new Privacy Policy.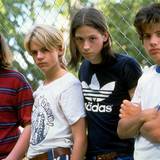 As Steven Spielberg's adaptation of "Ready Player One" prepares to pummel our senses with a flurry of pop culture references to beloved '80s and '90s intellectual property, it's time to acknowledge that many of our favorite movies hooked us by evoking a powerful nostalgia for the past. Some of these films are set in a time or place you experienced first-hand; others dredge up formative...
I have put together a top 10 list of TV bad guys that I know we all love. Antiheroes like T-Bag (Prison Break), the Trinity Killer (Dexter), and Nina Myers (24) don't equate because they were evil to their core, with no redeemable qualities.
A great man and Yankee fan died yesterday. I'm talking about Tony Soprano. Yes, I know... critics used to talk about some guy named James Gandolfini, who supposedly "played" Tony. That's ridiculous. Anybody who ever watched the show could see that it wasn't an actor playing Tony. Somehow, HBO managed to get a real, live mob boss. I don't know how they did it. The Yankees were Tony...
LIKE WHAT YOU SEE?
GET THE DAILY NEWSLETTER:
Hollywood might have lost one of its most recognizable leading-men with the stunning and sudden death of James Gandolfini on Wednesday but, at the same time,  Rutgers University lost the celebrity face of its football team with the loss of "The Sopranos" star. Whether you were from the state of New Jersey or not, you felt like you knew the actor — whose Tony Soprano mafia-boss character...
MORE STORIES >>
Entertainment News

Delivered to your inbox

You'll also receive Yardbarker's daily Top 10, featuring the best sports stories from around the web. Customize your newsletter to get articles on your favorite sports and teams. And the best part? It's free!