We've updated our Privacy Policy.
By continuing to use this site, you are agreeing to the new Privacy Policy.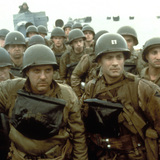 Truth is often stranger (and more entertaining!) than history, which is why so many films are based on true stories. This includes countless movies based on actual military or other governmental agency operations, like the upcoming film "7 Days in Entebbe," which recounts Operation Entebbe (also called Operation Thunderbolt), a terrorism-related hostage rescue undertaken by commandos...
The possible return of The Office is something that has divided opinion among fans. Some are happy to see their show come back, while others just want it to end as it was. Jenna Fischer, who played Pam on The Office, was asked about the return of the show and if she would be involved in this new version. According to Uproxx, Fischer said she "would be honored" to be a part of the...
Jenna Fischer is on the cover of Shape Magazine for a very good reason, much of which can be seen in the video of her photo shoot that Shape put online.
LIKE WHAT YOU SEE?
GET THE DAILY NEWSLETTER:
We know who Jim picked in The Office, but who would you choose between the actresses who play Pam and Karen: Jenna Fischer or Rashida Jones?
MORE STORIES >>
Entertainment News

Delivered to your inbox

You'll also receive Yardbarker's daily Top 10, featuring the best sports stories from around the web. Customize your newsletter to get articles on your favorite sports and teams. And the best part? It's free!