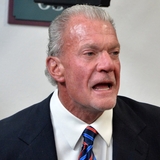 In 2002, Indianapolis Colts owner Jim Irsay paid $957,000 for the late Jerry Garcia's famed "Tiger" guitar at auction. And for most of the time since, the nearly million-dollar axe — one of nearly 200 in Irsay's extensive collection — has been on display in museums or behind Irsay's desk at Colts headquarters.But after 14 years, Tiger may soon be hitting the road again — this time...
In 1965, five musicians got together to form one of the most iconic bands in rock n' roll history – the Grateful Dead. Fifty years later, after a long and prosperous career crafting some of the best jams we've ever heard, the Dead will return to the stage for one final stretch of shows this July in Chicago. Before he passed away, the band played its last show with Jerry Garcia in...
About 40 years ago, an enterprising journalist asked Jerry Garcia why so many contradictory quotes existed among members of the Grateful Dead, when it came to explaining the meanings of certain songs. The Zen master replied that early on, the group decided that anybody should say anything in press interviews, true or not, and they wouldn't care. It just didn't matter. And to this...
An Ohio-based company known for creating amazing portraits of mosaic art through unconventional methods is taking on a big-time, hometown hero as its next project. Fan Mosaics, based in Northfield, Ohio, about 30 minutes outside of Cleveland, has done mosaic portraits of the likes of Elvis Presley, Marilyn Monroe and Jerry Garcia, will be creating […] The post LeBron James mosaic...
There are few honors which can be bestowed upon a person that are more gratifying than having their very own flavor of ice cream named after them. Just ask Jerry Garcia. Well, you can't ask Jerry, but I am willing to bet he thought the whole gig was pretty groovy. And don't bother trying to [...]
For some reason many professional sports teams this year have decided to take advantage of having so many people in the same place at the same time. The Cavaliers held a snuggie night and then the Angels later broke their record of most people wearing a fleece blanket at the same gathering. The Dodgers shot for a different record — loudest and longest scream in promotion of an...
Far out, dude. We discussed the San Francisco Giants' trippy Jerry Garcia Tribute Night promotion previously here at the Sportress, so if you haven't heard about it yet, please go here for the lowdown. I assume that most Garcia-ophiles have already procured their tickets, but if you happened to have been tripping balls the past [...]
In a totally groovy move, the San Francisco Giants will hold "Jerry Garcia Tribute Night" on August 9th to honor the 15th anniversary of the death of San Francisco native and frontman for the Grateful Dead, who ushered in the Haight-Ashbury era of psychedelic jam rock in the late '60s. Among the tributes to Garcia, [...]
MORE STORIES >>
Entertainment News

Delivered to your inbox

You'll also receive Yardbarker's daily Top 10, featuring the best sports stories from around the web. Customize your newsletter to get articles on your favorite sports and teams. And the best part? It's free!