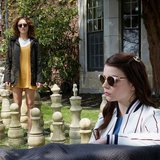 Being a teenager can be hell, especially when you have to deal with supernatural forces, vampires, witches, aliens, evil clowns, and just plain ol' human murders. However, watching these events unfold on the big screen can be endlessly entertaining to audiences looking to be scared. With the highly acclaimed teen thriller "Thoroughbreds" set to hit theaters on March 9, we decided...
Girls And we celebrate with her multiple Maxim shoots!
Welcome to Today's Best by MSF. This is our daily rundown of links, laughs, and lovely ladies that will help you get through your work day. In today's edition, Jordan Brewster represents the surprisingly successful Fast Five, fans of Gus Johnson's basketball work get some hope, we remember the cool way that George Lucas once congratulated James Cameron, and the Lonely...
Jordana Brewster of The Fast and the Furious serves up today's halftime oranges... Big Baby Davis confuses the basketball for a Hostess cupcake. (Sportress of Blogitude)Dodgers fans throw down.  So cool.  (Ted Williams' Head)Yankees fan interview bombs Ken Rosenthal and the engaged couple.  (Busted Coverage)25 hottest women of April.  (BroBible)Soccer trickshot fiasco.  (Sharapova...
MORE STORIES >>
Entertainment News

Delivered to your inbox

You'll also receive Yardbarker's daily Top 10, featuring the best sports stories from around the web. Customize your newsletter to get articles on your favorite sports and teams. And the best part? It's free!