We've updated our Privacy Policy.
By continuing to use this site, you are agreeing to the new Privacy Policy.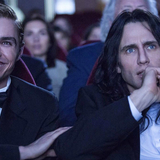 Every year, the Golden Raspberry Awards do a great job of playfully reminding us of the worst cinematic excrement to plop out of Hollywood. Sometimes they nominate big-time noisy Hollywood blockbusters, and sometimes they nominate lesser-seen but equally-derided fare. Often they nominate Michael Bay. Yet while 2017's "The Disaster Artist" helped introduce a whole new generation to...
It's been a long ride. For Fast and Furious fans, the seven films have provided joy and heartbreak, along with some thrilling stunts. The films have created a loyal fan-base who practically live for the action-filled adventures. Fans have also been curious to see if there will be any more films to grace the screens. Sensing the anxiousness of the fan-base, Vin Diesel took to Facebook...
It's shaping up as a big year for Vin Diesel. Furious 7 is on its way to theaters, and the action star also has a high-profile fantasy pic debuting, titled The
LIKE WHAT YOU SEE?
GET THE DAILY NEWSLETTER:
Team USA and Spain battled on the hardwood for the Olympic Gold Medal. Vin Diesel was in attendance as the United States won Gold over Spain, 107-100.Vin Diesel is in London for the sixth installment of The Fast and Furious movie saga.The Diesel gave the thumbs up.GIF via Dan McQuade
MORE STORIES >>
Entertainment News

Delivered to your inbox

You'll also receive Yardbarker's daily Top 10, featuring the best sports stories from around the web. Customize your newsletter to get articles on your favorite sports and teams. And the best part? It's free!