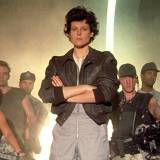 When it comes to science fiction movies and television shows, the genre is almost entirely a boys' club. That's especially true when it comes to being behind the camera (I dare you to name me a genre female director without first looking it up). But women have always played a prominent role in the genre, portraying heroines and villains in futuristic dystopian worlds, in galaxies...
Cancellation isn't always the end. Sometimes television shows are brought back to life by the fervent letter-writing efforts of fans. And sometimes networks simply run out of new ideas. Lately, nostalgia has been a revitalizing force in bringing back old favorites like "Twin Peaks" and "Gilmore Girls" - and the results are often disappointing. Here are some notable shows that lived...
Having a tough time deciding on what you're going to see for date night this weekend? It's simple. WWE Studios latest flick 'Oculus' does the Horror genre justice. It's a smart, short and sweet moving picture with a twist from the producers of one of the most highly respected horror franchises in the modern era – Insidious. If you don't want to take our word for it check out the...
MORE STORIES >>
Entertainment News

Delivered to your inbox

You'll also receive Yardbarker's daily Top 10, featuring the best sports stories from around the web. Customize your newsletter to get articles on your favorite sports and teams. And the best part? It's free!