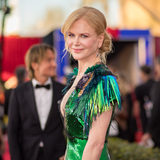 The debate has been raging for years now: is television better than the movies? Considering the epic sweep of "Game of Thrones," the star-studded drama of "Big Little Lies" and the whip-smart hilarity of "Veep," the argument can be made that TV now offers up a more robust selection of entertainment, some of which consistently exceeds any given year's Oscar nominees in terms of quality...
Rob Gronkowski joined actors Liev Schreiber and Luke Wilson on The Late Late Show to throw footballs at host James Corden, who was strapped to a spinning wheel. As you'd expect, the results were hilarious, especially considering one of the three holes on the contraption just so happened to be positioned right between Corden's legs. "This was such a funny idea," Corden quipped as...
Get the jump start on the new season Ray Donvoan by watching season three's premier episode in it's entirely right here. Picking up from last season: Adrift from his family & estranged from Ezra, Ray (Liev Schreiber) is enlisted by a wealthy family to free their kidnapped son. 
If you're a hockey fan you need to check this film out. Sean William Scott is brilliant as the simple but sympathetic bouncer turned hockey fighter Doug Glatt. There's plenty to like about the film including some great performances from Scott and Liev Schreiber (normally a serious actor but great as the aging legendary fighter Ross Rhea). As you'd expect, there's plenty of great...
MORE STORIES >>
Entertainment News

Delivered to your inbox

You'll also receive Yardbarker's daily Top 10, featuring the best sports stories from around the web. Customize your newsletter to get articles on your favorite sports and teams. And the best part? It's free!