We've updated our Privacy Policy.
By continuing to use this site, you are agreeing to the new Privacy Policy.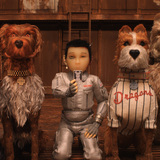 This Friday marks the premiere of "Isle of Dogs," Wes Anderson's latest cinematic effort. The film has been getting a lot of buzz – audiences at the Berlinale and South By Southwest film festivals all loved it – and if the trailer is indication, it promises to be everything that audiences have come to love about his films: a quirky and picturesque stop-motion animated film about...
 The 2017 Cannes Film Festival will wrap on Sunday, May 28, when the coveted Palme d'Or is awarded to the event's best film - but this shouldn't be seen as ending. In fact, unless you attended Cannes and saw most of the films, this is really just the beginning, as we have all been only briefly introduced to some of the best pieces of cinema that will make their debuts this year.In...
MORE STORIES >>
Entertainment News

Delivered to your inbox

You'll also receive Yardbarker's daily Top 10, featuring the best sports stories from around the web. Customize your newsletter to get articles on your favorite sports and teams. And the best part? It's free!