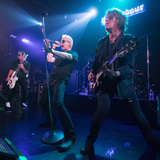 After Stone Temple Pilots fired frontman Scott Weiland in 2013, STP faced the difficult decision of moving on without their lead singer, or finding the right voice to carry the torch for the band. They briefly found that voice in Chester Bennington before he decided to devote all of his time with his own band, Linkin Park. The tragic overdose of Weiland in late 2015 and then Bennington...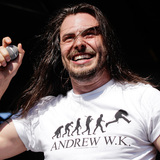 Every year is a big one in the music industry – new stars are made, old stars fade out, trends come and go, awards are handed out, Twitter battles are waged, reputations wax and wane. 2018 promises to be an exciting one, with new albums expected from big stars, stars in the making, '90s veterans, and elder statesmen and the grand divas. Here's a guide to some of the most anticipated...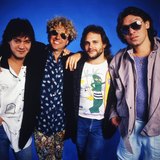 Bands part ways with their lead singer for a variety of reasons – death, creative differences, bad habits, greed, just to name a few. Some find more success with a new frontman while others not so much. Below are 24 bands who fall somewhere between the two.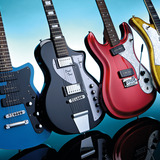 Ever since Chuck Berry hot-wired the "jump blues" sound in the 1950s, the electric guitar has been the soul of rock-and-roll. The plugged-in, amplified twang and squeal sounded like noise to adults, but for kids all over the world, it was the sound of rebellion. Sixty years later, "the axe" is still the defining instrument of the genre. Once mastered, it becomes more than just an...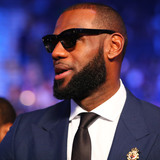 Twitter lit up as LeBron James arrived at the T-Mobile Center in Las Vegas for Saturday night's big fight between Floyd Mayweather and Conor McGregor. However, King James was far from the only big-name sports figure to attend to fight. Many of the biggest celebrities in the sports world showed up. It was like a second ESPYs.LeBron's teammate J.R. Smith: Alex Rodriguez, Robert Kraft...
It's a known fact that the Patriots usually come out of the tunnel to Ozzy Osbourne's "Crazy Train" before their games at Gillette Stadium, but their opponent took a page out of their playbook ahead of Super Bowl XLI. The Falcons trolled the Patriots by walking out to Trick Daddy's "Let's Go," which samples "Crazy Train," and it was pretty great. Props to the Falcons for trying to...
ALL ABOARD! Ha ha ha ha ha ha haaaa! (insert epic bass clarinet line here) Moving on, courtesy of D.C. Sports Bog comes this promo for CSN Washington's upcoming coverage of Washington Capitals playoff coverage featuring none other than the Prince of Darkness himself, Ozzy Osbourne. Apparently, Oz has become something of a fixture at [...]
Caps lose 1-0 to Atlanta in the last game before the break. [Caps Insider] At some point in the third, Ovi took a hit on the bench. [YouTube via Japers'] Caps got Ozzy Osbourne to wear a Caps jersey and do something. [Bog] Caps fan dressed like an astronaut dresses like an astronaut no more. [Bog] Nats' farm system is baseball's the 19th-best, which is progress. [Nats Blog] Adam...
Wake N' Blog is the Sportress of Blogitude's morning link dump. Send tips, link submissions and hangover remedies to weedagainstspeed@gmail.com. • After being arrested on suspicion of drunken driving, Ohioan William Liston had this to say to police officers as an excuse: "Ozzy Osbourne and his music made me do it." There you go. [Yahoo!/AP] [...]
As part of the Dodgers' ThinkCure! Weekend to promote cancer research, singer (yeller?) Ozzy Osbourne made an appearance at Dodger Stadium on Friday night. Osbourne rallied the fans in attendance to try and break the Guinness Book of World Records loudest and longest scream during the 5th inning of the Freeway Series meeting between the Angels and Dodgers. I haven't seen any...
MORE STORIES >>
Entertainment News

Delivered to your inbox

You'll also receive Yardbarker's daily Top 10, featuring the best sports stories from around the web. Customize your newsletter to get articles on your favorite sports and teams. And the best part? It's free!