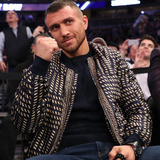 Not only is Vasyl Lomachenko a bad man in the ring, but he also is an ace marketer.Lomachenko fought previously unbeaten Guillermo Rigondeaux on Saturday night at Madison Square Garden in New York and won after Rigo quit following the sixth round, citing a hand injury.Lomachenko is now 10-1 with eight knockouts, but the crazy thing is he's now won four fights in a row by making his...
Round 1: Everyone has a passion in life, and when you get to know people in this world it doesn't take much time to figure out what those passions are. Simply put, Paul Navarro knows his ****. When it comes to the fight game, that being of the boxing or the mixed martial arts variety, […]The post Fight Like Sugar Goes 12 Rounds On His T-Shirt Line, Sugar Ray Robinson And The Best...
PANAMA - Grammy award winning R & B crooner Usher Raymond has been diligently preparing for his role as Sugar Ray Leonard in the upcoming bio-pic, "Hands of Stone." In a recent interview with Men's Health magazine, Raymond spoke of the rigors of training to carve his body into shape to closely resemble the iconic 146 pound world champion. "What he did as a boxer is no different...
SnagFilms has acquired the exclusive U.S. distribution rights (theatrical, digital, home video and television) to The Good Son: The Ray Mancini Story. The intimate documentary is based on the book of the same name by Mark Kriegel. After a strong festival run including screenings at The Hamptons International Film Festival and The Philadelphia Film Festival, the film will be released...
Former NBA star Ray Williams passed away today at Manhattan's Sloan-Kettering Hospital after a long battle with colon cancer.  The former New York Knicks guard, who had fallen on unbelievably hard times, was 58 when he died, reports the New York Post. Williams' harrowing rags-to-riches-to-rags story is a cautionary tale for all athletes or anyone who thinks they have got it all...
GET WELL SOON
Former three-division world champion boxer Hector "Macho" Camacho, the flamboyant and often troubled Puerto Rican fighter, who was raised in New York City, was shot in the jaw in Bayamon, Puerto Rico while riding in a car on Tuesday night.  He is listed in critical condition. A man driving the car was also shot and killed.  Police have one suspect in custody according to reports...
The new documentary movie about the life of Ray Mancini debuted at the Italian Embassy in Washington D.C. on Thursday night. Called "The Good Son", it's a documentary film based on the biography of the same name written by Mark Kriegel, previously the author of biographies on Pete Maravich and Joe Namath. The premiere was hosted by Fight for Children, a Washington D.C. charity serving...
Ray Allen's free agency could mark the end of an era in Boston.  When Ray joined the Celtics, it marked the first time since Dee Brown pumped up his Reeboks that Boston was excited about a Celtic's players shoes.  During his time with the C's Ray dazzled fans with his amazing shooting skills and incredible Air Jordans.  Celtics green when mixed with classic Jordan silhouettes was...
What's up! I'm still in the Washington DC area with some fantastic boxers. Sugar Ray, Roy Jones, Jr. Joe Frazier, Ernie Shavers, Ray Boom Boom Mancini, Jerry Cooney, Ken Norton Some entertainers like Baby Face (who used to record with Tony) and Jermaine Dupri and more! I'm having a great time.  
MORE STORIES >>
Entertainment News

Delivered to your inbox

You'll also receive Yardbarker's daily Top 10, featuring the best sports stories from around the web. Customize your newsletter to get articles on your favorite sports and teams. And the best part? It's free!