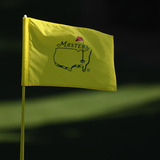 The 2018 Masters is going to be incredible. If you've followed golf on a relatively routine basis in 2018, you've probably heard that a lot. If you're tired of hearing it, we'd suggest you find a way to get used to it. Because between now and the time the Green Jacket is decided, you'll hear it a lot more.Now, to be fair, the Masters is always exciting. Generally speaking, it's the...
AUGUSTA, Ga. (AP) No lead is too safe at the Masters. No deficit is too daunting. And no one can appreciate that more than Nick Faldo. Twenty years ago, Faldo won his third green jacket in what remains the greatest collapse in major championship history over the final 18 holes. Six shots behind going into the final round, Faldo closed with a 67 that will never get enough credit...
Sir Nick Faldo is probably a very good mini golfer. #SCtop10 A video posted by SportsCenter (@sportscenter) on Apr 6, 2016 at 11:48pm PDT Nick Faldo is a hall of famer and is a three time Masters champion. He decided to flex the ol' putting muscles by hitting this incredible putt while doing an awesome celebration. Faldo is famous for his comeback against Greg Norman at...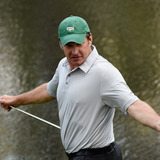 By Steve DelVecchio Jordan Spieth took the golf world by storm with his dominant victory in the Masters earlier this month, and the performance could have been even more memorable if he executed a few more shots. Sir Nick Faldo is thrilled that he didn't. Faldo and Jack Nicklaus currently hold the record for the lowest single-round score in any major tournament. Spieth's first...
Ian Poulter is one of the most outspoken and eccentric players on the PGA Tour, and his personality shows through in his new autobiography, "No Limits." PGA of America president Ted Bishop strongly disagrees with at least one thing that was written in the book. According to Golf Digest, golf legend Nick Faldo made some comments last month criticizing Sergio Garcia for being "useless...
FORE!
Golf legend Nick Faldo was recently critical of Rory McIlroy, saying that he thinks the 24-year-old is spending too much time worrying about non-golf activities and not enough time on the course. "You have a window of opportunity, that's my only words of wisdom to Rory," Faldo said on Monday. "You have say a 20-year [...]
MORE STORIES >>
Golf News

Delivered to your inbox

You'll also receive Yardbarker's daily Top 10, featuring the best sports stories from around the web. Customize your newsletter to get articles on your favorite sports and teams. And the best part? It's free!