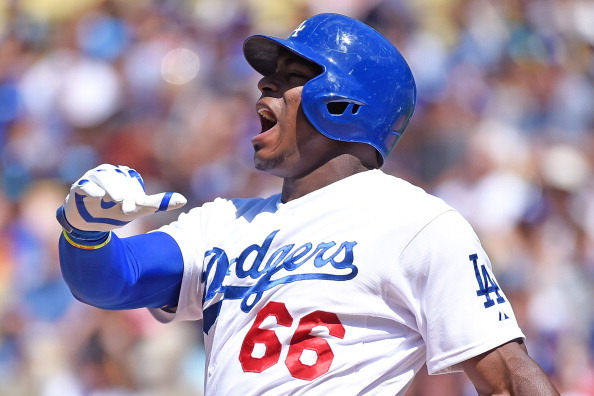 Can Yasiel Puig capture the same magic for the Dodgers in 2015?
Lisa Blumenfeld/Getty Images
By Alex Campos
With the season just a couple of weeks away, the Los Angeles Dodgers are beginning to send players down to the minor leagues and their final 25-man roster is beginning to take shape. Here's a best guess at what the lineup will look like for the majority of the season with some stat projections.
1. Jimmy Rollins- SS .260 average, .330 OBP, 11 home runs, 30 steals
Jimmy Rollins should be the spark plug at the top of the Dodgers' lineup in 2015
Manager Don Mattingly has already penned Rollins as his leadoff man. Rollins may be the best base stealer on the Dodgers, which is most likely why he's going to be leading things off. He's only stolen fewer than 20 bases once during his 14 years with the Philadelphia Phillies, in an injury-riddled 2010 season. Rollins hasn't batted over .270 since 2008 and his on-base percentages have been on the low side for a leadoff hitter, but hopefully a change of scenery is what the 36-year-old needs.
2. Carl Crawford- LF .280 average, .340 OBP, 6 home runs, 25 steals
Crawford had a quietly good season for the Dodgers last year, hitting .330 with a .339 OBP and swiping 23 bases, his most since 2010. Crawford is a career .305 hitter against righties (.265 against lefties), so a platoon in left between him and Scott Van Slyke would probably give the Dodgers the most value out of left. Van Slyke definitely won't be hitting second when he starts, but starting him a couple times a week gives the Dodgers more power and keeps Crawford a little healthier.
3. Yasiel Puig- RF .310 average, .390 OBP, 20 home runs, 15 steals, 90 RBIs
When Crawford and Rollins get on base, Puig should have the first shot at driving them in. Puig has already taken great strides in his one and a half years in the majors, raising his walk rate two percent and lowing his strikeout rate three percent from his rookie year to his sophomore year. If he keeps improving on these numbers and finds a little consistency, 2015 could be a huge year for Puig. He's arguably the teams' best offensive player and could even be higher in the lineup to maximize his at bats, but he should settle nicely into the 3-hole.
4. Adrian Gonzalez- 1B .280 average, .340 OBP, 25 home runs, 110 RBIs
A-Gone led baseball in RBIs last year, and has a chance to do it again with three speedy guys hitting in front of him. Gonzalez won't have the likes of Hanley Ramirez and Matt Kemp hitting behind him to scare pitchers, but he should be able to remain productive. Gonzalez's 27 home runs last year were his most since 2011 and he should continue to be a model of consistency for the Dodgers in 2015.
5. Howie Kendrick – 2B .295 average, .340 OBP, 10 home runs, 70 RBIs
Kendrick is as consistent as they come at second base, which is a huge difference from the wildly inconsistent Dee Gordon. Kendrick won't put up any eye popping numbers like Gordon's 64 steals last year, but he provides a little pop and is part of the Dodgers' must improved defense up the middle. Hitting him fifth goes with my love of splitting righties and lefties, and you can pretty much pencil Kendrick in for these numbers every year. Kendrick is entering the final year of his contract, and if he puts up these numbers the Dodgers would be wise to extend him.
6. Yasmani Grandal- C .250 average, .350 OBP, 15 home runs, 60 RBIs
I'm listing Grandal over A.J. Ellis because I believe he will catch more games this season. Grandal has a lot of pop, hitting 15 home runs in 128 games at Petco Park. If he stays healthy and gets enough playing time, these projections could be a bit low. Grandal is also a switch hitter, but he's far more effective against righties than he is against lefties. Another platoon might be in order, with Ellis getting starts against lefties. Ellis would probably hit eighth and move the next two batters up a spot. Grandal struggled with a league-leading 12 passed balls last year, but is considered an elite pitch framer and should be a couple steps up from Ellis.
7. Juan Uribe- 3B .280 average, .320 OBP, 10 home runs, 55 RBIs
Every Dodger fan needs to read this fantastic piece on Vice Sports about Uribe. This story made me feel guilty about booing him for his first two years as a Dodger. Uribe easily had his best season as a Dodger last year, slashing .311/.337/.440 and hitting nine home runs in 103 games, as he missed time with injury. It was the first time since his rookie year that he hit over .300, and he was a finalist for the NL Gold Glove at third base. Uribe is also playing for a contract and has been one of the most valuable clubhouse guys on the team. He should have another solid year in what could be his last as a Dodger.
8. Joc Pederson- CF .230 average, .350 OBP, 20 home runs, 19 steals
Pederson is tough to project, as he doesn't have many major league numbers to base it off. He's not a high average hitter right now and will strike out more than 100 times if he gets playing time, but he could push a 20/20 season and will be the teams' best option defensively in center field. Pederson has tremendous upside, but fans should ease up on expectations early. He's an extremely patient hitter and takes a lot of strikes, which causes a lot of strikeouts but also should help him get on base by drawing walks. If he can cut his strikeouts, Joc could be a perfect number two hitter, but until he proves himself he should be a sneaky threat at the bottom of the lineup.
MORE FROM YARDBARKER
Dodgers News

Delivered to your inbox

You'll also receive Yardbarker's daily Top 10, featuring the best sports stories from around the web. Customize your newsletter to get articles on your favorite sports and teams. And the best part? It's free!