Originally posted on
Fangraphs
| Last updated 3/6/15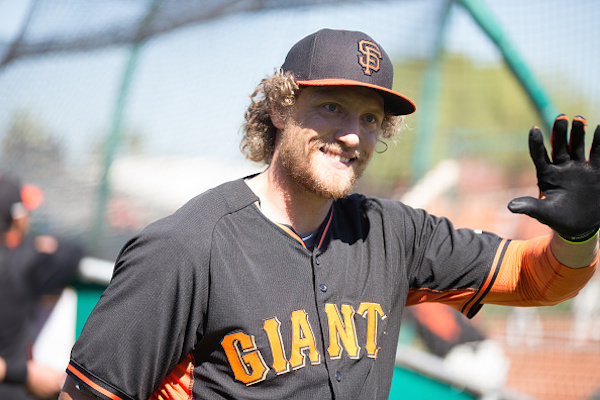 While it's tough break, Hunter Pence missing six to eight weeks with a broken forearm doesn't doom the Giants.
Rob Tringali/Getty Images
By Craig Edwards
Spring Training statistics might not matter, but injuries can certainly make an impact on a team's outlook heading into the season. After being hit by a pitch in yesterday's game against the Chicago Cubs, Hunter Pence is expected to be out six to eight weeks with a broken forearm. Missing the first month of the season is far from a catastrophic loss for the San Francisco Giants as they defend their World Series crown, but if they want to fill Pence's vacated role from outside the organization, there are multiple teams with too many outfielders.
The Los Angeles Dodgers, Boston Red Sox, San Diego Padres, and Cleveland Indians are all teams that should be willing to move outfielders this spring, per Jay Jaffe of Sports Illustrated. The Dodgers currently have Yasiel Puig, Carl Crawford, Andre Ethier, Joc Pederson, and Scott Van Slyke in their outfield with Andre Ethier apparently the odd man out. The Dodgers are eager to move Ethier and are reportedly willing to pay around half of the $56 million owed to Ethier over the next three years. A trade with the Dodgers is not impossible for the Giants, but as Dave Cameron recently noted, some rivals rarely trade with each other. The Giants and Dodgers have completed just one trade since 1985, when they traded Mark Sweeney to the Dodgers in August 2007 for a player to be named later that turned into Travis Denker.
Outside of the difficulty of trading with a rival, the Giants current outfield poses problems with taking on a long term deal for a player who expects to start. The Giants currently have an interesting composition of present and future. At 31, Pence is the youngest projected outfield starter for the Giants with Angel Pagan and Nori Aoki expected to start in center field and left field, respectively. Pence is also signed through 2018 and has the contract with the longest duration among the Giants outfielders. He is not the only Giant signed past 2015. Angel Pagan has one more year to go after 2015 and is scheduled to receive $10 million in 2016. The Giants have a club option on Aoki for 2016 at just $5.5 million. It is conceivable that the Giants projected outfield for 2015 will be the same for 2016. The age, term, and relatively small amounts owed to Pagan and Aoki do not preclude a long term solution for the outfield. However, even if Ethier were to cost the Giants under $10 million per year, a three year commitment through his Age-35 season to cover one month of missed time is likely more than the Giants would want to take on.
Similar problems come with the Red Sox outfield situation. Allen Craig is a name that has been mentioned as a possibility. Craig, coming off the worst year in his career, is still owed over $25 million over the next three years. If his bat comes back to 2011-2013 levels when he hit .312/.364/.500 and had a 139 w RC+, a team would find a position for him. Unfortunately, he has never been very adept in the outfield, notwithstanding this catch in the 2011 World Series. His defense makes him a poor fit in the spacious Giants outfield, and with Brandon Belt at first base and no designated hitter option, the Giants are likely not a good fit for Allen Craig.
The Red Sox also have Shane Victorino and Daniel Nava as potential extra outfielders. Victorino is aging, coming off back surgery, and has yet to prove his health. Nava is cheap, though not so young at 32, and trading him does little to solve the Red Sox problems of too many potential starting outfielders as he is already ticketed for a bench role. The Indians have Nick Swisher coming off hip surgery along with Ryan Raburn and David Murphy, but Swisher is still owed seven figures in 2016, Raburn hit .200/.250/.297 in limited time last season, and Murphy has not had a good season since 2012.
After their winter flurry of moves, the Padres appear to have too many outfielders. Cameron Maybin, Carlos Quentin and Will Venable have all spent time as starting outfielders, but will be relegated to the bench this season in San Diego. The Giants and Padres have completed just one trade in the last 20 years, but do not share the same rivalry status as the Giants and Dodgers. All three outfielders are owed under $10 million for 2015 and only Maybin is owed money in 2016 with an $8.1 million salary and a one million dollar buyout on a $9 million team option. The Padres likely offer the best fit as a trading partner if the Giants are looking to make a deal.
The Giants have plenty of options. Not mentioned in any rumors, but currently sitting on the outside of a starting spot is Gerardo Parra in Milwaukee. They could check in with the Cardinals on Peter Bourjos, although the Cardinals have little reason to give him up making just $1.65 million in the fourth outfielder role and one more season of a cost-controlled arbitration salary in 2016. Here is the list of players mentioned as well as their ZiPS projections for 2015.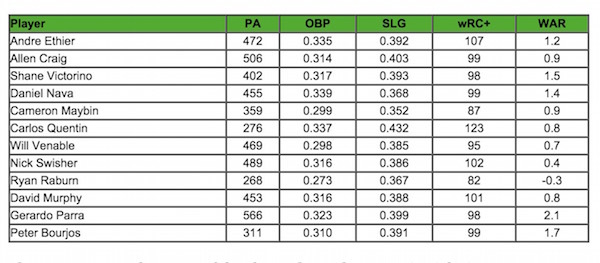 There are reasons that none of the above players have starting jobs in 2015. Some are injured and some have been ineffective, and both problems have been true for many on that list. One other player is a possibility to see extra playing time.
The Giants already have a capable fourth outfielder in Gregor Blanco. They also have him signed through 2016. Eight weeks is a really long time to be missing a team's best player in July. In March, when the game do not count, eight weeks matters less. As the next month moves forward, Pence will see his timeline move up. In another couple weeks, he will be just four to six weeks from returning. By Opening Day, missing Pence for two to four weeks seems far less dire. Most of the trade options are marginal upgrades over a replacement player for just one month of the season, and they might not be upgrades at all over Gregor Blanco. The Giants still have another month to evaluate their needs in the outfield, but at this point the move that makes the most sense is no move at all.

MORE FROM YARDBARKER
MLB News

Delivered to your inbox

You'll also receive Yardbarker's daily Top 10, featuring the best sports stories from around the web. Customize your newsletter to get articles on your favorite sports and teams. And the best part? It's free!