Opening Day starter Cole Hamels was sent to the back field on Monday so he could get his work during a Minor League game.
Cole Hamels will be the Opening Day starter for the Rangers when they face the defending champion Houston Astros on March 29, manager Jeff Banister announced on Friday.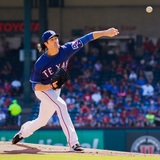 Cole Hamels is about to begin his 13th season in Major League Baseball. But as baseball changes, Hamels doesn't want one thing in particular to change. And that is: the amount of pitchers that make up a rotation. He doesn't believe in six-man rotations."It's not part of baseball. I know that's the new analytical side of trying to reinvent the wheel, but I was brought up in the minor...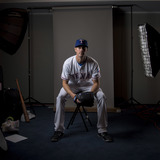 Cole Hamels does not like six-man rotations and has no interest in being a part of one.Hamels' Texas Rangers have explored the idea of using a six-man rotation for the upcoming season. Some of that talk started when the team had interest in Japanese star Shohei Ohtani, but the talk continued even though Ohtani signed with the Angels.Hamels has made it clear what he thinks of them...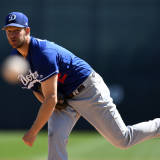 There continues to be hope that the top pitcher in the game, left-hander Clayton Kershaw, will remain with the Dodgers beyond the upcoming season. Kershaw, who could opt out of the final two years and $65MM on his contract next winter, said last week that he and Dodgers management are "on the same page." Then, on Saturday, Dodgers owner Mark Walter told Jon Heyman of FanRag that...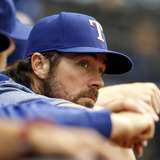 Texas Rangers pitcher Cole Hamels is taking this entire season of giving thing to a new level. His selflessness and sense of altruism is absolutely extraordinary.And we couldn't be happier to focus on this tremendous story as the holiday season continues.Hamels and his wife, Heidi, will announce on Tuesday that they have donated their 32,000 square foot Missouri mansion on 100 acres...
On a lean Monday slate, we've dug in and found a pair of southpaws that are worth your time. Check 'em out! Aces in Isolation LHP Alex Wood (LAD) versus Pittsburgh RHP Gerrit Cole Wood has been excellent all season long. And after merely a good July (4.01 ERA), has been amazing in three August starts (1.89 ERA). It's worth monitoring that his strikeout numbers have been a bit down...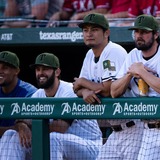 The Texas Rangers entered the All-Star break with a 43-45 record, and they happen to play in the division with the best team in baseball. Because of the incredible season the Houston Astros are having, the Rangers are a whopping 16.5 games out of first place.Could that inspire them to become sellers at the trade deadline?According to ESPN.com's Jerry Crasnick, the Rangers are considering...
Not so long ago, it was easy to say what makes a Hall of Fame pitcher. 300 wins? Check. 3,000 strikeouts? Check. Mix in a few Cy Young Award wins, a memorable season or two, and maybe some October success, and you're in there. But the win was the clinching stat; if a pitcher was viewed as a winner, he was considered a Hall of Famer.However, times are changing, and wins are becoming...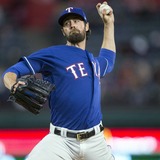 The news gets worse and worse for the struggling Texas Rangers.Ace left-hander Cole Hamels has been placed on the disabled list, with Evan Grant of the Dallas Morning News suggesting that the pitcher will be out for eight weeks. Texas could ill afford to lose their ace. They've stumbled out of the gates to an 11-16 record, and they current sit in a tie for last place in the American...
MORE STORIES >>
Rangers News

Delivered to your inbox

You'll also receive Yardbarker's daily Top 10, featuring the best sports stories from around the web. Customize your newsletter to get articles on your favorite sports and teams. And the best part? It's free!