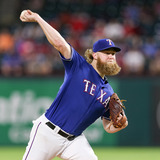 The Orioles had talks over the winter with then-free agent right-hander Lance Lynn, who finally exited the market Saturday when he agreed to sign with the Twins. Lynn ended up with a one-year, $12M pact, but he perhaps could have gotten a longer deal in Baltimore. The Orioles may have been willing to give Lynn either three guaranteed years or two with a vesting option, Roch Kubatko...
So far, this spring couldn't be going any better for right-hander Dan Straily. Straily, who appears to be the frontrunner to be the Marlins' Opening Day starter, had his second straight clean outing, giving up one hit and striking out one in three innings against the Braves on Sunday.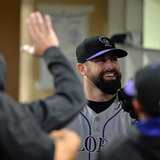 The Phillies remain interested in adding to their rotation before the season starts, though they're not going to make any lengthy commitments, Todd Zolecki of MLB.comwrites. Both general manager Matt Klentak and president Andy MacPhail (via Matt Breen of Philly.com) have indicated this week that the Phillies aren't going to splurge on a long-term starter, in large part because they...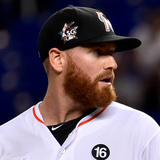 Dan Straily isn't a great pitcher. Heck, it's hard to make the case that he's even a good pitcher. But right now, he's the pitcher the Miami Marlins have. That's because the Marlins don't care about winning this season. Or the season after that. Or probably ever–we don't know. After all, it's difficult to take a team seriously when they trade the NL MVP–Giancarlo Stanton–for peanuts...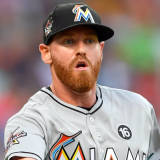 It's safe to say trading Giancarlo Stanton and Christian Yelich weren't popular moves among Miami Marlins fans, but at least one player is rather happy to see them gone.Starting pitcher Dan Straily admitted he was glad to see both players go, as they'd been critical of the team's rebuilding plan."I'm glad they're gone," Straily said Friday, via ESPN. "If they don't want to be here...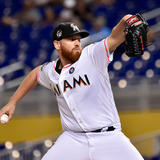 The Marlins won their arbitration hearing over right-hander Dan Straily, tweets FanRag's Jon Heyman. He'll earn the $3.375MM sum submitted by the team rather than the $3.55MM salary that he and his agents at Sosnick, Cobbe & Karon filed (as can be seen in MLBTR's Arbitration Tracker). Straily will still earn the first seven-figure salary of his career with today's ruling, though...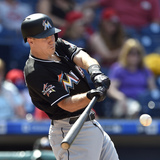 Marlins catcher J.T. Realmuto told reporters today that he's had multiple conversations with president of baseball operations Michael Hill and manager Don Mattingly about whether or not he'll be traded, but he hasn't gotten a firm answer one way or the other (hat tip to Barry Jackson of the Miami Herald). He also said that he has not spoken with part-owner Derek Jeter directly about...
Cincinnati has agreed to trade Dan Straily to Miami for three prospects, according to multiple reports, in a deal that indicates the intentions of both clubs — the Reds' to continue their rebuild, the Marlins' to compete in a top-heavy NL East. Claimed off waivers by the Reds last spring, Straily is precisely the kind of arm a club like Cincinnati should be flipping for profit....
Talk about getting water from a rock. Less than a year after picking up Dan Straily off waivers from the San Diego Padres, the Cincinnati Reds have reportedly flipped the veteran starter to the Miami Marlins for three prospects. Straily, 28, is coming off a rebound performance this past season. He posted a 14-8 record with a 3.76 ERA and 1.19 WHIP in 34 games (31 starts) for the...
"This is a great time to be a baseball player and have all this info," Reds starting pitcher Dan Straily told me last month when his team came to town. Minutes later, I was talking with a member of his front office who lauded the pitcher as "maybe the most dependable" of his squad. These things are related. It's taken all that info for the pitcher to mold himself into the useful...
MORE STORIES >>
Marlins News

Delivered to your inbox

You'll also receive Yardbarker's daily Top 10, featuring the best sports stories from around the web. Customize your newsletter to get articles on your favorite sports and teams. And the best part? It's free!