We've updated our Privacy Policy.
By continuing to use this site, you are agreeing to the new Privacy Policy.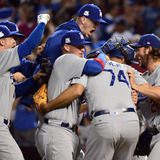 The Los Angeles Dodgers punched their NLCS tickets on Monday night with a 3-1 win over the Arizona Diamondbacks, completing a 3-0 sweep against their NL West rivals. Naturally, a sweep will provide many standout performances from the winning team, and more than enough poor performances from the losing one. Still, a select group stood out in this series.Justin Turner, Los Angeles...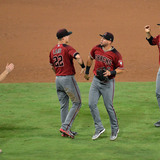 We're a little over a week away from the end of the regular season, with all the feels that come with it. Excitement for the postseason, obviously, but also lingering malaise with the realization that the offseason is coming. But we'll have plenty of time for that soon enough. The time is ripe, however, to go ahead and take a look at what is probably the most successful trade of...
SCOTTSDALE, Ariz. -- On a day when pitchers from both sides threw well, a slight problem with Kris Medlen's early timing made the difference in an Arizona Diamondbacks split squad's victory over Kansas City.David Peralta hit his first home run of the spring, barely clearing the right field fence, and Rubby De La Rosa pitched four scoreless innings for Arizona in the 3-0 Diamondbacks...
LIKE WHAT YOU SEE?
GET THE DAILY NEWSLETTER:
SCOTTSDALE, Ariz. (AP) David Peralta hit his first home run of the spring and Rubby De La Rosa pitched four scoreless innings for Arizona in a Diamondbacks split squad's 3-0 victory over the Kansas City Royals on Saturday. De La Rosa, the No. 4 starter in the Diamondbacks' rotation, had been rocked for five runs in four innings in his first two starts. But he blanked the Royals...
So I'm sitting here, passing a Wednesday afternoon by scrolling through players Steamer thinks are going to be worse. Most of the time, I get it. Yoenis Cespedes, sure — last year, he had almost everything go right. With Francisco Lindor, I understand bat-related skepticism. I see why a projection system thinks Joe Panik will take a step back, and the same goes for Justin Turner...
If you've ever played Little League, you've likely seen this play before. Taking advantage of short basepaths and short attention spans, the speedy kid on third base catches everyone napping and sprints toward home plate right after the catcher throws the ball back to the mound. Major League Baseball isn't Little League, though, and the best players in the world would definitely...
MORE STORIES >>
Diamondbacks News

Delivered to your inbox

You'll also receive Yardbarker's daily Top 10, featuring the best sports stories from around the web. Customize your newsletter to get articles on your favorite sports and teams. And the best part? It's free!