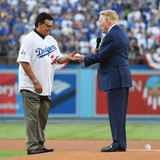 Dodgers legendary broadcaster Vin Scully was given the prestigious honor of throwing out the first pitch before Game 2 of the World Series on Wednesday night.Scully, however, at 89 years of age, didn't really seem like he was fit to handle the task of hurling the ball toward home plate, and understandably so.So, instead, he elected to have former Dodger Fernando Valenzuela throw...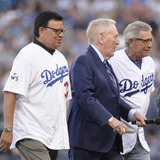 Vin Scully was called upon by the Los Angeles Dodgers on Wednesday to throw out the ceremonial first pitch before Game 2 of the World Series. And while Scully didn't actually make a pitch, his five minutes in front of the crowd went perfectly.The longtime Dodgers broadcaster, who stepped down last year after 67 years on the job, tried to take the spotlight away from himself in his...
We're left to wonder how players who have established careers in international leagues will fare when they first reach the major leagues: some never find the same level of production they had overseas, others endure a tough adjustment period, and a precious few immediately take to their new surroundings. From what we've seen of Kenta Maeda so far, he appears as if he could be a member...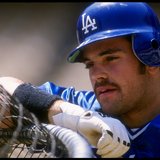 There have been 17 winners of the MLB Jackie Robinson Rookie of the Year Award in Brooklyn/Los Angeles Dodgers history. How many of them can you name?
Fernando Valenzuela appears to be at the forefront of another mania in Los Angeles – only this time it's not about him.As the legendary lefty took the stage at the Dodgers FanFest on Saturday to address the estimated 25,000 fans in attendance, he mocked starter Zack Greinke for choosing to not return to the Dodgers and instead sign a lucrative deal with the Arizona Diamondbacks.From...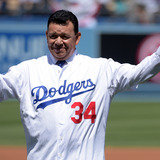 He may be 55 years old now, but Fernando Valenzuela is still proving himself to be a national treasure. The legendary Dodgers pitcher made an appearance at the Dodgers FanFest event on Saturday, taking the stage and throwing some shade at right-hander Zack Greinke for leaving the team over the winter, per Dodgers Nation. Fernando Valenzuela getting ready to hit the stage! #DodgersFF...
Months after becoming a U.S. citizen, Dodgers legend Fernando Valenzuela has been selected to work with the White House. The Dodgers announced Thursday that Valenzuela has been appointed by President Obama as a presidential ambassador for Citizenship and Naturalization. The 54-year-old former Dodgers left-hander, who was born in Mexico, became a U.S. citizen earlier this summer....
Thirty-five years after making his major-league debut with the Los Angeles Dodgers, Fernando Valenzuela has achieved another major milestone. The Dodgers pitching great raised his right hand and took an oath of allegiance to the U.S. alongside approximately 8,000 others at a ceremony on Wednesday, officially becoming a U.S. citizen 36 years after he first entered the country. Valenzuela...
MORE STORIES >>
MLB News

Delivered to your inbox

You'll also receive Yardbarker's daily Top 10, featuring the best sports stories from around the web. Customize your newsletter to get articles on your favorite sports and teams. And the best part? It's free!