We've updated our Privacy Policy.
By continuing to use this site, you are agreeing to the new Privacy Policy.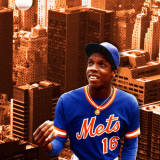 On this day in 1984, 19-year-old Mets phenom Dwight Gooden recorded his 200th strikeout of the season. Less than a month later, he would tally strikeout number 246 to break the modern-day rookie record on his way to totaling 276 Ks in his first season in the bigs.So much has happened in Gooden's life off the field since that season that it tends to overshadow his accomplishments...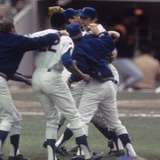 In their eighth season of existence, the New York Mets won the World Series. This was somewhat unexpected as the franchise started out with seven straight losing seasons never finishing better than ninth out of ten in the National League. But in 1969, they beat the Baltimore Orioles in the World Series and earned the nickname, the Miracle Mets. Can you name every player on the roster...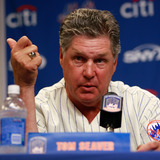 At the present moment, the New York Mets don't feature statues to honor any of the franchise's great players. One person who's upset with that is Nancy Seaver, wife of Mets' legend Tom Seaver. She feels that Citi Field should have a statue that honors her husband, as well as the team's other legends. "I'm embarrassed for (the Mets). I really am," Nancy said, per Eric Barrow and...
LIKE WHAT YOU SEE?
GET THE DAILY NEWSLETTER:
1968 TOPPS TOM SEAVER Tom Seaver shared his 1967 Topps rookie card with Bill Denehy. Of course, Seaver won the Rookie of the Year award that season, earning himself the privilege of not just a stand-alone card in 1968, but also one numbered with the coveted divisor of 5 (45), and adorned with the all-star rookie trophy. In the portrait photograph selected for his 1968 card, Seaver...
In an interview on Friday morning with Boomer and Carton on WFAN, Tom Seaver said that the Mets have never approached him about erecting a statue or monument in his honor at Citi Field. "I understand that I'm a part of the history of the game of baseball, it is going to be what it is," Seaver said, when asked about his legacy. "The wonderful thing are the memories that I have about...
2010 TOPPS NATIONAL CHICLE TOM SEAVER If you're anything like me, you've long imagined a world in which Tom Seaver was a malevolent force of pure evil. It is a world where Jim Qualls was savagely eviscerated on July 10, 1969. A dark realm where a disemboweled Leron Lee was discovered on July 5, 1972. A benighted land where M. Donald Grant's severed head was found adorning a pike...
The Franchise: The Name Says It All One of the many great things about the history of Baseball is the abundance of nicknames. Some are based around physical appearance of a player: The Splendid Splinter, Pee Wee, Three Finger, The Beard. For others, the way they played the game is summed up in a nickname: Mr. October, The Wizard, The Iron Horse, Nails. Other monikers can be classified...
SEAVER: Almost perfect on this day. It is possible this game in 1969 is most remembered from that amazing season. On this date in 1969, and maybe each day since for Tom Seaver, he'll remember Jimmy Qualls' sinking single into the left-center gap with one out in the eighth inning to break up his perfect game bid and forced him to settle for one-hit, 4-0 shutout. It was one of 31...
1970 TOPPS TOM SEAVER CELLO BOX The dominant pack configuration for Topps baseball cards throughout the '50s and '60s was the 5-cent wax pack: five cards and a stick of gum for your hard-earned nickel. Topps also offered less-common 1-cent wax packs through until the mid '60s– these change-makers gave you gum and one card for a penny. In addition, the company issued various iterations...
On this day in Mets history, Hall of Famer Tom Seaver tossed his 19-strikeout gem against the San Diego Padres and set the major league record with 10 straight strikeouts to end the game. It happened on April 22, 1970 and our own Stephen Hanks was there. Here is an article he wrote two years ago for MMO to commemorate the 40th Anniversary of one of the greatest moments in Mets history...
MORE STORIES >>
MLB News

Delivered to your inbox

You'll also receive Yardbarker's daily Top 10, featuring the best sports stories from around the web. Customize your newsletter to get articles on your favorite sports and teams. And the best part? It's free!