We've updated our Privacy Policy.
By continuing to use this site, you are agreeing to the new Privacy Policy.
After two years marred by injuries, Francisco Cervelli overhauled his offseason routine. He hired a new trainer, and began a new workout routine. He changed his diet, too. Out went gluten, dairy products and fried food.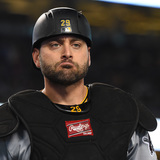 The Pittsburgh Pirates sent 2013 NL MVP Andrew McCutchen to the San Francisco Giants on Monday. At least one of his now-former teammates doesn't seem especially happy. Catcher Francisco Cervelli took to Twitter to express apparent consternation about the trade with a simple emoji. We'd actually recommend that Cervelli and the rest of his veteran teammates keep a packed bag ready...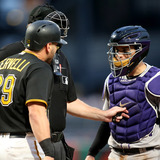 Francisco Cervelli says Colorado catcher Tony Wolters was looking for a fight, which helped spark a benches-clearing incident on Wednesday between the Pirates and Rockies.Cervelli was hit by a pitch from Rockies pitcher German Marquez in the bottom of the fifth inning with his team down 3-0. The Pittsburgh catcher was slow to make it up the line and exchanged words with Wolters,...
LIKE WHAT YOU SEE?
GET THE DAILY NEWSLETTER: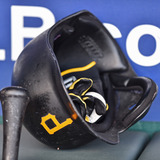 All-Star voting always provides an opportunity for fans to get a bit mischievous and baseball fans are no different.One fan on Reddit suggested in a post that has since been deleted that fans coalesce around John Bormann, a catcher in the Pittsburgh Pirates' minor league system. Bormann was an emergency call-up on April 30, with the team needing a warm body after Francisco Cervelli...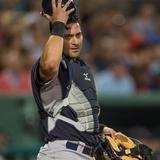 The weakest free agent class in recent memory just got weaker again, as Francisco Cervelli has now joined Stephen Strasburg in taking a mid-season extension rather than testing the open market this winter. Sources: Francisco Cervelli has signed a three-year contract extension with the Pirates. Total money is $31 million. — Jeff Passan (@JeffPassan) May 17, 2016 As Passan notes...
By Matthew Kory Everyone makes mistakes. Some marry people they shouldn't. Some cheat on their taxes. Some refuse to eat their dinner and find out later I won't give them dessert and then throw a holy fit that prevents me from starting my article on how Francisco Cervelli is the Pittsburgh Pirates MVP until very late. But I will persevere. Welcome to an article about how Francisco...
Rumors have been swirling over the last few weeks about New York Yankees backup catcher Francisco Cervelli being a target of other teams because of the Yankees' depth at the position. It would seem teams might be ready to send offers to the Bombers based on Cervelli's experience and his impressive offensive performance this spring. Maybe they already have.Usually if a player is...
I like Francisco Cervelli. Always have. Twice, he's been rushed to hospitals in ambulances, still wearing his NY jersey. He's a homegrown Yank, a fighter - albeit a snake-bitten one - who somehow managed to stay positive during some of the most depressing scenarios any player could imagine. (How about an entire season on a bus, traveling the New York State Thruway?) And now, he's...
MORE STORIES >>
Pirates News

Delivered to your inbox

You'll also receive Yardbarker's daily Top 10, featuring the best sports stories from around the web. Customize your newsletter to get articles on your favorite sports and teams. And the best part? It's free!