We've updated our Privacy Policy.
By continuing to use this site, you are agreeing to the new Privacy Policy.
One Chicago Cubs' coach made the comparison of Yu Darvish to that of Hall of Famer Greg Maddux–only not for what you might think. And will Joe Maddon go with an extra pitcher or a position player to open the season? Before anyone more Chicago Cubs' fans read the headline and say "...
While Joe Maddon may never have to pay for a meal in this city again after 2016 (does Maddon even eat meals? Or does he have some new-age health bars he uses? These are the questions, people!), there has been something of a let-down in that the creativity in deploying his lineups hasn't quite been […]
Chicago Cubs' skipper Joe Maddon has left things open as far as if he'll go with another bat or another arm in the bullpen. While historically, Maddon likes to carry the extra pitcher there are plenty of guys making noise in camp. When the Chicago Cubs and Joe Maddon talked about carrying...
LIKE WHAT YOU SEE?
GET THE DAILY NEWSLETTER:
If there was a common theme woven through Joe Maddon's first season in Chicago, it was that he handled his young Cubs like a Little League team (apologies for the florid language in that one, I went way overboard). And I don't mean providing snacks after games or having them watch Tom Emanski videos between practices, … The post Maddon Wants Cubs to Get Back to Little League Approach...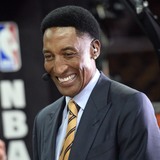 Chicago Cubs pitcher Jon Lester's trouble with capably making competent throws to first base has been well-documented throughout his otherwise stellar major-league career. And he announced on Sunday a wholly unorthodox plan in the hopes of remedying the issue. Interestingly, Lester even utilized the names of two Chicago sports icons, Michael Jordan and Scottie Pippen, to explain...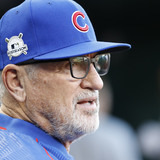 Jon Lester's bold new strategy officially has the blessing of the man in charge.The Chicago Cubs left-hander revealed over the weekend that he will be turning to bounce throws in an attempt to remedy his notorious career-long troubles with throwing to first base. Lester experimented with the gambit in a Cactus League game against the Arizona Diamondbacks on Sunday but surprised first...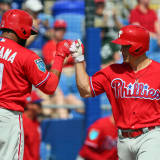 We're now one week into spring training action. And with less than four weeks to go before Opening Day, it's important to know who's thriving and who needs to pick it up a bit.One potential 2018 Rookie of the Year candidate is off to a roaring start. On the other hand, a prime candidate for 2019's Rookie of the Year Award is going through something of a rough patch.Both the New York...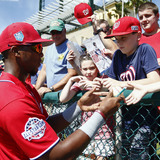 The Washington Nationals got downright wacky on Wednesday by celebrating "Hump Day" by bringing in real, live camels to spring training. New Nationals manager Dave Martinez, as noted in the above tweet, is behind the strange sight. Allow the skipper to explain. Get it? With the Nationals' penchant for postseason struggles, Martinez is making the idiom "getting over the hump" literal...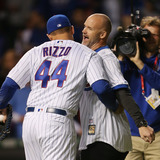 The much-ballyhooed David Ross movie is apparently still a thing and, get this…filmmakers have seemingly found their "Grandpa Rossy". According to reports out of Chicago's annual Cubs Caravan, Jon Bernthal has been brought in to play the team's former catcher. Bernthal is best known as Shane from "The Walking Dead" and, most recently, Frank Castle in Netflix's "The Punisher".It's...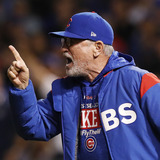 Chicago Cubs manager Joe Maddon was ejected from Game 4 of the NLCS Wednesday night after a third strike call was overturned and allowed Curtis Granderson to see another pitch. And had the Los Angeles Dodgers outfielder belted a home run after umpires allowed his at-bat to continue, the scene would have been a lot uglier.Fortunately for the Cubs, Granderson struck out anyway after...
MORE STORIES >>
Cubs News

Delivered to your inbox

You'll also receive Yardbarker's daily Top 10, featuring the best sports stories from around the web. Customize your newsletter to get articles on your favorite sports and teams. And the best part? It's free!