Former closer tweeted out picture of himself in Jays pyjamas as a child.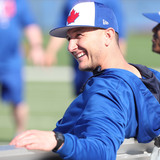 Blue Jays skipper John Gibbons signaled on Monday that Troy Tulowitzki won't be ready for Opening Day, writes MLB.com's Jon Morosi. "I think you can write Tulo off [for Opening Day] right now," said Gibbons of his shortstop, who is currently dealing with a bone spur in his right heel. Tulo's lack of availability likely means the Jays will carry just seven relievers to open the season...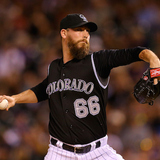 It's hella cliché, but…heeeeeeeeeeere's Johnny! Current Colorado Rockies reliever John Axford is heading back to Beertown, but not as a member of the Milwaukee Brewers, but as part of the Milwaukee Film Festival. "I've been a part of the Milwaukee Film Festival the last four years and the last three years there's been a John Axford Presents in there, so I do get to see quite a...
When the Pittsburgh Pirates claimed John Axford off waivers on Thursday, the team probably did not expect that the relief pitcher would so wholeheartedly greet the sudden change of scenery. So much so, in fact, that Axford, something of an eccentric fellow in his own right, outfitted himself in full pirate garb in order to […] The post Avast ye matey, John Axford dons Pirate garb...
We officially learned yesterday that John Axford had a tipping problem. Specifically, the Cardinals scouting staff noticed he had been tipping his pitches nearly the entire time they had scouted him. This is actually something that Axford himself hinted at during an interview in early September, as he explained to FoxSports Ohio. Axford, who had […]
MORE STORIES >>
Blue Jays News

Delivered to your inbox

You'll also receive Yardbarker's daily Top 10, featuring the best sports stories from around the web. Customize your newsletter to get articles on your favorite sports and teams. And the best part? It's free!