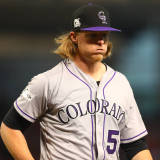 Jon Gray was knocked out of the NL wild-card game on Wednesday night against the Arizona Diamondbacks in the second inning after a shaky start.Following the game, the Colorado Rockies starting pitcher tried to explain his struggles."I think I was just doing too much out there," Gray said after the game. "I could tell early I was overthrowing my offspeed. Things were up in the end...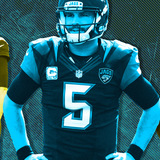 The past couple of months have been rather difficult for fourth-year Jacksonville quarterback Blake Bortles, but the last week has undoubtedly been the toughest. He lost his starting job twice in that time. First to a piece of punctuation, then to an actual sentient human being. With new boss Tom Coughlin in place, no other starting NFL QB was under more scrutiny than Bortles in...
  Leading up to Colorado Rockies spring training 2016, we will be profiling a number of interesting players for fans to keep their eyes on.  We will be focusing on specific elements of each player's game or health or even occasionally statistics as a  kind of viewer guide while the team is in Scottsdale. Our [...]
ENNIS, Texas (AP) Erica Enders raced to her eighth Pro Stock victory of the year Sunday in the AAA Texas NHRA FallNationals to break the NHRA season record for female drivers. Enders had a 6.467-second run at 214.48 mph in her Chevrolet Camaro to beat Jonathan Gray for her 20th career victory and first at Texas Motorplex. She broke a tie with Pro Stock Motorcycle racer Angelle Sampey...
Since the Colorado Rockies franchise was established in 1992, the team has selected 30 players in the first round of the draft. Of those 30 players, 18 have been pitchers, including one in each of the past four drafts. Jonathan Gray was selected by the Rockies in 2013, out of the University of Oklahoma, with the third overall pick. The right-hander has been pitching this season for...
Running back Jonathan Gray is listed six pounds lighter than his listed weight for the 2014 season. Will that make him more nimble?Defensive end Shiro Davis is listed at 265 pounds, 12 pounds heavier than his playing weight last season. Will that make him stronger?Defensive back Dylan Haines is slimmer, dropping six pounds off his listed weight from a year ago. Will it make him more...
Alexis DeJoria raced past 16-time Funny Car world champ John Force Monday to win the 60th annual Chevrolet Performance U.S. Nationals, the world's most prestigious drag race.  Richie Crampton (Top Fuel), Shane Gray (Pro Stock) and Eddie Krawiec (Pro Stock Motorcycle) also were first time winners at the tradition-rich NHRA Mello Yello Drag Racing Series event at Lucas Oil Raceway...
Although the Colorado Rockies have been able to get off to a quick start to the 2014 season, there is still a good chance we will be seeing some of their highly touted prospects before this year is all said and done. With a multitude of high draft picks in the last couple years due to disappointing seasons, the Rockies are stocked with talent in their farm system. Not only are they...
For all the talk of seeing Jonathan Gray or Eddie Butler up with the big club (and meaning no disrespect to Jordan Lyles' breakout season), the Colorado Rockies already have a starter that could be in line for a career year in Jorge de la Rosa. After yielding just one run in six innings against the Philadelphia Phillies Tuesday night, de la Rosa improved his record to 6-3 on the...
Profile Jonathan Gray may be the guy we've all been waiting for. The guy who tames Coors Field on a regular basis. Sure, some pitchers have fared well in Coors, Ubaldo Jimenez comes to mind pretty quickly, but the spacious high altitude field ultimately always seems to win. Gray's power arsenal seemingly should help domesticate the Rockies' unfriendly home. Gray, considered the best...
MORE STORIES >>
Rockies News

Delivered to your inbox

You'll also receive Yardbarker's daily Top 10, featuring the best sports stories from around the web. Customize your newsletter to get articles on your favorite sports and teams. And the best part? It's free!