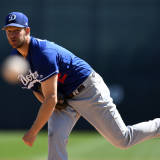 There continues to be hope that the top pitcher in the game, left-hander Clayton Kershaw, will remain with the Dodgers beyond the upcoming season. Kershaw, who could opt out of the final two years and $65MM on his contract next winter, said last week that he and Dodgers management are "on the same page." Then, on Saturday, Dodgers owner Mark Walter told Jon Heyman of FanRag that...
Ketel Marte enters the D-backs' Spring Training complex each morning believing the starting shortstop job is his to lose.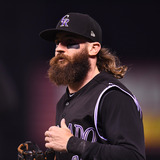 We now know all eight LDS teams. The Arizona Diamondbacks defeated the Colorado Rockies in the NL Wild Card Game on Wednesday to advance to the NLDS to take on the Los Angeles Dodgers.What looked like a blowout in the early innings turned in to a wild, back-and-forth affair between two division rivals. Picking winners and losers was from this one was not easy but in the end, we've...
CINCINNATI (AP) The Seattle Mariners placed shortstop Ketel Marte on the 15-day disabled list with a sprained left thumb and recalled infielder Chris Taylor from Triple-A Tacoma before Sunday's game in Cincinnati. Taylor, 25, hit .294 with two home runs and 14 RBIs over 39 games, 33 at shortstop, with Tacoma. Taylor played for Seattle in both 2014 and 2015, hitting a combined...
PEORIA, Ariz. (AP) Kyle Seager had two doubles and drove in three runs, Ketel Marte hit an inside-the-park home run and the Seattle Mariners beat a Los Angeles Dodgers split-squad 7-6 Saturday. Seth Smith homered for the Mariners and starter Wade Miley went six innings, allowing three runs on eight hits with five strikeouts. Closer Steve Cishek struggled through the ninth, giving...
PEORIA, Ariz. (AP) Last spring, Ketel Marte wasn't close to making Seattle's opening day roster, optioned to Triple-A Tacoma just a few weeks into spring training. A year and a lengthy major league stint later, Marte is set to begin the season as the starting shortstop for the Mariners. He's already in the lineup with many other regulars for the exhibition opener Wednesday. The...
The Seattle Mariners have entrusted a 25-man roster spot to 21-year-old rookie Ketel Marte, and so far he's delivered.  In 17 games with the M's since being recalled, Marte is hitting .283/.377/.350 with 17 base hits in 60 official at-bats. Perhaps more important than that stat line, Marte is also making a good impression on his manager, Lloyd McClendon.As McClendon told Shannon...
Although he was perpetually young for his level, Ketel Marte more than held his own at every stop as he ascended through the Mariners system. In 2013, he posted a 91 wRC+ as a 19-year-old between Low-A and High-A. In 2014, at the tender age of 20, he put up a 105 spot between Double-A and Triple-A. This year, his .314/.359/.410 showing in Triple-A resulted a 107 wRC+. Even more impressive...
The Seattle Mariners called up 21-year-old infield prospect Ketel Marte in time for this past weekend's series in Minnesota, and he did pretty well in his first few games with the club. On Sunday, manager Lloyd McClendon was rewarded for putting Marte in the leadoff spot, as he went 3-4, got on base four times and scored the go-ahead run in the 11th inning.  Afterward, McClendon...
Some assumed the Seattle Mariners were close to promoting shortstop prospect Ketel Marte from Triple-A to the Major Leagues, but that supposed plan has hit a snag. As Bob Dutton of the News Tribune reported on Monday via Twitter, the 21-year-old Marte suffered a broken left thumb and won't be doing anything in terms of baseball activities for a while: With the Mariners' offense sagging...
MORE STORIES >>
Diamondbacks News

Delivered to your inbox

You'll also receive Yardbarker's daily Top 10, featuring the best sports stories from around the web. Customize your newsletter to get articles on your favorite sports and teams. And the best part? It's free!