Make your predictions for the Cardinals' starting second baseman For a player whose career has been defined by volatility and uncertainty, 2018 promises to be a more stable year for Kolten Wong. Entering his sixth season in the big leagues, the 27-year-old will be the Cardinals' everyday second baseman without any questions asked. While baseball as a whole swung for the fences in...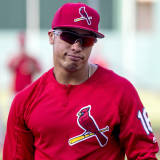 St. Louis Cardinals second baseman Kolten Wong was busy Saturday participating in the team's annual Winter Warm-Up in the Gateway to the West.Further west, Wong's homeland of Hawaii was seemingly under attack. For a good 30 minutes, citizens of the island state were frantically preparing for a missile strike after officials sent out this erroneous warning. It was about as scary of...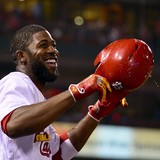 Inspiration comes from all variety of places. Sometimes it is a breakthrough year from players already in place and sometimes it is a big-name offseason addition that makes good upon arrival. In some cases, it's a big in-season trade provides the adrenaline shot that propels a team down the stretch, or a divisional rival will collapse presenting a new window of opportunity.And in...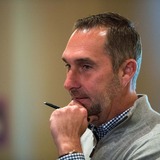 Cardinals GM John Mozeliak is not sugarcoating things about his team's play of late.Mozeliak spoke with reporters on Friday while announcing some moves and said that his Cardinals are not a playoff team. The Cardinals are on a 7-game losing streak and have gone 5-17 in their last 22 games. Among the team's moves was designating Jhonny Peralta for assignment to create space for Kolten...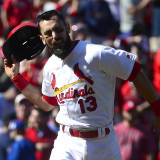 Everybody loves the dramatic moment that comes with a walk-off home run. What could be better?A walk-off grand slam. In extra innings.That's what Matt Carpenter did for the St. Louis Cardinals in the first game of their doubleheader against the Toronto Blue Jays. Kolten Wong tied the game up in the 11th inning with a run-scoring triple before Toronto opted to walk the bases loaded...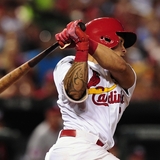 JUPITER, Fla. -- Kolten Wong plans on taking the first pitch all spring. Even if it doesn't land him the leadoff spot in the St. Louis Cardinals order, he figures it will add discipline to his approach."I want to see how far I can push counts," Wong said. "I'm not really worried about the outcome of the at-bats, I just want to see how far I can take it and get more comfortable doing...
Kolten Wong has signed a new contract extension with the St. Louis Cardinals. Here are the details: 25.5M total 5 year guarantee 5.1M yearly salary Starts this season (2016) Includes option for 6th year (2021 | 12M) Has 1M buyout in 6th year if option isn't exercised More from MLB Trade Rumors: Because it begins with the 2016 campaign, the deal will give St. Louis control over two...
For a sizable chunk of the previous season, Cardinals' third baseman Matt Carpenter served as the team's leadoff hitter. Nonetheless, when he was not there, a significant decline in offensive production was the outcome.  It's claimed that the decrease was only coincidental, and there are happenings to support that. So, it's possible that sifting the two-time All-Star a few spots...
Temptation is a double edged sword for a baseball team in December. General managers see trees and lights and think it's a time of giving. A chance to be bold arises. The idea of shaking things up for the upcoming season by pulling an unexpected move. As the winter meetings arrive and the Hot Stove picks up, I don't think the Cardinals should consider trading Kolten Wong. Chris...
    Speaking in the terms of an "it factor", Kolten Wong has got it. From when he positions himself in the field to every time he steps in the left-handed batter's box, Kolten has this sense of swagger lingering around him. Sometimes, the swagger he has is so conspicuous. Spectators of the ballgame eagerly await for his next turn to bat or for the next ball hit to his area of the...
MORE STORIES >>
Cardinals News

Delivered to your inbox

You'll also receive Yardbarker's daily Top 10, featuring the best sports stories from around the web. Customize your newsletter to get articles on your favorite sports and teams. And the best part? It's free!