We've updated our Privacy Policy.
By continuing to use this site, you are agreeing to the new Privacy Policy.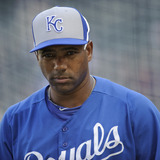 Former MLB star shortstop Miguel Tejada had his Florida home burglarized over a period of time while he was in the Dominican Republic.According to TMZ Sports, Tejada has been out of the country a lot lately as he relocates his family, who live in the Dominican Republic. While he's been out of the house, a 60-year-old man who was house-sitting in the home next door is alleged to have...
Miguel Tejada has been suspended 105 games by Major League Baseball for violating its joint drug program, one of the longest suspensions ever handed down. The 39-year-old Tejada had previously tested positive under the league's amphetamine policy, so he was subject to a 25-game ban for a second test and an 80-game suspension for a third, both of which occurred while playing for...
That Cubs fan had quite the Henry Rowengartner moment at Wrigley Field Tuesday afternoon. He didn't quite rocket it all the way to home plate, but that was quite the effort. He probably has a stronger arm than Juan Pierre to be honest. It was also a much more impressive display from a Cubs fan [...]
MORE STORIES >>
MLB News

Delivered to your inbox

You'll also receive Yardbarker's daily Top 10, featuring the best sports stories from around the web. Customize your newsletter to get articles on your favorite sports and teams. And the best part? It's free!