New York Yankees' Ronald Torreyes is one of the most exciting players to watch play the game of baseball. He keeps the clubhouse loose and is a fan favorite. "Toe," as many know him by, is additionally a good player and is a great utility guy for the Yankees. Torreyes is an excellent contact hitter who gets on base at a fantastic rate and plays good defense as well. Torreyes' numbers...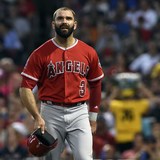 The Yankees have elected to add 30-year-old infielder Danny Espinosa on a minor-league deal, Mark Feinsand of MLB.com reports on Twitter. He'll receive an invitation to spring training camp, where he'll compete for the Yankees' second base job.Prior to the 2017 season, Espinosa had played exclusively for the Nationals. While he spent most of his career as a reserve infielder, a strong...
New York Yankees toss Ronald Torreyes in the air after game-winning play.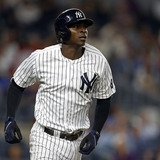 According to Bryan Hoch of MLB.com, Yankees shortstop Didi Gregorius may miss the entire month of April due to a right shoulder injury.Hoch previously reported the 27-year-old left Team Netherlands because of this injury. The initial diagnosis was a "hematoma of the subcapsular muscle." Since then, manager Joe Girardi confirmed Gregorius will not be available come Opening Day.Gregorius...
I know it's hard to hear me over the deafening clamor of fans professing their love for Gary Sanchez, but there is more than just Sanchez to be optimistic about on the New York Gary Sanchez's…I mean, Yankees. One such bright spot is lightly-regarded rookie infielder Ronald Torreyes. Torreyes has had a very interesting career arc so far, as the Yankees represent his sixth organization...
Not all strikes are created equal. Some are borderline pitches that the umpire gives to the pitcher, and some are whiffs on pitch-outs that have already reached the catcher's glove.New York Yankees infielder Ronald Torreyes embarrassingly pulled off the latter, doing everything he possibly could to hold up his end of the hit-and-run. With Aaron Hicks running, Torreyes tried to protect...
The New York Yankees brought their road struggles with them on their trek up to the Bay Area after a dismal effort against the Arizona Diamondbacks in the early portion of this west coast road trip. The first affair was pleasant as Ivan Nova cruised through six innings of work and Carlos Beltran and Aaron Hicks played vital roles in putting runs on the board against the hot Oakland...
Unless you've been following the Yankees this year, there's a decent chance you have no idea who Ronald Torreyes is. That's understandable. I've been monitoring him for a while, but that's only because I spend an inordinate amount of time parsing through minor-league data to identify players like him: players who are way, way off the prospect radar, but who project to be impact big...
The February 2, 2016 edition of Los Angeles Angels news includes the team losing a recently acquired infielder back to the team they got him from, the announcement of 20 non-roster invitees to Tempe, and more… The Story: Yankees claim Ronald Torreyes off waivers from the Halos MWAH Says: Well, this is a weird one. The Angels claimed Torreyes from the Yankees last week when they...
ANAHEIM, Calif. (AP) The Los Angeles Angels have claimed infielder Ronald Torreyes off waivers from the New York Yankees. The Angels also designated left-hander Bobby La Fromboise for assignment Monday. Torreyes made his major league debut last season in eight games with the Los Angeles Dodgers, going 2 for 6. The 23-year-old Venezuelan prospect is a six-year minor league veteran...
MORE STORIES >>
MLB News

Delivered to your inbox

You'll also receive Yardbarker's daily Top 10, featuring the best sports stories from around the web. Customize your newsletter to get articles on your favorite sports and teams. And the best part? It's free!