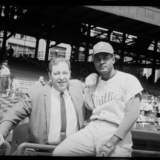 Ruben Amaro Jr. is known for being the Philadelphia Phillies general manager from 2009-15. But his story dates to a bygone era, one of the greatest in the history of America's national pastime.See, Amaro Jr. is the son of former MLB shortstop and Phillies scout, Ruben Amaro Sr. He grew up around the game he loved. His knowledge of the diamond was learned from a very young age.Sadly...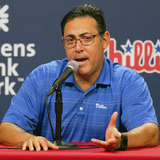 Ruben Amaro was widely derided during his tenure as GM of the Philadelphia Phillies. Though the team made the World Series in his first year as GM in 2009 and reached the playoffs three years in a row, Amaro stuck with an aging and declining core, leading the Phillies to become one of the worst teams in baseball. Amaro was mocked for seemingly not having a strong grasp on stats...
Ruben Amaro had a reputation in Philadelphia. To many, the only evaluation tools he trusted were his scouts' eyes. Basically, he was an old-fashioned — if not backwards-thinking — general manager. The extent to which that's accurate is debatable. Amaro wasn't necessarily cutting edge — Matt Klentak, who replaced him as Phillies general manager, is clearly more analytical — but the...
In a curious move, the Boston Red Sox will reportedly hire former Philadelphia Phillies general manager Ruben Amaro Jr. as their first base coach. Amaro, whose tenure as the Phillies GM ended in September, will join John Farrell's staff next season, according to the Boston Globe's Nick Cafardo. It appears former Phillies GM Ruben Amaro Jr will become Red Sox first base coach...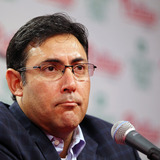 Former Philadelphia Phillies general manager Ruben Amaro Jr. is apparently looking take his talents from the front office to the dugout.Amaro Jr., who was the Phillies general manager from 2008 until last month, is reportedly working with super-agent Bob Lamonte to make the transition.Such a transition, while uncommon, is not without precedent. Miami Marlins general manager Dan Jennings...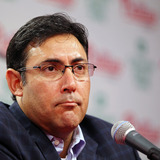 In a move that has been widely expected for months, the Phillies announced today that they're not going to extend Ruben Amaro's contract, ending his tenure as general manager of the club. Full release from #Phillies on Amaro: pic.twitter.com/8PZPRC664T — Ken Rosenthal (@Ken_Rosenthal) September 10, 2015 Amaro has been the Phillies GM since November of 2008. The Phillies won...
By Steve DelVecchio The Philadelphia Phillies are once again one of the worst teams in baseball, and their general manager has apparently grown tired of the fans for getting on his case about it. When asked on Monday if the team is planning to trade any of its veterans and potentially bring up pitching prospects Aaron Nola and Zach Eflin, Ruben Amaro Jr. was quick to point out...
With the Philadelphia Phillies sitting at 19-28 and arguably seem destined for a third straight losing season, talk has turned away from the team enjoying success this summer to its plans at trading away expendable players, including Jonathan Papelbon, Cole Hamels, Ryan Howard and Chase Utley and giving young prospects an opportunity to develop at...Read More The post Phillies GM...
Fans just don't understand In an interview with Jim Salisbury, Phillies GM, Ruben Amaro had some choice words for Phillies fans that don't agree with the way he's running the team. "They don't understand the game," Amaro said. "They don't understand the process. There's a process. And then they ***** and complain because we don't have a plan. There's a plan in place and we're sticking...
It appears that the Phillies are in fact interested in 19-year-old Cuban infielder Yoan Moncada, according to Ruben Amaro Jr. Phillies beat writer Todd Zolecki reported yesterday that the Phillies "know [Moncada] well." "He's a very good prospect. He has a chance to be a very good player. He checks off a lot of the boxes, but we're not the only team that would be interested in Yoan...
MORE STORIES >>
MLB News

Delivered to your inbox

You'll also receive Yardbarker's daily Top 10, featuring the best sports stories from around the web. Customize your newsletter to get articles on your favorite sports and teams. And the best part? It's free!