We've updated our Privacy Policy.
By continuing to use this site, you are agreeing to the new Privacy Policy.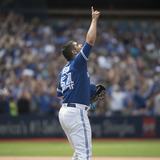 The Cleveland Indians and Oakland Athletics trolled each other on Twitter on Saturday after Cleveland's 14-game winning streak was snapped. Why would the A's care? Well, their 20-game win streak back in 2002 is still an American League record. Cleveland was getting just close enough to that mark to make Oakland take notice, but with Toronto beating Cleveland 9-6 on Saturday...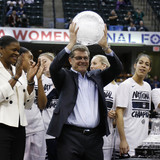 The Cleveland Indians are in the midst of one heck of a winning streak, coming out victorious for the better part of the past month of games. It's a streak the defending American League champions hope propels them back to the World Series, with a better result this time.With Cleveland's hot run in mind, it got us thinking about some of sports' biggest and longest strings of victory...
Fans of Moneyball are no doubt familiar with the A's memorable charge to the postseason in 2002. Well, on this date in 2002, Oakland set an American League record with its 20th consecutive win. But it didn't come easy. The A's jumped out to an 11-0 lead over the Kansas City Royals after three innings, but the Royals added five runs in the fourth, five more in the eighth and one in...
LIKE WHAT YOU SEE?
GET THE DAILY NEWSLETTER:
There was once a statistical revolution that was supposedly about on-base percentage. Scott Hatteberg showed us the power of patience, right? In today's league, though, it's virtually impossible to make a living if the ability to walk is your only real skill. The Twins just designated Chris Parmelee for assignment. He might not be a […]
Even before Billy Beane and Scott Hatteberg and Moneyball, the Oakland A's were a team that took a lot of walks. Over the 50 years of the Expansion Era (1961-2011), the A's ended the season with a walk rate below the league average only eight times. Of those eight seasons, in only one did the A's have a walk rate more than one percentage point lower than the league average. In 1978...
Scott Hatteberg was like so many other people in baseball, as well as fans, when word started coming from Hollywood in 2008 that Moneyball was going to be turned into a movie. "I really wondered how it was going to be done," Hatteberg said. "It was a great book, but the subject matter was very dense. I just didn't see how a screenplay could be adapted from the book." Michael...
MORE STORIES >>
Reds News

Delivered to your inbox

You'll also receive Yardbarker's daily Top 10, featuring the best sports stories from around the web. Customize your newsletter to get articles on your favorite sports and teams. And the best part? It's free!