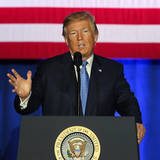 Donald Trump was inaugurated to become the 45th president of the United States on Jan. 20 of this year, and more than any other president before him, he's found himself in an array of sports stories. From NFL player protests to White House visits to personal attacks on NBA players, Donald Trump had a huge influence on the sports news cycle for better or for worse. Here, we take a...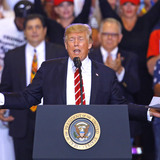 Donald Trump is not backing down from some recent comments he made about NFL players kneeling during the national anthem, and the president also praised another sports organization that shares his belief.Prior to Sunday's NASCAR race at New Hampshire Motor Speedway, legendary stock car drivers and team owners Richard Childress and Richard Petty threatened to fire any member of their...
The name Richard Childress is synonymous with Chevrolet, the six-time Sprint Cup Series champion team owner having been with Chevy for almost his entire career as an owner/driver and then an owner in NASCAR's top division.But Childress, who drove his first NASCAR Premier Series race in 1969 and made 285 starts before handing over the wheel to Dale Earnhardt in late 1981, doesn't...
Chevy Thursday at the Charlotte Motor Speedway Media Tour presented by Technocom featured a bevy of teams, including Richard Childress Racing, which is coming off a very successful 2015 season. Two of RCR's three Sprint Cup Series drivers (Ryan Newman and Paul Menard) made the NASCAR Chase for the Sprint Cup, while Ty Dillon finish third in the XFINITY Series standings. But don't...
As a 17-year-old selling peanuts and popcorn at Bowman Gray Stadium, a historic short track in Winston-Salem, North Carolina, Richard Childress bought his first race car for $20.From 1969 to 1981, Childress competed in the Sprint Cup Series as a driver, recording six top-five and 76 top-10 finishes in 285 starts.Childress retired as a driver in mid-1981 and hired Dale Earnhardt,...
Richard Childress Racing development driver, 15-year-old, Ahnna Parkhurst, will compete full-time in the Southeast Super Truck Series in 2016 and compete for the rookie of the year title in the regional touring series driving the No. 23 TGEN, K&N Filters Chevrolet. Ahnna Parkhurst The 2016 season for Southeast Super Truck Series will consist of 12 points races and one season...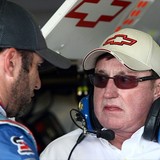 HHP, Alan Marler Posted by Brandon Whitton – follow on twitter @whittonbm Courtesy of NASCAR National Motorsports Final Appeals Officer Statement (May 6, 2015) Today the National Motorsports Final Appeals Officer, Mr. Bryan Moss, heard and considered the appeal of a P5 penalty issued on March 31, 2015 to Richard Childress (owner), Ryan Newman (driver), Lucas Lambert (crew chief...
NASCAR announced on Wednesday, May 6 that National Motorsports Final Appeals Officer Bryan Moss heard the final appeal from Richard Childress Racing, making the decision that Richard Childress Racing violated the rules, and chose to uphold the penalty as amended by the National Motorsports Appeals Panel. "We do not agree with the final appeal ruling," Richard Childress released in...
Richard Childress Racing has partnered withPfizer Inc., a premier innovative biopharmaceutical company, to be primary sponsor of Ty Dillon for the Quicken Loans 400 at Michigan International Speedway on Sunday, June 14, 2015. Nexium® 24HR, the over-the-counter heartburn medication, will be featured on the No. 33 Chevrolet SS Circle Sport Racing entry. Nexium® 24HR, The Purple Pill...
Richard Childress Racing announced late Saturday evening one pit crew member remains hospitalized, while another has been released, after a huge fire engulfed the No. 62 team's pit stall during Friday's NASCAR XFINITY Series race at Richmond International Raceway.  The team announced fuel man Jason Wittman was released from a Richmond, Virginia-area hospital after being evaluated...
MORE STORIES >>
NASCAR News

Delivered to your inbox

You'll also receive Yardbarker's daily Top 10, featuring the best sports stories from around the web. Customize your newsletter to get articles on your favorite sports and teams. And the best part? It's free!