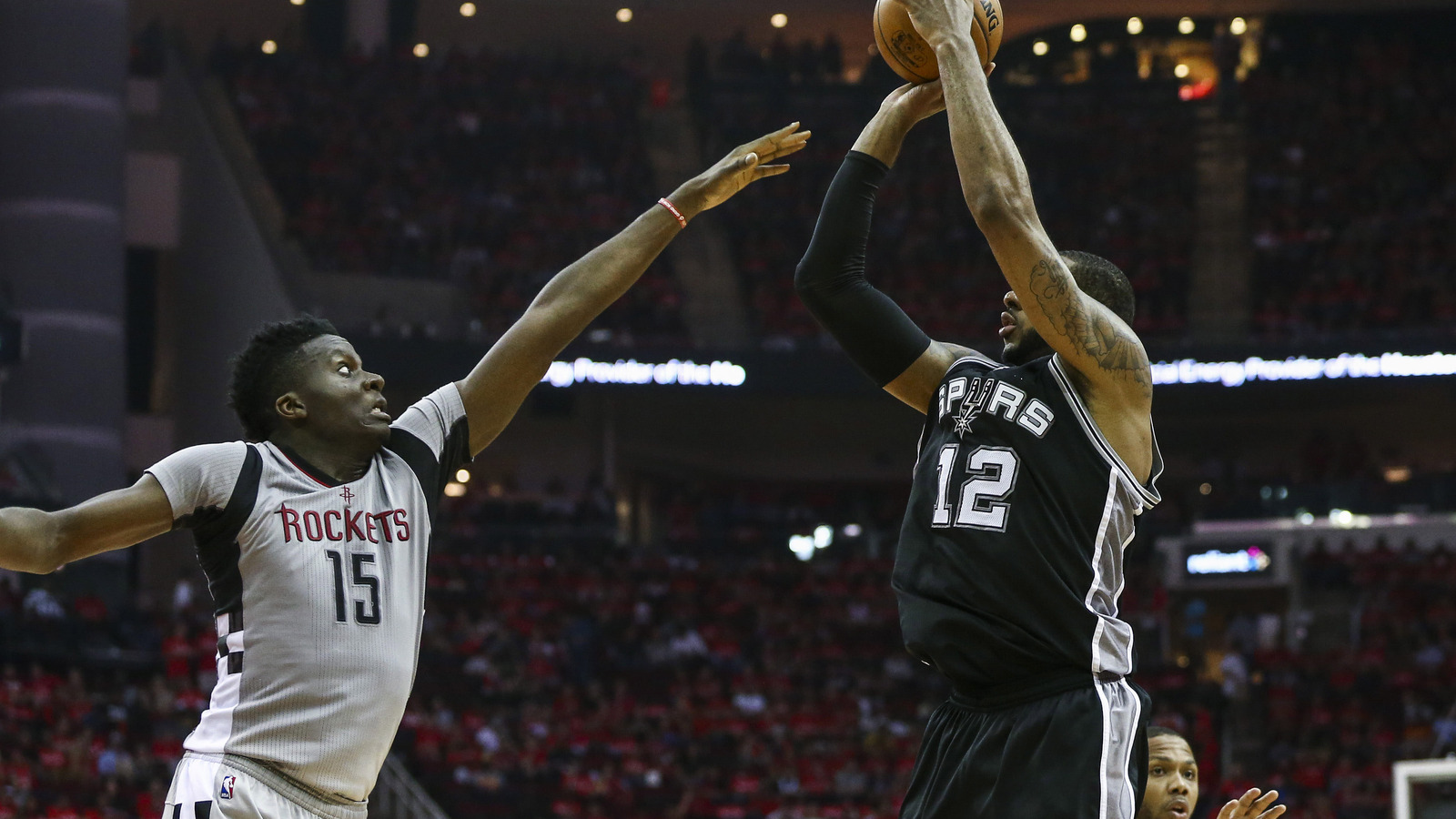 May 11, 2017; Houston, TX, USA; San Antonio Spurs forward LaMarcus Aldridge (12) shoots the ball as Houston Rockets center Clint Capela (15) defends during the third quarter in game six of the second round of the 2017 NBA Playoffs at Toyota Center. 
Troy Taormina-USA TODAY Sports
Though there was no single Kevin-Durant-to-Golden-State-sized splash in the NBA this offseason, teams made move after move to jockey with the Warriors in an attempt to interrupt their reign of terror.
The Rockets took a leap of faith and traded the farm for an aging Chris Paul. The Celtics used their cap space to reunite Gordon Hayward with Brad Stevens, then got rid of an asset in Avery Bradley to balance their checkbook. The Timberwolves suddenly became a legitimate Western Conference contender by ripping off the Bulls.
There were so many moves, in fact — so many trades and so many signings — that, now that the league's transaction churn and burn has finally calmed, it's hard to believe all that actually happened. To sum it up:
We're going to see a lot of familiar faces in new jerseys come this fall (the preseason begins Sept. 30). But which of those players will make the biggest impact, and which teams will look the most improved? Which 2017-18 NBA squad will make the biggest leap?
It's too early to know, of course, but below is my take on the 10 NBA teams that improved the most this offseason.
10. Denver Nuggets
The Nuggets found themselves in a precarious position with Danilo Gallinari. The stretch 4 is a valuable piece in the modern NBA, and people loved him in Denver.
However, the team hadn't found success since Gallo came over in the 2011 trade that landed Carmelo Anthony and Chauncey Billups on the Knicks. The Nuggets made the playoffs during the first three years Gallo was in Denver, but were eliminated in the first round each time. He's a solid player, but not a centerpiece.
Given the state of the franchise, it was hard to justify giving Gallo more than $20 million a year and extending this iteration of Nuggets history. The team decided to let him go, and Denver shrewdly got a 2019 second-round pick out of it via a three-team deal with the Clippers and Hawks.
Denver made two great decisions this offseason: letting Gallo walk and signing forward Paul Millsap. The 6-foot-8, 32-year-old Millsap has long been one of the most underappreciated players in the league. Millsap doesn't put them over the top, but he gives them one more valuable piece.
ESPN's Adrian Wojnarowski reported the Cavs are interested in Jamal Murray. If Denver can pull that off and trot out Kyrie, Millsap, and Nikola Jokic, the Nuggets will make some noise in the loaded West.
9. Los Angeles Lakers
Everyone around the league believes the Lakers are gearing up for an active 2018 offseason — they plan to pursue Paul George and maybe even LeBron James — and the organization made some wise moves this summer to prepare for it.
For starters, they allowed Nick Young to walk, and traded D'Angelo Russell. Though both guys are talented, valuable players, they were too much of a distraction to keep around, especially when you're going to try to lure marquee free agents.
The Lakers' trade of Russell to Brooklyn was good for both sides. L.A. landed Brook Lopez, one of the most underrated bigs in the league, and also snagged the 27th overall pick. That pick turned into Kyle Kuzma, who looked excellent in Las Vegas and even cracked my early top 10 favorites to win NBA Rookie of the Year.
They also did well with their lottery pick. Lonzo Ball, the Summer League MVP, is a perfect fit, and I expect Magic Johnson will continue to like what he sees in his new floor general.
8. Charlotte Hornets
The Hornets are sneakily moving in the East. After missing the playoffs by five games this past season, it was clear they had to retool, and they've made a few under-the-radar moves that I'm a fan of.
Take, for example, their trade for Dwight Howard. No one wants Dwight at this point in his career. It's considered a given that he's going to ruin your locker room. But the Hornets got Dwight on a bargain deal. They gave up Marco Belinelli, Miles Plumlee, and a second-rounder for Howard and a first-rounder.
Howard's minutes dipped to 29.7 per game with Atlanta last year, but he posted decent numbers: 13.5 points, 12.7 rebounds, and 1.2 blocks per game. He's a shell of the player who was the most dominant big in the NBA, but even that shell is still a pretty solid starting 5 man.
Additionally, the Hornets pulled off my favorite pick of the draft, snagging Kentucky's Malik Monk at No. 11. With Kemba Walker, Monk, Nicolas Batum, Frank Kaminsky, Michael Kidd-Gilchrist, and Howard, the Hornets should find themselves having moved up to the East's second tier.
7. Golden State Warriors
The rich only got richer this offseason. In addition to locking up Kevin Durant and Stephen Curry for the foreseeable future, Golden State re-signed Andre Iguodala, Shaun Livingston, and Zaza Pachulia, and also added some valuable pieces.
Nick Young has become overshadowed by his Swaggy P alter-ego and propensity for being involved in off-the-court drama, but when Young is hot, he's one of the best shooters in the league. Additionally, his decision to take a pay cut and sign with Golden State tells me he's done some growing up and, at this point in his career, he values winning above personal accolades. Getting the 32-year-old Young on a one-year, $5.2 million deal was a steal for the Warriors.
The Warriors also purchased yet another draft pick to snag Oregon's Jordan Bell, a 6-foot-8 forward with a high basketball IQ who does it all. He wants to be Draymond 2.0.
Though Omri Casspi isn't a household name, he's a valuable bench player who agreed to take the veteran minimum. He could turn into another unheralded, undervalued vet who contributes valuable minutes in the NBA Finals.
6. Brooklyn Nets
Thanks to foolish management, the Nets have managed to both be terrible and have no exciting young players on the roster in recent years. What we've witnessed in Brooklyn has been a rare feat of ineptitude.
But give GM Sean Marks credit: the Nets were desperately in need of a rebuild, and he took sage steps toward achieving that end this summer. The most noteworthy of Marks' moves was his trade for D'Angelo Russell and Timofey Mozgov.
Russell has had an interesting career, to say the least, and for all the jokes about him being a TMZ beat reporter, he's shown flashes of brilliance on the court. I think the former No. 2 overall pick could still become an All-Star.
Other great moves for the Nets: holding onto Sean Kilpatrick and flipping Justin Hamilton for DeMarre Carroll's contract, a first-round pick, and a second-round pick.
5. Philadelphia 76ers
Is "The Process" finally coming to fruition? It sure seems like this is the year the Sixers are actually going to try to compete.
After stockpiling picks for years, the Sixers finally gave one up. They traded a future first-rounder, in addition to the No. 3 pick in this year's draft, for the 2017 No. 1. They used that pick to select Markelle Fultz, the consensus No. 1 prospect, who on his best days shows shades of James Harden.
This was the right pick for Philly's roster, but Fultz wasn't the only promising rookie they acquired. The Sixers also snagged Jonah Bolden, Latvia's Anžejs Pasečņiks, and France's Mathias Lessort — all three were high on my list of under-the-radar wings who could turn into rotation players.
And Philly actually signed someone, too! They splurged on J.J. Redick. The deal involved way too much money, but the Sixers had plenty of cap space, it was only a one-year deal, and Redick's veteran presence and deadly three-point shooting should greatly benefit Philadelphia this year.
4. Oklahoma City Thunder
Who would've thought going into this offseason that the Thunder would pull off perhaps the biggest trade of the summer? It sure seemed like Oklahoma City would go into next season the same way it ended the last.
Instead, the Thunder pulled off a heist. They flipped Victor Oladipo and Domantas Sabonis for Paul George, one of the 10 or so best players in the NBA. It was a stunner of a deal.
Whether George and Russell Westbrook can coexist remains to be seen. They both have a bit of an edge of them, and George likes to have the ball in his hands in crunch time (though throughout his career he hasn't proved to be a clutch player).
Even if things click this year and the Thunder make a playoff run, it seems like a foregone conclusion that George is heading to Los Angeles next year. However, the deal made the Thunder better, and they didn't have to give up much at all to pull it off.
3. Houston Rockets
Houston paired two of the best offensive guards in the game when, late in June, the Rockets pulled off a trade with the Clippers to acquire Chris Paul. In return, Los Angeles received half of Houston's roster — Patrick Beverley, Lou Williams, Sam Dekker, Montrezl Harrell, Darrun Hilliard, DeAndre Liggins, and Kyle Wiltjer — in addition to a future first-round pick and cash considerations.
Though it looks like a lot, it really wasn't much. Paul is one of the 20 or so best players of all time. Though he's never found postseason success, and though we don't know if he'll be able to play with Harden, Houston is rolling the dice because both players are simply that good. The Rockets' creed: put the best players on the court and they'll figure it out.
The Rockets may not be done dealing. Rumors have swirled that Carmelo Anthony is headed to Houston in the near future. A Paul-Harden-Anthony three-headed duo would be lethal on offense; it's tough to imagine how a team would gameplan to defend the Rockets.
2. Boston Celtics
The Celtics did what everyone expected them to this summer — they let Amir Johnson and Kelly Olynyk walk, and after a long back and forth they signed Gordon Hayward, reuniting him with his college coach at Butler, Brad Stevens.
Then the Celtics did something unexpected — they dealt Avery Bradley, one of the best defensive guards in the NBA (a two-time All-NBA Defensive Teamer), and a 2019 second-round pick for Marcus Morris. The way I see it, both teams improved as a result of the deal.
Boston needed frontline help, particularly with the departure of Olynyk, and toughness. Morris provides that and then some. Detroit needed…well, the Pistons just need everything, and Bradley is a tremendous asset. Because of the Hayward deal, the Celtics would not have been able to retain him when his contract expires next summer.
Boston also got Duke's Jayson Tatum at No. 3, and Celtics fans are already calling him the next Paul Pierce. That may be premature, but he looked great in Summer League.
Keep an eye on the Celtics. They make another move before the deadline. I'm looking at Marcus Smart and Jae Crowder as pieces that may be traded.
1. Minnesota Timberwolves
The Timberwolves! They're relevant! We finally get to watch Karl-Anthony Towns on national TV!
Though there were a few fleecings around the league this offseason, the T-Wolves pulled off the greatest of them all. They traded for Chicago's Jimmy Butler on draft night. What they gave up in return was shockingly uncompelling.
Chicago traded Butler and the No. 16 pick (Justin Patton) for Zach LaVine, Kris Dunn, and the No. 7 pick (Lauri Markkanen).
Butler is an All-NBA player, and you'd have expected the Bulls could have gotten more in return. The trade had Chicago fans calling for the firing of the team's front office. Maybe one day we'll hear the true story of how this unfolded and the Bulls got peanuts in return for one of the league's best 3 men.
The Timberwolves also traded Ricky Rubio and signed Jeff Teague and Taj Gibson. We don't know yet how all these pieces will fit — will Andrew Wiggins be content with being the third banana? — but, with a suddenly interesting roster, the Timberwolves should certainly be competitive in the Western Conference playoffs, after finishing 13th in the West this past season. Talk about an offseason improvement.
Aaron Mansfield is a freelance sports writer. His work has appeared in Complex, USA Today, and the New York Times. You can reach him via email at aaroncmansfield@gmail.com.
PLAYERS:
Chris Paul
,
Brad Stevens
,
Avery Bradley
,
Danilo Gallinari
,
Carmelo Anthony
,
Paul Millsap
,
Nikola Jokic
,
LeBron James
,
Magic Johnson
,
Dwight Howard
,
Marco Belinelli
,
Miles Plumlee
,
Nicolas Batum
,
Andre Iguodala
,
Shaun Livingston
,
Zaza Pachulia
,
Omri Casspi
,
Timofey Mozgov
,
Markelle Fultz
,
Jonah Bolden
,
Mathias Lessort
,
J.J. Redick
,
Amir Johnson
,
Paul Pierce
,
Ricky Rubio
TEAMS:
Houston Rockets
,
Boston Celtics
,
Detroit Pistons
,
Los Angeles Clippers
,
New York Knicks
,
Denver Nuggets
,
Cleveland Cavaliers
,
Charlotte Hornets
,
Atlanta Hawks
,
Golden State Warriors
,
Brooklyn Nets
,
Philadelphia 76ers
,
Utah Jazz
,
Los Angeles Lakers
,
Minnesota Timberwolves
,
Oklahoma City Thunder
MORE FROM YARDBARKER:
QUIZ: NBA players who have recorded 40+ pt games since 1999-2000
Since the 1999-2000 NBA season, 171 players have scored 40 or more points in a single game through the 2016-2017 season. How many can you name?
Clue: Team(s) that the players played for at the time of their 40+ point game and the number of times the feat has been accomplished.
Note: Includes playoff games with 40+ points
MORE FROM YARDBARKER
NBA News

Delivered to your inbox

You'll also receive Yardbarker's daily Top 10, featuring the best sports stories from around the web. Customize your newsletter to get articles on your favorite sports and teams. And the best part? It's free!